This is the third post in a series focused on riding in Colombia. A special Thanks to Colombia Moto Adventures for sponsoring this post and making it possible to bring you South American adventure content.  Jeff Cremer, an award-winning wildlife photographer, and his team provide motorcycle rentals in Medellín and Colombia motorcycle tours.
A ride from Bogota to Medellín on the fastest route is a mere 260 miles, easily doable in a day. But if you want to truly explore Colombia and see some places off the beaten path, ride some dirt trails, and enjoy the best that Colombia has to offer, have a look at this slightly longer but infinitely more interesting route. Ideally, plan a day or two-day stay in each town to sample the local cuisine, go on a coffee farm tour, and learn a little about the history and culture of Colombia.
Bogota
Bogota, the country's capital, is a busy city with over seven million inhabitants, so the traffic might be a little trickier, and the prices a bit steeper than everywhere else in the country, but it's an amazing place to start your journey across Colombia.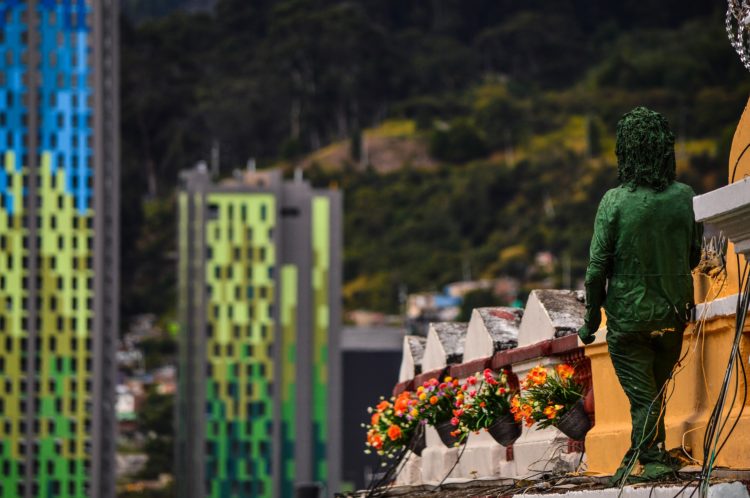 Situated on the high Andean plateau at over 8,000 feet of altitude, Bogota is surrounded by picturesque mountains and boasts an impressive colonial Old Town. Here's what you can see and do in Bogota:
Visit Plaza Bolivar, the most popular hangout in the city. The area has great food.
Stay and hang out in La Candelaria, an artsy part of town with beautiful colonial architecture and some great bars and restaurants. This is a good place to taste aguardiente, a traditional Colombian drink which is white rum (careful – that stuff is notoriously strong!)
If you love museums, Bogota is a paradise – it's been dubbed "the Athens of South America" because of its record number of universities and museums. The Gold Museum and the Emerald Museum are especially worth the visit.
Places to avoid are Barrio Santa Fe, the center at night, and most of the southern part of the city.
For a day's ride to test your wheels, ride to Zipaquira, a quirky little town north of Bogota. Visit their weird but wonderful Salt Cathedral – an underground mine converted into… well, you'll see for yourself.
Ibagué
Leaving Bogota, take route 40 and head for Ibagué. It's a nice four-lane road cutting across the green lowland country of rolling hills. You are nearing the Zona CAFETERA, the famous coffee region of Colombia. Ibagué itself isn't very special, but if you decide to stop here for the day, check out their botanical gardens and waterfalls nearby.
Salento
From Ibagué, you can ride to Salento on the paved Route 40 or turn off right after Ibagué, find Atocha on your GPS, and take the dirt road across the Cocora Valley. There is practically no traffic on this road, except for a lone motorcycle or horse rider.
Local coffee farmers are friendly and welcoming, and the scenery on this road is to die for: green mountain slopes and the world-famous wax palms of Cocora are a sight to behold.
Stay in Salento and don't forget to:
Go on a coffee farm tour. You'll meet locals, see how the coffee is grown and processed, and get some delicious coffee to take with you.
Go on a hike or horseback tour to the Cocora Valley. Even if you've just ridden the dirt road to Salento, this area is too beautiful not to explore more.
Visit the Barbas-Bremen National Park to see howler monkeys.
Pereira
Pereira is a bigger city in the Coffe Triangle and your last stop before Medellín. If you decide to stay in Pereira, here's what you can do:
Ride to Los Nevados National Park, a stunning paradise on Earth of pristine nature, secret hot springs, and wax palms.
Visit Parque del Café, an amusement park dedicated to…coffee. They have an interactive coffee museum and the Coffee Show – a theatrical performance showing the history and traditions of coffee making in Colombia.
Visit Plaza Bolivar in Pereira to admire the local architecture and grab some local food. Yes, it's called Plaza Bolivar just like every other central square in any other Colombian city, and yes, there is a statue of Simon Bolivar in the plaza – except in Pereira, "The Liberator" is butt naked.
Medellín
If you've had enough of nude freedom fighters and coffee, it's time to head for Medellín, one of Colombia's most beautiful and beloved cities. Medellín has pleasantly mild weather all year round, has some great riding around the area, and is a great place to hang out, get your bike serviced, or simply chill out and soak up the local culture.
While in Medellín, be sure to:
Go for day rides to Guatape and surrounding hills. The whole area is exceptionally beautiful!
Visit Plaza Botero, a square dedicated to the sculptures of Fernando Botero, Colombia's most beloved artist
Check out Jardin Botanico, the city's botanical gardens, for some peace and tranquillity. The gardens often host music concerts and festivals and are a great place to relax.
Get an AirBnb in El Poblado, the city's upscale district with quiet streets and lively cafes.
See a soccer match. Even if you're not a fan, seeing a Colombian soccer match is a whole different experience. Football is religion in Medellín, and during the local matches, the singing, chanting, shouting, banner waving and even fire crackers going off is just part of the ritual.
During your ride, stop at the small, family-owned eateries along the way to sample local food and learn a few phrases in Spanish. If you're curious about the history of Pablo Escobar, the most notorious drug lord in the world, go on an Escobar tour in Medellín, but don't harass local people with questions about him or other narcos – most prefer to put the dark past behind and enjoy the bright new Colombia of today in peace. Enjoy the twisties and the beautiful scenery surrounding Bogotá, the coffee region and Medellín, and don't forget to repay the local hospitality by sharing your journey with others!