Ever since my friend Ola told me about her adventures in Georgia (no, not the one with the Panthers, the one with khachapuri, red wine and mountains), I've been dying to go. I've heard stories about Georgia from so many travelers, including my own dad, that I'm trying to figure out a way to visit before I head to Africa. Georgia, situated along the coasts of the Black Sea, is an adventure riding paradise right here, in the backyard of Europe. The majestic Caucasus Mountains, the people, the legends, the food, the off-road trails… word has it, Georgia is the new Scotland on steroids.
Here's how to ride Georgia.
Renting a Bike
If you're not planning to ride your own bike to Georgia, rent one locally. Tbilisi and Batumi are the two prime destinations for bike rentals. Dutch-owned Moto Travel Tbilisi has several BMW GS's and Africa Twins available, whereas Rental Motorbike offers smaller, off-road-oriented bikes for competitive prices.
Weather
Despite its moderate size, Georgia has a diverse climate, mainly due to its geographical link to the Caucasus Mountains and the Black Sea. It can be regarded as an all-year-round destination as every season has its own perk. Spring is mild and sunny, summers can get hot, and in gets cold quickly in the mountains during the fall and winter months. August is the best time to ride Georgia.
Destinations
In Georgia, any destination is a good destination as over 60% of the country is mountains. There's plenty of off-road riding, too, just pick a trail and go, but here are two major routes to get started:
Akhaltsikhe – Akhalkalaki
Meandering mountain road skirting along a river; medieval monasteries, castles, and stunning scenery guaranteed.
Zugdidi – Mestia
Another seriously twisty mountain road leading from the mountains down towards the Black Sea. Keep that throttle in check – crazy drivers, sheep and cows on the road!
Food & Culture
Food in Georgia is to die for. When in Tbilisi (capital city) or Batumi (coastal resort city), try the traditional khachapuri, which is a soft, hot cheese bread; Georgian barbecue is mouth-watering anywhere you go, and the best part is, you don't need to go to high-end restaurants – even in tiny villages, people cook better than upscale chefs.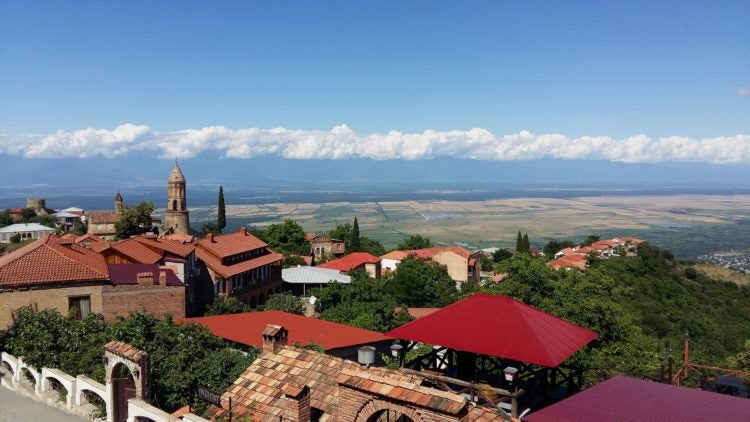 Georgia is also famous for wine: it's one of the oldest wine regions in the world. Georgians have been making wine for over 8,000 years, so you might want to switch from beer to red after a hard day's ride.
Hospitality in Georgia is sacred, so expect to be invited for food, chat to anyone and everyone, and feel like home even if you can't understand a word that's being said.