COVID-19 is keeping us all locked down, and I know a lot of you are planning where to go when you are given freedom.
I doubt the world all of a sudden will be open at the same time to ride, so your riding choices will most likely be restricted, maybe you should look a little closer to home.
How about a day ride or long weekend, maybe crossing your state or county?
How about doing it on a bike that you and everybody else thinks is the wrong bike…but might open your eyes to a different kind of riding, and have fun?
Challenging yourself to find a 100% off-road route, is it feasible where you live?
I was chatting with Greg Villalobos of Adventure Spec in England, a few years back he did just as I described, riding a 15 years old trails bike coast to coast across Northern England.
This ride was a few years ago, but its a great inspiration for shorter rides that some of us will be doing in the near future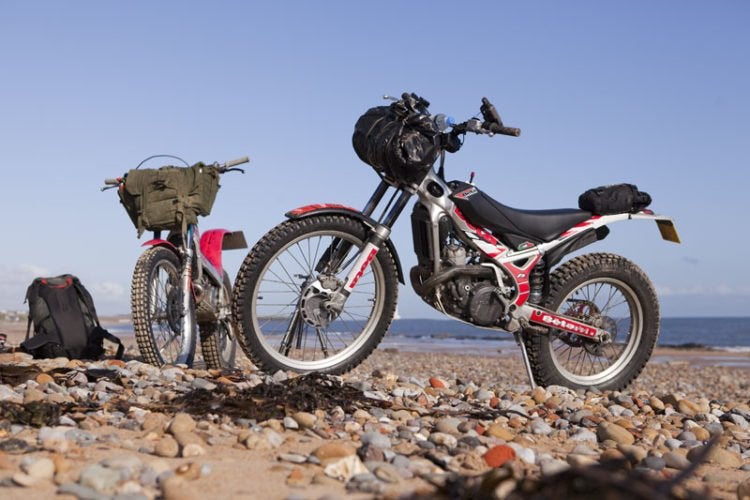 Heres the story…
What was the inspiration to do this?
I bought the Montesa 315 trials bike for my wife. We were living on a farm and I figured it would be the perfect way for her to learn how to ride a bike. On the way to pick it up in the van, she said, "I think I'm pregnant". It turns out she was right! So that put the whole wife-on-a-bike thing to rest for a while.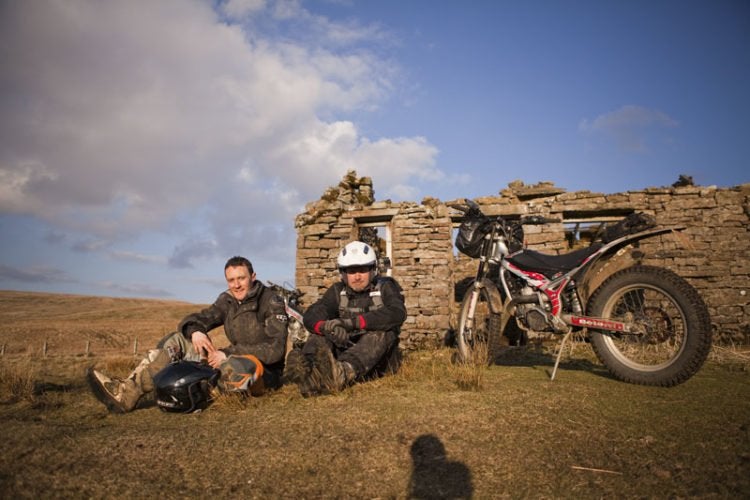 My friend Noel lives on the other side of the country to me and I can't really remember how the idea came about but I'd been riding green lanes on my 450EXC for a little while and I think I just figured that wouldn't it be fun to see if we could get from my side of the country to his on Trials bikes. I honestly didn't think it would work.
What bike did you buy and why?
The bike was a Montessa Cota 315. I first came across it when I was making The Green Lane Relay film.
On the first leg I was kindly put up for the night by a fellow rider Clive, and he had the Montessa in the garage. I think he was looking to raise some cash sometime later so offered it to me first and I said yes.
Obviously the bike has minimal ways to carry any gear how do you get around that?
Well, we knew we only needed to be on the road for a day or two. And that we weren't going to be in the middle of Mongolia. It's not like we needed changes of clothes or anything, the main concern was space for fuel and of course my camera.
The difficult decision for me was whether or not I take an extra fuel bottle or my big camera lens. The lens won.
We carried most of our stuff in rucksacks (not so comfy seeing as I couldn't sit down) and strapped an old army pannier onto the front handlebars for a 5ltr can of fuel and 2 stroke oil.
Was it meant as an adventure ride or a long trials ride that turned into an adventure?
I guess the point is that the more inappropriate the vehicle the bigger the adventure. If what you are doing is new, and you are pushing yourself out of your comfort zone and experiencing new things then it's an adventure. You could do that a mile from your front door if you have the right mindset.
Fuel is obviously a factor, what was your fuel range and how do you work around carrying extra fuel?
I honestly don't know what our range was. Maybe 50 miles ish? That was with what was in the tank plus a 5ltr can strapped to the front handlebars. The only time I ran out was literally 1 mile from a fuel station so we did pretty well. We're in the UK so fuel stops aren't ever 100s of miles apart.
What time of year was the ride, and why then, any surprises with the weather? 
We went in early Spring, so maybe March. The route we took goes over the Pennines and is one of the highest roads in the country so even when its sunny at the coast there's always a chance of snow on the tops.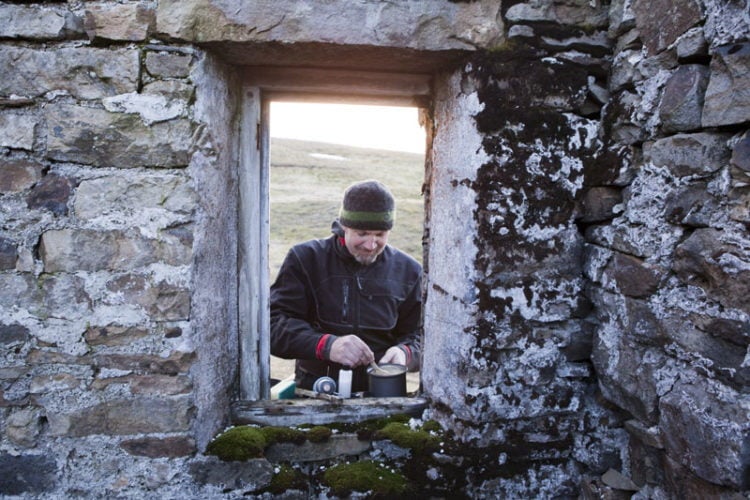 I remember getting quite excited when we saw a little bit of snow on the side of the track. I certainly didn't expect to be woken the next day to a full white out! That was just magical.
Can you explain a little about the TRF and Green Lanes in the UK so non-UK riders can understand the enormity of the ride? …and now how the TET has evolved? (I'll add links to all)
OK, so this can be a bit long and complicated so I'll try and keep it tight. In the UK, land access is a quirky and historical affair.
All land is owned by someone, and our country isn't very big, but there are ancient laws that protect our rights to access the land. You can't just go anywhere, but the roads, bridleways and, footpaths are all documented and protected to a certain degree.
Green Lanes, or Green Roads, and often ancient roads that were used to transport goods around the country, before roads were laid in tarmac. The fact that they don't look like roads that we are used to driving in cars doesn't matter, they still retain the same rules and regulations.
So, you can ride them, but you are still bound by the same rules as a car, speed limit, tax, MOT, insurance, etc.
Now, over the years there is increasing pressure to close these roads too. Vehicles, and local councils do have the option to do this via various legal routes.
The Trail Riders Fellowship has been going for over 50 years and is a volunteer organisation that is set up to protect motorcycle access to these routes. Our membership fees go to fighting legal challenges where they occur and the organisation has conserved access to many many routes that would otherwise be lost.
As in all countries, access is becoming more and more tightly controlled. The TRF promotes responsible riding and understands that we need to be ambassadors for our pastime.
And on to the Trans Euro Trail…
A few years ago a chap in the UK called John Ross figure that he would have a crack at pulling together a team of people around Europe to see if he could create a dirt road route that connected countries.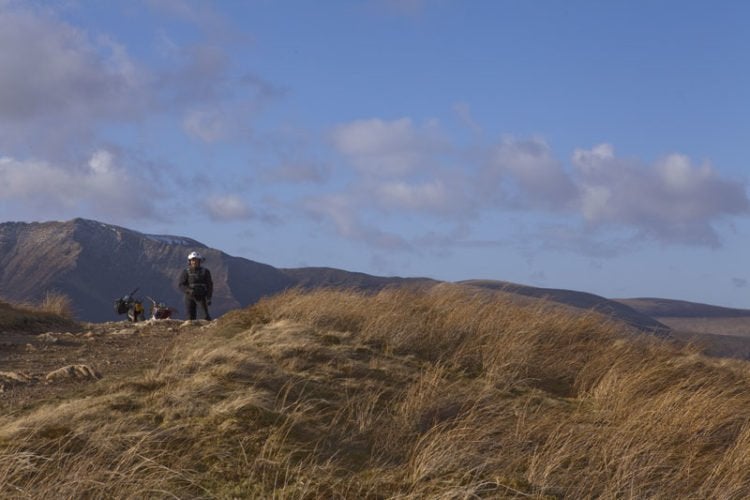 He talked to Adventure Spec about supporting the project. Adventure Spec is my client and so I became involved in the project helping to create the branding and website etc.
The TET is mind-blowing in how quickly it has grown. It shows that there is a real appetite for this kind of travel. Every country has a different attitude towards dirt road travel, and not every country has the same setup as the TRF to protect it.
In my mind the opportunity for the TET is to become an established form of adventure travel around Europe, to the point, it's included in the Lonely Planet guide.
As riders have the ability to spread wealth of knowledge to some of the most remote communities in the region and the point at which those communities come to value and rely on this trade is the point that the TET will become a real resource for tourism agencies in those countries. We've just got to do it right, with respect and care.
Was there options on the route at all or was this the only way coast to coast, was there a possibility of sections that would only be fun on a trails bike?
The film in some ways paints a more exciting route than it actually was. In the UK there's some fantastic trails, but they are all fairly short and spread out. You need to do a lot of road miles to link them all up.
The route we took coast to coast was at the most narrow point of the UK so we had that on our side. I guess we could have made it longer and taken in more trails, but it wouldn't have been done over a weekend.
Any major challenges along the way you had not expected?
A bit of cramp in the leg, my bike kept overheating, it was a bit cold, but most of all it was just massive fun.
When you reached the end, how did it feel?
Honestly, I really didn't think we would make it. On the last leg, I got a puncture and I couldn't get the wheel off due to my poor preparation.
I thought that we were done at that point. But with a little bit of ingenuity we managed to patch the tyre up and made it all the way to the coast. It felt fantastic. Not just to have experienced it but to know that I'd brought the camera and had all the raw ingredients to make a really fun film.
I think these kinds of trips also help strengthen friendships, I think Noel and I have a shared understanding of what you can do on a bike over a weekend and we're always on the lookout for the next trip.
Did you ride home?
Of course!
Actually, no. I think we were a bit done in by that point. If I remember rightly we made it back to Noel's house for a well-earned cup of tea and treated the bike to a little rest in the van.
You read the story, now watch the film, Greg tells it really well…
Are you motivated now to get a different bike? Maybe not one you'd normally ride…have you looked in the 'Bike Section' of the Flea Market?
or did you know ADVrider has a specific Trials section with its own flea market, if you were inspired to get yourself a trials bike to sharpen your skills
If you don't see anything that peeks your adventures spirit, why not post a 'Want to Buy', someone might have the treasure you seek in their garage, and right now would be a good time to sell to get a little cash to help after the CV disappears
All images and video Greg Villalobos
Instagram – gregvillalobos