Laurynas "Lawrence" Kalasauskas, a Lithuanian – American adventure motorcyclist, is riding round the world… in installments. That's right – due to family and work commitments, Lawrence can't just take off and ride for months on end, so instead, he's doing it in parts. And it's working.
I met Lawrence a month ago back in the Ecuadorian capital Quito where he stopped to plan the next leg of his adventure. Based in Philadelphia, Lawrence has already ridden the US, Mexico, Central America, Colombia, and Ecuador, before leaving his BMW GS 1200 in Lima and heading home to Philadelphia to take care of his family and business for a few months.
I chatted with Lawrence to find out how he's pulling off a RTW in installments, and what it takes to set out on a long motorcycle journey.
The Real Adventure Riders
According to Lawrence, he has been riding motorcycles since he was twelve. "The idea to ride around the world, for me, came pretty traditionally – I watched "Long Way Round" and "Long Way Down" and got hooked. At the same time… I mean, adventure motorcycling has exploded in the recent years, but my friends back home and I often joke that we were the first adventure riders some twenty years ago. Ever since I was a kid in a small Lithuanian town of Garliava, my friends, my brother, and I would get on these old, beat-up mopeds and motorcycles and just travel. We've ridden all over Lithuania, exploring every little gravel road and forest trail we could find. So in a way, I'm not new to adventure motorcycling at all", Lawrence joked.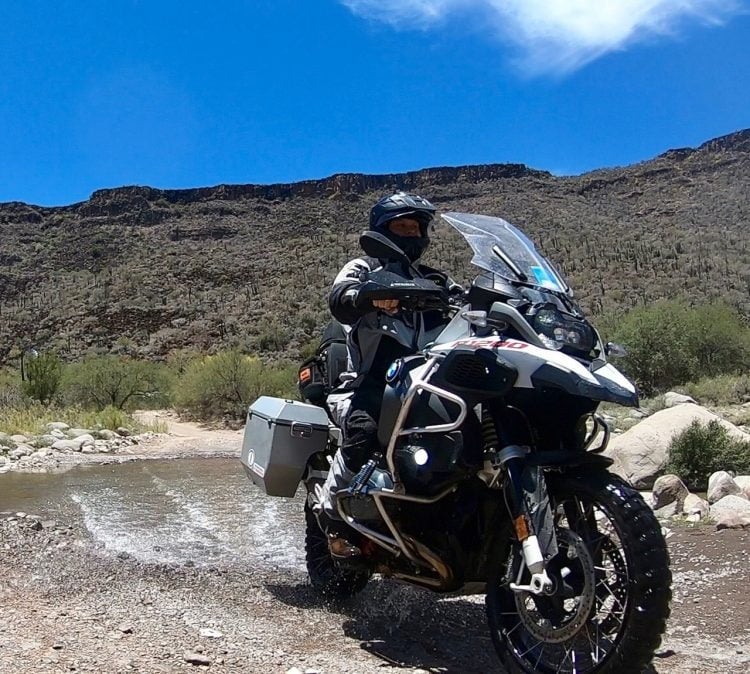 A year ago, he packed his GS into a truck and drove it to Vegas where he left the bike to fly back to Philadephia for work. A couple months later, he picked up the bike and set off to Mexico.
"I guess Baja California was where the adventure really began. I was riding Baja and saw this amazing salt flat in the distance; there was a little gravel road leading to the salt flat, so I took it to get closer. But what wouldn't you do for a good photo, right? I decided I'd ride on to the salt flat for an even nicer shot. Of course what really happened was, my GS immediately broke the crust and got hopelessly stuck. I just couldn't move it, couldn't get it out, even with the luggage off. I confess, I got a little scared then – I was completely alone, the sun was beating down hard, I had no water left and the bike just wouldn't budge. In the end, I had to walk back to the main road. Luckily, two American riders stopped to help me. The coolest part was, they had this beer cooler strapped to the back of one of the bikes and the first thing they did was offer me an ice cold beer. I swear, that was the best beer I'e ever had! The two riders helped me drag the GS out, and I carried on on my trip", Lawrence remembered.
Machete-wielding Farmers in Guatemala
According to him, he never felt unsafe or threatened in any way – not in Mexico, Central, or South America. "I did get in trouble a few more times, but it wasn't because of any external factors, it's because I was on a heavy motorcycle. I remember getting lost in Nicaragua – I was looking to ride up to a volcano as close as I could, and I ended up riding these small, narrow dirt trails my bike just wasn't made for. I fell over a lot, got lost, and swore in my helmet more often than I care to admit. But in the end, I guess this is the type of stuff you remember best!".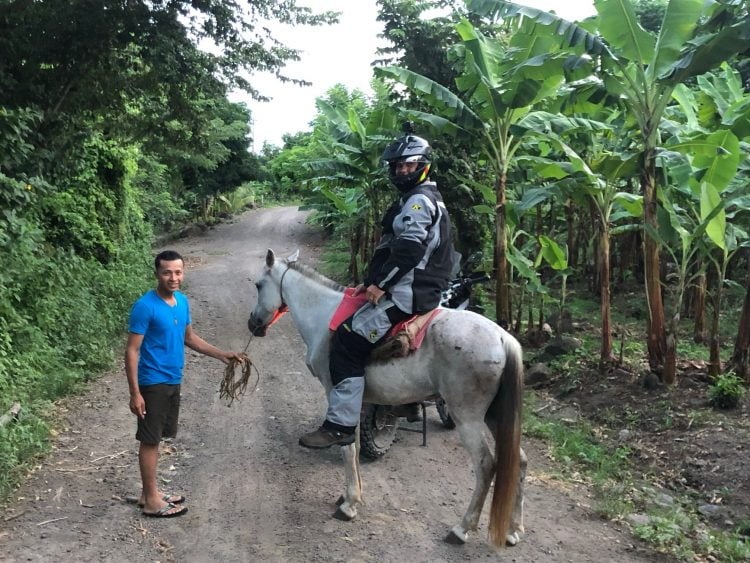 According to Lawrence, you develop a sort of gut instinct when it comes to safety on the road. "I never ride in the dark, always make sure I have some water and food with me, and generally stay out of sketchy parts of towns and things like that. But a lot of it comes down to instinct. For example, in Guatemala, this farmer came up to me and invited me to his home. The guy was carrying a machete, so your first impression might be to get the hell out of there. But I saw the man had an open, honest face, and in the end, I had a blast visiting his farm. So mostly you just sort of sense whether the situation is sketchy or not. I guess the only thing that threw me off a bit was the border crossings in Central America, especially the swarm of local fixers you encounter at every border. Don't get me wrong, a lot of these people are quite nice and helpful, but oftentimes, naive gringos like myself end up paying a bit too much for non-existent queues or made up fees. And I mean, you're there for hours, sweating and stewing in your riding gear in the tropical heat, people are always offering something or trying to sell you something, it can get on your nerves, for sure. But the thing is, you've got to keep calm. I mean, if you're heading to Central or South America, you know where you're going, you're not riding in Switzerland. So managing your expectations and being patient definitely helps".
The Real Colombian Coffee
After riding central America, Lawrence got on the Stahlratte to cross the infamous Darien Gap between Panama and Colombia.
"We sailed for three days stopping at the San Blas islands, which for me looked like paradise – picture-perfect turquoise blue water, white sand beaches, tiny islands with palm trees, it was perfect. We'd get fresh fish and losbter from the locals who would approach our boat in handmade canoes… San Blas really was a highlight of the journey. Once we got to Cartagena, the contrast was massive – I kind of expected Colombia to be, you know, third-world-y, but the port of Cartagena almost looked like Miami with its shiny skyscrapers and brand new boats and yachts at the marina.
From Cartagena, I made a beeline for Bogota where my wife and some relatives flew in to celebrate the New Year with me. All in all, I loved riding Colombia: it's stunningly beautiful, the people are amazing, it's still quite cheap. The only thing that shocked me in Colombia was the coffee. I thought Colombian coffee was supposed to be the best in the world, but in reality, Colombians drink this horrible instant stuff. I'm still reeling from the shock!", Lawrence smiled.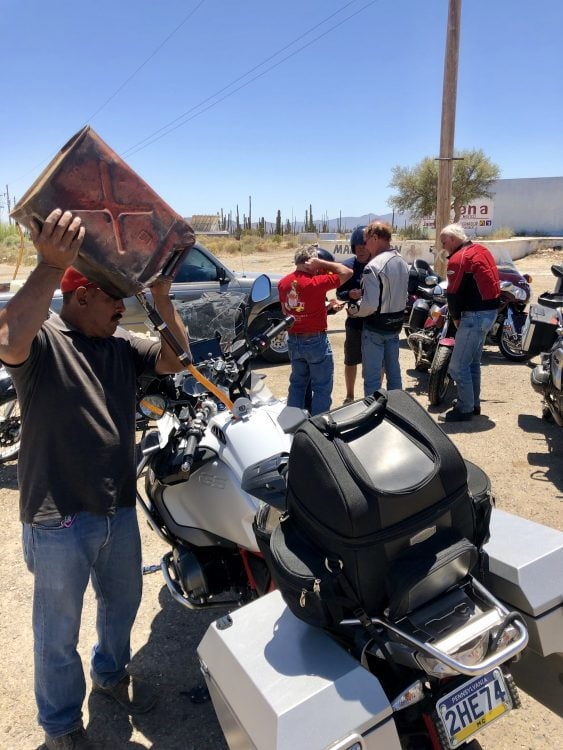 Time to Hit the Road
After crossing Colombia, Lawrence rode across Ecuador and finally, Peru, where he left his bike in Lima and flew back to Philadelphia for a little while. In a few months, he'll pick up the bike again and carry on riding down south.
"There's this myth that traveling round the world on a motorcycle is very expensive. It's not. Once you've got the bike and the gear, traveling itself can actually be pretty cheap. It's not a holiday package, it's a journey. I spend about $30 a day, and that's including fuel, food, and accommodation. I try to stick to smaller backroads and avoid big cities in order to get to know the real South America, to visit smaller towns, have my lunch or dinner at small, mom and pop eateries off the beaten path. Again, it's not a luxury cruise, it's a motorcycle trip. I camp a lot, too, both to keep the costs down and to experience the adventure fully.
I also think traveling alone is kind of enriching. When you're with your buddies, it's like you're traveling in this bubble where you can use your own language, be within your own culture. But when you're flying solo, that's it, it's just you and the world and you've got to deal with it. Besides, when you're alone, the locals are a lot more likely to approach you and chat to you, which is awesome. I guess it's also a form of meditation to be out there on your bike, alone; you can really think about stuff, find a different perspective. It recharges me.
I think the important thing, when it comes to RTW travel, is to just go. Often, people who dream of riding round the world don't lack the funds, the experience, or the prep. They just need to take that first step. You can't plan for everything, so if you have an idea and a motorcycle, it's time to hit the road".
Follow Lawrence's adventures on his Instagram page.