With more and more route planning apps, online communities, new GPS programs and innovative digital maps cropping up each year, route research and planning is easier than ever. Using sites like Wikiloc or ADV Tracks, you can now research a route, download a GPX file, upload it straight to your GPS device and go. Or you can just wing it, go old school and navigate with a paper map, or no map at all.
Whichever way you go about it, there are some things to consider when planning your route. Some of these may look obvious, but it's the obvious stuff we often forget. Here's what you should consider when doing your route research:
Costs
Depending on your budget, you may want to stick to smaller towns and villages and less-traveled backroads. Capital cities and large cities in general are usually costlier in terms of food and accommodation. They are usually connected by highways where there may be tolls; you are less likely to be invited for a beer or offered tent space than in more remote places where people tend to help each other out and stick together more.
If money is a factor, plan your route to avoid big cities, stay in smaller towns instead, and stick to smaller, toll-free roads where you can camp anywhere if need be.
Weather
The arid, Mars-like high plains of the Bolivian Andes and the Lagunas Route leading from the salt flats of Uyuni all the way to the Chilean border is a beautiful ride…in the dry. During the rainy season, it becomes a freezing cold, miserable hellhole of mud, never ending rain, and sub-zero temperatures. Even if you're a two-wheeled Bear Grylls who laughs at the face of natural forces and calls a torrential downpour of Biblical proportions a "light drizzle", riding in conditions like that is just no fun.
When researching your route, always factor in seasons and weather. Rainy or monsoon season, reversed seasons, climate differences at the sea level vs the mountains – all of this can make a big difference. Avoid getting stuck in horrible weather!
Terrain
Terrain can tell you a lot about what the roads are going to be like, and how long will you need to cover the same distance. A hundred miles on a coastal highway is not the same as a hundred miles on a twisty mountain road; equally, a lot depends on the road surface. You'll cover more miles on a graded dirt trail than a horribly potholed paved road, but you'll be faster on the Ruta 40 than the Carretera Austral because the latter is littered with roadworks.
Terrain can also tell you about possible detours or hold ups: in the mountains, factor in the possibility of landslides, whereas in the desert, there might be sandstorms, and if you're riding through a rainforest, you may encounter washed out roads and flooding even during the dry season.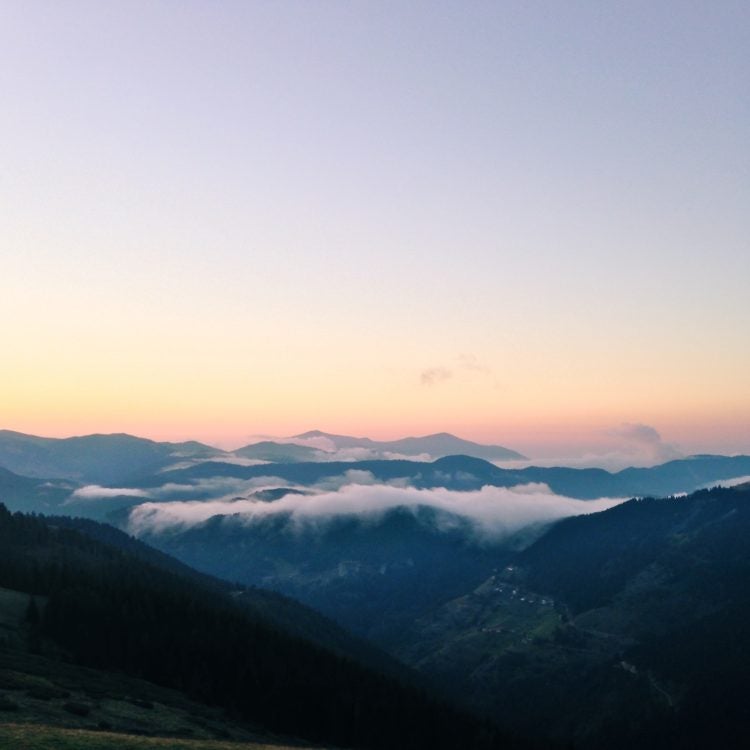 Population
Heading out into the remote wilderness of Siberia, Mongolia, Central Asia? See how populated the areas you will be traveling through are. People means food, shelter, and fuel, so if you have a stretch of road with no villages or settlements along it, make sure you have enough provisions to get you to the nearest town. Chances are, there will be other people on that road, but it's always better to have too much water, food and fuel than too little.
Backup
Whether you've meticulously planned your route, complete with Excel sheets for budget and accommodation along the way, or just have a rough idea of were you want to go, unexpected things are bound to happen. It's impossible to plan for everything – moody border guards who will make you wait longer than expected, mama nature causing the rainy season to begin early or winter to go slowly, road conditions, political or economical turmoil, constantly changing visa or motorcycle import procedures, detours, breakdowns – you can't foresee it all, and that's part of the adventure. However, you can have a few handy apps and websites on your phone or tablet that will help you in most situations.
iOverlander. iOverlander is a godsend open source app for all overland travelers all over the world. You can find just about everything on it: recommendations for hotels with secure parking for bikes, good mechanics, parts shops, route advice ("don't go through X – bridge washed out"), campsite and wild camping spots… In other words, it's a treasure cove for information on the way, and it's completely free to use.
AirBnB. If you're on a budget, and especially if you like to stop and chill once in a while, AirBnB is irreplaceable when you need cheap but comfortable accommodation on the way.
Booking.com is great when you need to find and book a hotel asap for cheaper.
The Horizons Unlimited Motorcycle Travelers Facebook group. This community is priceless – if you have an urgent and specific request, for example, "decent KTM mechanic in Lima" or "where to get MotoZ tires in Ulan Bator" or "can I get a carnet de passage for Iran on the road", somebody in this group will probably have an answer!