eBike manufacturers and model offerings are becoming more and more commonplace.  Companies from all over the world seem to be jumping into the eBike arena.  The US already has three fairly well known eBike manufacturers.  Zero, Lightning, and Harley-Davidson have already shown off their eBikes with Zero having already entered significant scale production.  Enter Finnish eBike manufacturer RMK.
A clean sheet of eBike paper?
RMK recently unveiled its new eBike creation.  Called the E2, RMK's design uses a refreshing, but risky, mostly clean sheet of paper design.  While many of its competitors have seized upon "traditional" eBike designs, RMK has taken a very different approach.
During the MP19 Motorcycle Show, RMK took the wraps off their eBike prototype, the E2.  The E2 is no "ordinary" eBike, it's very different from the competition.  Deciding to ditch most of the competition's power train designs, RMK developed an in-wheel motor using a hubless design.  The motor's stator takes up most of the inner part of the hubless rear rim while a magnet-laden rotor is used on the outer portion of the rim.  It's a complex design, but one which certainly sets itself apart from the competition.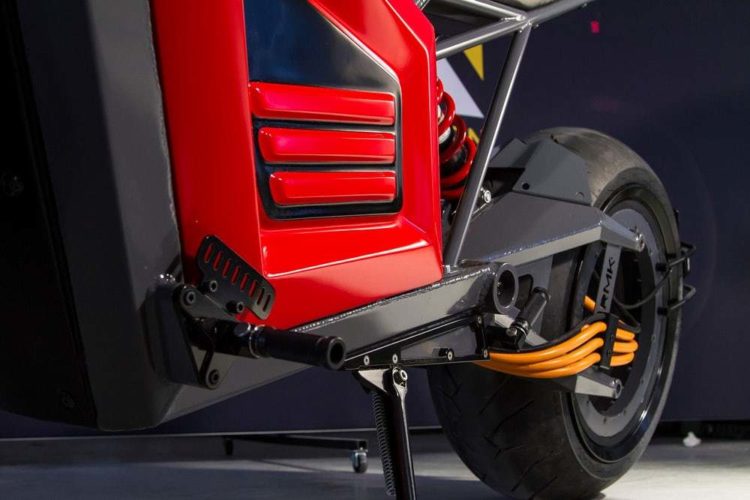 Another interesting and eye-catching design element is the heavy gauge wiring that connects the motor to the battery.  The bright orange wiring is shown off instead of hidden.  It runs from under the saddle and along the swingarm.  RMK is certainly trying to show off the elements that make the E2 go.  Along with these design elements, the E2 sports an angular and futuristic look.
What are the specs?
But what about range and charging times, some of the key issues that surround eBikes?  RMK has not announced the E2's battery capacity.  However, RMK's website says that the battery can be configured for between "200 – 300 km of riding depending on customer preference".  They also claim that with an onboard charger, the E2 will reach 80% charge in 2-3 hours.  DC fast charging speed is TBD.
RMK says that the E2's frame architecture offers plenty of room for a large battery.  Unfortunately, they have not elaborated on the actual capacity of its battery.  Weight is claimed to be around 200 kk (440 lbs), so the E2 will not be a lightweight machine.
All in all, the E2 represents a different approach to eBike design.  It will be interesting to see what the final production model looks like and how well it will sell if it reaches production.
Ready for Pre-Order
You can pre-order the E2 online now with a non-refundable €2,000 deposit.  The current anticipated retail price is about $29,000; less than Harley-Davidson's Livewire.