I have already confessed that I don't have much of a clue about rally racing, roadbooks, or enduro riding – but that I'm going anyway. After having just survived a three-day, 95% off-road roadbook navigation rally in Portugal, I can firmly say that yes, I was woefully unprepared, and yes, it was beyond awesome.
Here's what happened.
Day 1: Evora – Monsaraz – Evora
I arrived to Lisbon a day early, spent a night in a small guesthouse near the airport, and headed out to meet Joao Soares, organizer of the rally and co-founder of Horizon Adventures the next day. Joao met me and another rally participant, Paul, for a quick lunch in Lisbon. After feasting on a heavenly Portuguese steak, we left for Evora, the town where the rally camp would be based.
Joao is a true rally fanatic: he has done a number of cross country rallies in Europe and Africa himself, but always as an amateur rider. Addicted to off-road riding, rally spirit and roadbook navigation, Joao and his partner Pedro Matos have decided to organize their own rally right here in Portugal.
"Which category should we put you in? GPS or roadbook?", – Joao asked me.
"Can I do both?".
I wanted to learn all about roadbooks, but wasn't sure I'd be able to concentrate on the riding and the navigation at the same time. Joao decided I'd be in the GPS class, but could have my roadbook too and try to figure it out as I went along. That way, if I got hopelessly lost using the roadbook, I could find my way by double-checking the GPS. Whew.
Evora turned out to be a beautiful place with a magnificent Old Town and some impressive Roman ruins scattered across the city. Our hotel was right in the heart of the Old Town with a short walk from the main plaza, and our bikes were already waiting in the garage.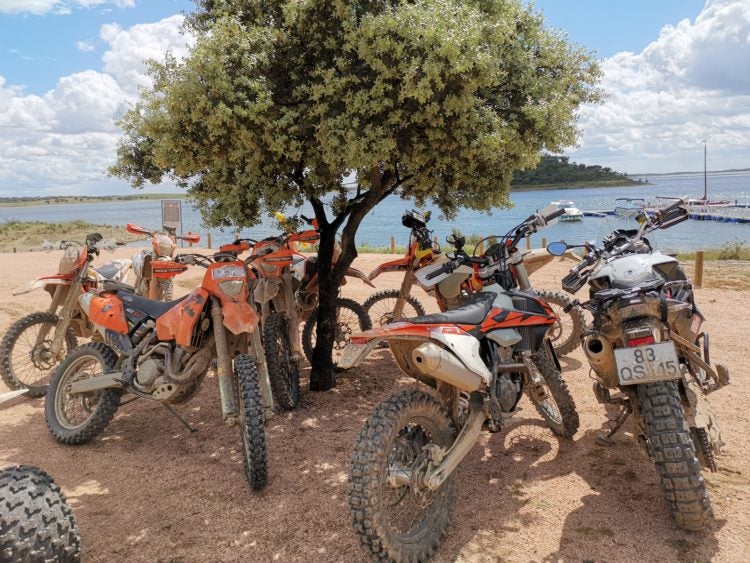 I was sharing a room with Elisa, a Portuguese enduro rider here for the fun. Most people were here for the same reasons: to learn something new, to ride some awesome trails, and to enjoy the company and camaraderie. "Most participants are here on their own bikes, although a few have rented ours just for the occasion. We also have the honour of Fausto Mota, a Portuguese Dakar rider, joining us, so that's really cool", – Joao said. Holy moly – suddenly, the stakes seemed higher. Riding alongside a Dakar vet? Yes, please, but at the same time, my chances of keeping up with the gang suddenly seemed alarmingly small. Be cool, just be cool, I kept telling myself, bursting with excitement.
After a hearty dinner and a short brief, everyone disappeared back to their rooms to mark their roadbooks and prepare for the start. Pedro Matos, co-founder of TransAlentejo Rally and Horizon Adventures, helped me put my roadbook roll in and explained the basics. "On the left handside of the roadbook, you have your distance. In the middle, you have a description of what to look for – a turn, a gate, a water crossing, and so on. On the right side are your notes: speed, danger warnings, basically just more information of what awaits ahead. You check your distance against your Ico odometer. If your roadbook says, for example, km 1.18 with a symbol of a roundabout and the direction left, you keep an eye on your Ico and when it hits kilometre 1.18, you look for a roundabout and turn left. See?".
It did seem pretty simple, except for the part where sometimes, the Ico reading wouldn't match the roadbook reading or the other way round and either one had to be adjusted manually. If I missed a point, I would have to backtrack to the last known location and adjust the Ico again to account for the distance ridden in the wrong direction and back. So, if I missed my next point after the roundabout at km 1.18, I would have to come back, adjust the Ico meter back to 1.18, and start again.
In theory, it all seemed doable. In practice, I was too excited and too terrified to pay enough attention. As soon as I was allowed to start, I tore off across Evora, giggling and yelling war cries in my helmet. I fuelled up at the nearest gas station catching up with Paul and Joao, and then it was every (wo)man for themselves.
As I rolled onto the first dirt trail, I couldn't help but turn my Sena on. It was a simple, graded dirt track, but to me, it was the Yellow Brick Road: here I was, riding as a rally participant, woo-hoo, yee-haw, holy $%"@!!! One by one, other rally racers flew by me with a friendly wave, but I didn't care. Elisa and Claudia soon overtook me, too, and I tried keeping up with them for a little while before giving up – these two were experienced and fast riders. In my attempt to keep up, I lost my roadbook navigation bearings and was soon navigating by GPS only. No matter; I figured I'd get into the flow of things, get used to the bike, then tackle the roadbook.
The KTM450 felt like a powerful beastie, charging ahead almost effortlessly. I spent the first few hours of the rally in a blissful haze, riding along and soaking everything in. I travelled across a beautiful green country, and the tracks soon turned uphill. The hilly terrain proved a little more challenging with sharp rocks scattered here and there on the track, but the KTM450 went over everything smoothly, and I decided that for now, all I have to do is keep a steady throttle and let the bike do its thing.
Reaching the waypoint for lunch felt like victory. I was the last one in, but hell, I got there. My hands and wrists hurt, but I had the biggest, dorkiest grin on my face.
The second part of the day's ride took us along similar terrain. Rocky hills, forest trails and finally, some wet and muddy farmland tracks right before Evora.
Rolling into the courtyard of the hotel after having done the 200 kilometres on day one, I was dog tired, but could barely contain myself. I felt like a Winged Demon of Rocky Trails, Master of Seriously Cool KTM Bikes, and a Really Real Rally Person, and life was good. My speed was sad to say the least, and my roadbook project failed, but I was thrilled I had made it. Me. In a rally!
"Tomorrow's going to be a lot more difficult", Joao and Pedro told me as they checked my bike over. "There will be a lot more really steep hillclimbs, more rocks, more mountain terrain. It's the same distance, but a lot more technical riding".
Oh. Hm.
After a dinner and a few Portuguese beers, I decided to hit the sack. When I closed my eyes, it felt like I was still on the bike and I felt dizzy – sort of like when you've had too much to drink and the room is spinning – so I tried to keep one eye open looking like a bewildered owl to make it stop. Next thing I knew, my alarm went off, and it was time to get up and go again.
Day 2: Evora-Ossa-Evora
During breakfast, everyone was talking about how difficult today's ride was going to be. "Looks like it's going to rain, too, so that'll make the trails even more treacherous", people said. I began feeling a little antsy.
"Do you maybe want the ADV tracks, just for today? ADV route is easier and shorter. These tracks are for quads and adventure bikes", Joao tried to persuade me. I decided to stick to the rally route, come what may, but asked for an earlier start so that I could make it to the lunch meeting point on time.
Leaving Evora, I felt a lot better and steadier on the bike. I'd gotten used to it, and with it came trust. Still, I was riding even slower than the day before, feeling apprehensive. Super steep hillclimbs? Wet sharp rocks? If Joao thinks I should have taken the easier route, it must mean stuff's going to get real tough, for me at least.
As I went along, I worked myself up to acute anxiety. Who am I to try this, anyway? What if I break something on the bike? What if I get hopelessly stuck on one of those mountain trails and they'll have to come rescue me and I'll forever be The Lame Rally Moron who couldn't get up a little hill?.. Yesterday's visions of grandeur disappeared without a trace as I picked my way gingerly across a forest track leading up into the foothills.
After some 40 kilometres, I stopped for a smoke trying to calm myself down. I took a few snaps of the other riders flying by, envious of how fast and elegant they all were. I was feeling useless and clumsy, but turning back just wasn't an option.
Just about then, a rider stopped to check if everything was OK. Warren from Rust Magazine was doing the rally for fun. I told him I was feeling nervous – at that point, the "steep hillclimbs" morphed into Grand Canyon-sized vertical cliff walls in my head. "Dude, don't worry. I've ridden these trails a lot and yeah, there might be some steep ups and downs, but you'll be fine. Don't listen to what people say. Chill, go for it, and enjoy the ride, you're more than capable", – Warren said, before taking off.
Somehow, the pep talk worked. I decided I'll just take one crazy trail at a time and see what happens. The only way back to Evora was along the rally route, and that was that.
As I approached the first hill, I stopped right at the edge. The way down seemed long and steep, and the way up, equally scary. Every cell in my body screamed, "you don't need to do this. We could be eating pizza and watching Netflix right now. There is warmth and food and dry socks out there, you just need to turn around. Just turn around now".
"This is a little like Colorado, but not at all", I told myself and headed down. Surprisingly, it wasn't half as bad as I expected. I got right back up just as quickly. Okay, okay, I thought to myself, okayyyyy. Soon, the ups and downs just felt like one big rollercoaster ride, and I even started smiling in my helmet.
Next came some forest trails with the track plunging down a steep rocky hill and back up in an abrupt climb. "Just let the bike do its thing", I barked at myself as I began rolling down, then up as fast as I could, standing on the pegs and clutching the handlebars like my life depended on it.
For the next few hours, I negotiated one hillclimb after another. The ground was soft, and my rear tire was often all over the place, jumping sideways on steep inclines. Still, somehow, I made it. Slowly, clumsily, but I made it.
It started to drizzle in the afternoon. My GPS now indicated I only had some 10 kilometres to go; all of a sudden, two more riders appeared out of nowhere, and we rode together for a little while. Then, Joao showed up and told us we still had one very steep and rocky hillclimb to tackle. "If you don't feel like doing it, there's a shortcut. If you're going for it, once you reach the bottom, get into second gear fast as you can and then full throttle up till you reach the top!". One rider went for the shortcut, another made it up the hill. My turn. White-knuckled, I rolled down the wet rocky trail, reached the bottom, switched to second gear and let it rip. The bike jumped upwards, skidding, sliding and fishtailing, but upwards nonetheless… I made it halfway up the hill but, failing to keep a steady throttle, had to dump the bike mid-way. Joao was right behind me and helped me drag the bike to a drier spot where I could get some grip again, and I finally made it up the hill. Victory! Victory was mine! Finally getting to the lunch meeting point felt like heaven, and I wolfed down a generous portion of Portuguese pot roast before getting back on the bike.
My hillclimbing glory, however, turned out to be short-lived. Soon after lunch, I encountered a group of riders congregating at the foot of a particularly nasty hill. Seven or eight riders were debating whether to try going up it or not. It did seem monstrous: almost vertical, littered with large wet rocks, it was a beast of a climb.
"Here's a way to a shortcut if you don't want to go up that hill, it really is seriously steep", a rider approached me. I thanked him, still arguing with myself whether to try it or not.
"Are you going to try and go up that climb, then?", I asked the rider who showed me the shortcut.
"Um… Yeah, you know, I think I might give it a go", he said and tore off. As he headed for the hill, I realized his shirt said "Fausto Mota".
Fausto Mota.
The Dakar rider.
I just asked a Dakar vet whether he was going to try the steep hill. Well done, Egle, well done indeed.
Fausto flew up the Monster Hill like it was a cute little bump in the ground, followed by Pedro, the rally organizer. After coming back down, Pedro stopped next to me as I was positioning my bike to get the most speed before the hill.
"I think you should sit this one out, it's really tricky. I don't want you to break a hand or a lever", – Pedro said.
I felt crushed. I wanted to at least try; even if I didn't make it to the top, I would at least try. But Pedro knew what he was talking about, so, chastened and sulking, I turned away and used the shortcut to avoid the hillclimb and get back on the track.
Later on, Elisa and Claudia told me they didn't go up the Monster Hill, either. Paul, the kickass motocross rider, said it took him four attempts to get to the top. That made me feel better, but I still feel like I now have unfinished business in Evora. You watch out, Monster Hill. You just watch out.
Getting back to Evora that day still felt like timeless glory. I dumped my bike on one hill and couldn't make it up the Monster, but I was still here. Day 2, and I was still around. Everything hurt; my hands and wrists were killing me, and I struggled to open a bottle of water. My hands were covered in blisters, which I decided would make for excellent battle scars. All in all, success.
Dinner, cerveja, sleep.
Day 3: Evora – Montargil – Evora
I woke up all chirpy and happy the next morning. The worst, I was told, was now over. The last day was going to be easier with lots of straight sandy tracks, forest trails, a few hillclimbs and some mud – a perfect recipe to finish the rally. I decided I'd give roadbook one more go, so I got my rolls for the day from Pedro and headed out towards the start.
Here, I realized I had no idea of how to put the paper rolls into the roadbook holder. Fausto the Dakar rider was already there waiting for his start, and seeing me struggle, he kindly helped me to deal with the rolls. "I saw you during the Dakar, by the way. You and your Mad Max bike, you were there every day!", – Fausto said, smiling. Ha, I thought. Ha: Dakar awesomeness followed me all the way to Portugal. What a wonderful world.
Day Three felt like pure off road bliss. I bimbled happily along the tracks trying to ignore the GPS completely, paying close attention to the roadbook. I made the right turn once, twice, four times, twenty times. I found the water hazard and the farm house, the rocky bit and the straight bit, the crossroads and the gates. Ho! Ha! Roadbook suddenly became a wealth of information instead of a suspicious new devilry to be figured out with utmost care. Unlike the GPS, your roadbook tells you what the track ahead is going to be like. On top of that, it tells you distances between turns or danger points, so after each point, you can just chill and ride because you know you have 3 kilometres of straight track or 2 kilometres of forest trail, whereas with the GPS, you have to keep glancing at it to make sure you're still on the right track. This was awesome. Oh, this was the best, despite the rain and the mud and the fact that I was still, alas, the slowest, clumsiest adventure minion in the pack.
After a delicious Portuguese lunch, I took off first to make it back with everyone else. My roadbook was still spot on, and while I would still double-check the GPS once in a while, I rode using the roadbook more confidently than ever. Fausto had gone before me, so I had his tracks for reference, too. I was alone on the track, the rain falling softly on the meadows, bushes and trees, the smell of moist earth in my nostrils. The countryside was quiet, almost sleepy, as I travelled the narrow forest tracks and waterlogged farm fields. This was it. This was everything I had hoped for, and more.
I dumped the bike twice that day after getting stuck on wet, slippery rocks on a steep hillclimb, and towards the end, I was freezing cold, water sloshing around in my boots, gloves wet and yucky, hands raw with blisters, goggles fogged up and covered in mud. I felt none of it as I made my last few kilometres to Evora, catching up with Joao along the way and rolling into the hotel courtyard – our finish line – in the evening.
After a celebratory dinner, beers, and hugs, I got a lift back to Lisbon and found myself wandering around the Lisbon airport at 1am, waiting for my flight at 5 in the morning. My gear was still wet (being on a budget, I tried saving money and avoided paying for checked baggage, so I had to wear all my gear on the plane). I smelled faintly of cow doo-doo because on the last day, I hit a large puddle going through a field full of grazing cattle and, I'm guessing, the results of that grazing probably ended downstream, so to speak. I was exhausted, and my hands and wrists still hurt bad.
But somehow, boarding the plane, I caught myself wishing the rally wasn't over yet.
A huge thanks to Joao and Pedro, organizers of the Trans Alen Tejo Rally, for inviting me and looking after me during the rally. Big hugs to Elisa and Claudia for being the funniest badasses I've ever met, to Joao who gave me a lift to the airport, and to Paul for all the encouragement and support. Massive thanks to Fausto Mota for being cool about things, to Warren for the pep talk, and to every rally participant who made me conclude, with utmost certainty, that humans are awesome.
If you want to try your mojo at the TransAlentejo, see Horizon Adventures for details. They organize a roadbook navigation rally every March and a GPS navigation rally every October.
Images: Photo Tabanez & Egle