Tell us about Rocky Mountain ATV. You are certainly one of the bigger parts companies out there, but what were your humble beginnings?
It all started in a tiny one-room warehouse affectionately known as "the tin shed." A local Utah racer Dan Thomas started out just selling tires and wheels, but steadily began expanding his offerings. Soon, Dan began recruiting other local racers, riders, and wrenches to be a part of his growing company. Passion, enthusiasm, and just a pure love of riding were our roots, and they're still the core of the company today. When we say we're made by riders, for riders, we mean it.
How long have you been in business?
We've been around since 1985, so 2020 marks our 35th year and counting. We love being in the industry and can't imagine working in or for anyone else.
Where are you located, most people buy online but can they stop by and collect parts as well?
A lot of people probably don't know that Rocky Mountain has four locations: a warehouse in Payson, Utah, dealerships in Helper, Utah, and St. George Utah, and another warehouse in Winchester, Kentucky. Both of our warehouses have showrooms where you can browse parts and order them down from stock, while both of our dealerships carry machines from select manufacturers.
Can you give us a basic shop tour? People might think that you only sell parts but you make them too? 
Utah is where it all started, so it only makes sense that it's where our HQ is, too. Our one-room warehouse in Spanish Fork moved to Payson where the main offices for our CEO, GM, Marketing department, Purchasing department, Call Center, and so on are all attached to the showroom and warehouse.
Through the multi-level warehouse, state-of-the-art systems, most of which we designed ourselves, make pulling, packaging, and shipping customer orders effective and efficient.
The warehouse, along with our website, all runs on our own in-house software, so their performance has been fine-tuned to our exact specifications and needs.
Towards the back of our latest warehouse addition, we have our Video Studio,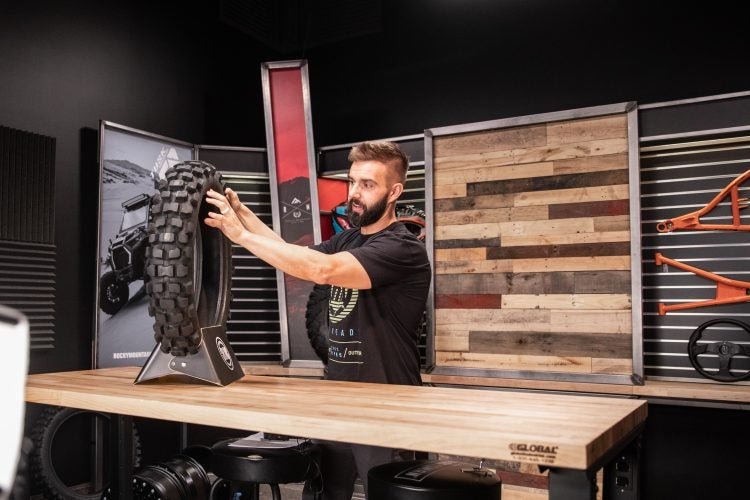 Attack Graphics department,
and R&D center nicknamed the Power Plant.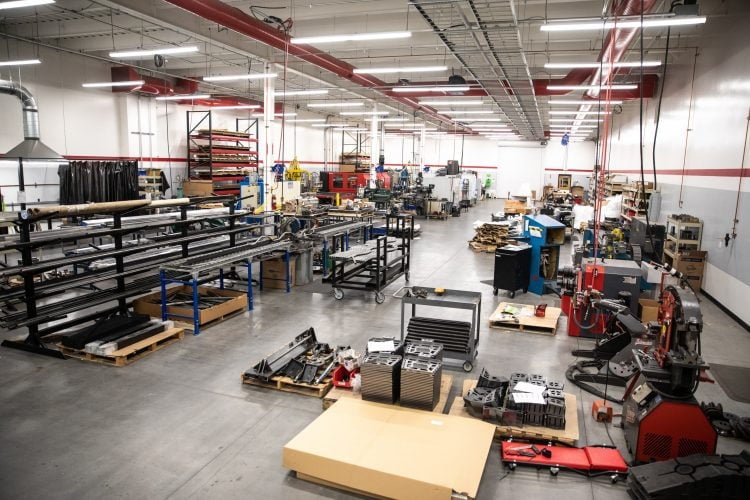 Several of our in-house products, like the Tusk Pannier Racks  for example, are all made right in the Power Plant.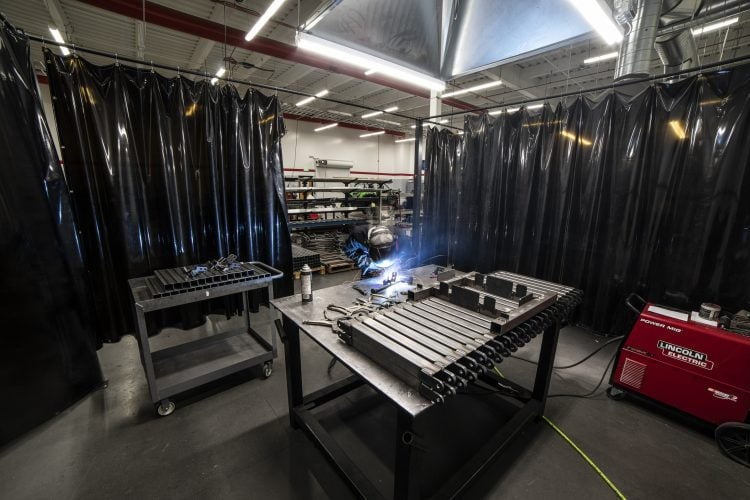 We also have our own fleet of adventure bikes, motorcycles, side-by-sides, and ATVs packed into our "Stable," ready for riding and testing. The machines not only help us keep up with the latest and greatest tech in the industry, but also help us fit and develop new parts for some of the most popular models.
We almost have to count the trails and tracks around us as part of our HQ, too. There are so many places to ride just right outside of our warehouse, not to mention the pristine riding locations that are no more than a few hours away. We take full advantage of this every single day, whether it's for filming a video, testing a new machine, or just getting out and appreciating the great outdoors. It's nice to work in an area that reminds you of why you started in the first place.
What was your first product, and do you still make it/ sell it or something like it?
Some of our first in-house products were chains and sprockets through our brand Primary Drive. As we've continued to improve those products and expand Primary Drive's product lines, we've found that those two products continue to be a very important part of our business.
How do you test your products before offering them for sale? Any unique methods?
Our best testing is done in the saddle. The core group we have weighing in on design, functionality, and durability are enthusiasts that have been riding bikes for decades. With ample experience and justly earned credibility, they know what it takes to make an all-around good product. Every time they ride, they're paying attention and making a wish list of features for products ranging from comfort and convenience to protection and performance.
With this awesome team and some incredible riding locations, we have the ability to prototype whatever feature we're after into a product and then test the functionality. We can learn how well the product holds up over a multi-day ride of varying terrain and difficulty.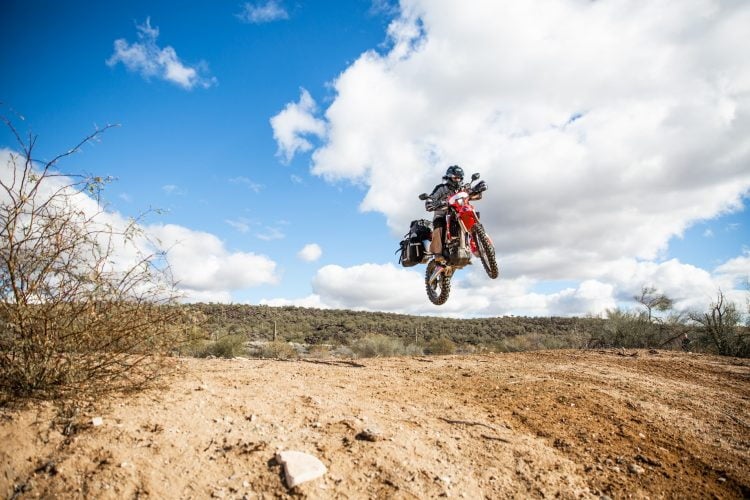 The long days of wearing, carrying, and riding with the product make our team familiar with every little detail, every little benefit, and shortcoming. If, after all this, the product is feasible, that's when we'll take it to market.
Where do you get your inspiration, your thoughts, and ideas? Do you accept suggestions from customers/ friends?
For us, it's simple: Inspiration follows proactivity. The best ideas always come from riding regularly and getting hands-on experience with machines and products. Sometimes, that's an idea for a brand new product or tool to revolutionize rides or repairs. Other times, it's a problem we find that needs solving. When you're constantly engaged with some aspect of the industry, you'll find ways to improve existing products, whether it be for comfort, convenience, functionality, etc.
Our customers are also a great source of inspiration and ideas. We pay close attention to their questions about products and reviews of them, in addition to their frustrations with them. Their feedback plays a huge role in our design and development; most of the ideas we spend time and resources on are the ones that solve our customer's problems.
Do you have a product in your line that you feel is genius, but the public doesn't buy too many of? Could you highlight that?
One product of ours that's been flying under the radar is the recently released Tusk Cache Tool Roll.
Even though tool rolls themselves aren't new, we've added a few unique features to the Tusk version to help handle some of the most common trailside troubles. For starters, the roll is thoughtfully organized with elastic tool slots, zippered mesh pockets, and a convenient carry handle.
What we're really excited about, though, is the roll's magnetic patch. We've lost track of far too many nuts and bolts on the trail, so we designed this magnetic area to be the catch-all for all those easy-to-lose metal parts. That convenience factor alone has made the Tusk Cache Tool Rolls one of our go-tos, but everything else makes it a really functional and affordable option that we think could benefit a lot of ADV riders.
How many different unique products do you sell/make?
It's exciting to not have a definitive number for this. With seven proprietary brands, we make and sell scores of products ranging from budget-friendly alternatives to premium-level offerings. With our 30+ years of experience, we've amassed a collection of products applicable to just about every type of rider.
One of our favorite projects to date, though, remains to be the A.R.C. Battle Born Adventure gear.
The line took thousands of man-hours, dozens of iterations, and some pretty serious testing to complete, but it was well worth it. Customers are taking the gear just about everywhere, attesting to its durability, functionality, and capabilities.
How long does it take from an idea, to design, to prototype, to the final product on the shelf?
This varies widely from product to product. If it's a new product for one of our proprietary lines, it takes time to design, test, and refine the product; the whole process can take years. Simply changing fitment or offering new sizes to an existing product, though, is a much shorter process.
Our R&D shop, the Power Plant, is an integral part in all of this. With a CNC Laser, CNC Router, CNC Tube Bender, CNC Brake, CNC Vertical Mill, CNC Lathe with live tooling, and, most importantly, a skilled team, the Power Plant doubles as a short-run production facility where we can build some pretty cool parts. This allows us to get products to market quickly because we can be out testing a production-quality part within days of finalizing a design.
Basically, every project we do is strategic. We have spent a significant amount of time and resources to build our brands to where they are today. We do not want to offer something that is below our customers' expectations.
RMATV just released its own tires. Can you tell us about them and why this happened?
We're pretty proud of the Tusk Dsport Adventure tires. They've been years in the making and are a culmination of pretty much all of our ADV riding experience. Our guys have ridden on almost every tire out there, so they knew exactly how they wanted to fine-tune and dial in the Tusk Dsports. It took a long time to get the prototype where we wanted it, and then it took even longer to test it. We designed the tire with grip and wear characteristics in mind, and we really wanted that to be evident in the final product.
Testing for these tires was frequent and intense, some of the most intense testing we've ever done. Every one of our test riders stepped up their aggression, speed, and endurance to really push these tires to the limit, all on some of the most abusive terrain in the U.S.
It's been a long and meticulous process, and it's taken thousands of miles, but we'd say the end result has been well worth the effort. The reception has been so great that we're working on releasing more sizes in the near future.
Which product is your best seller?
Our best-selling products are always the common wear parts. We don't go a day without selling brake pads, filters, chains, tires, and levers for some ADV bike or another. While those types of parts aren't the most exciting to buy, it is exciting to think about the miles of riding, thrilling adventures, and funny stories that inevitably led up to needing a replacement part.
Outside of those wear parts, we've seen a lot of success with some of our first ADV luggage lines – the Tusk Pannier Racks and Aluminum Panniers. Those products have seen some of the most comprehensive development and testing, they've been around the longest, and they've been some of our highest-rated products to date.
Which brand/model bike makes the most sales? (Interested to see if it's more service or farkle generated)
Oh, it's the KLR, hands down. It'd be pretty much impossible for it not to be the KLR with its impressive production run of 31 years and an even more impressive reputation of capability and durability. There are just so many of these bikes still running, which means there are so many riders out there who are ordering the aforementioned wear parts. When it comes to the more high-end farkle parts, though, KTMs and Husqvarnas are most consistently our top sellers.
That said, we've found that our bike build videos factor into a large number of our ADV sales. When it comes to filming our videos, we try to bring in bikes that we're unfamiliar with; we want to find the bike's weaknesses and develop products to shore them up. Just one example of this is our recent Honda XR650L bike build. The video was well-received, and sales for XR parts went through the roof. It's been the same story for so many of our other ADV bike builds, which means that there are some days where the highest-selling brand/model of bike is the one we just did a build on.
***if you are interested in more machines that we have 'built' follow this link to some more articles about adventure bikes, race bikes, atv's, and side x sides 
What does the future hold for RMATV, stay as you are or more expansion and world domination?
There are a lot of things we hope our future holds, but we'd still be satisfied if it was just more of what we're doing now – riding and trying to make riding better. That's really all we've ever been about. The same team of riders that have been here since the beginning has invested all of their time, resources, and passion into this company, all because they love the industry and want to make it more accessible to everyone.
Of course, we'd like to expand, but we also know what that means. We'll continue to focus on our customers and what gives them the best value, working hard to be the best source of products for them. If we can do that, we'll earn their business. We don't see that as world domination, we see it as us working really hard to provide for our customers. Growth also requires the cultivation of the market; we can't just take and never give back. We're trying to show our appreciation for the industry and riders like you with grassroots promotions like Race Gas, event support, land-use activations, etc. If companies don't invest in the future of the market, the market will dwindle – our growth is dependent on the industry's.
That said, we want everyone reading this to check out some of these programs that we offer. If you have a club, rally, or group ride, get in touch with our Race Gas team. We can offer credits of $10 redeemable at RockyMountainATVMC.com to help offset the costs of your event. Let us know if there's an event coming up that we can be a part of.
Do ADVrider and its inmates play a big part in your business. Do you offer any kind of incentive or discount for inmates? (What is your user name and main vendor thread link?)
We get a lot of value from ADVRider and its inmates. The forum alone is packed full of insight, current events, and other entertaining posts – a lot of our people here at RMATV follow it religiously. Many of the threads in the forum are gold mines of advice, inspiration, and a fresh way of looking at riding.
That said, we're excited to offer 10% off a whole lineup of our ADV favorites. For the next 90 days, you can use the code INMATE10 to get a discount on:
A.R.C. Battle Born Adventure Gear | Jacket & Pant
A.R.C. Battleborn Adventure Gloves | Air & Wind
A.R.C. Mid-Layers | Jacket & Pant
A.R.C. Moto Socks
Tusk Aluminum Panniers
Tusk Pannier Racks
Tusk Dry Duffel Bag
Tusk Pilot Pannier Bags
Tusk Top Rack
Tusk Cache Tool Roll
Tusk Dsport Tires
Tusk ATV/Motorcycle Seat Heater
Tusk Grip Heater Kit
Tusk Lock-On Heated MC Grips
***RMATV has started a new vendor thread click here and follow along
We're also looking forward to interacting with more inmates on our new vendor thread. If you've got questions about bikes and rides, product feedback, or anything else for us, and @RMATVMC.
Rocky Mountain can be found in numerous places around the internet, links for their various pages are below: