A few years back, I believed that riding RTW meant having just one bike. One bike to live off of as you traverse the world, one bike to ship across oceans, one bike to complete the journey.
But the definitions of RTW travel can – and do – change, at least for me. After chatting to another traveler online, I asked her what bike she rode. "You know, I kind of have several dodgy bikes scattered around the world", she told me. Emma had a collection of beat-up, second-hand KLRs in Guatemala, the US, and England, and she never bothered about having just one motorcycle to ride around the world. She'd fly wherever she pleased, get a bike locally, and take off for weeks or months, then head back to England or extend her travels to another country or continent.
Slowly but surely, a similar thing is happening to me. When I left Arizona on my DR650 three years ago, it was all supposed to be pretty straightforward: ride South to Ushuaia, loop back either to Chile or the US, ship bike to Vladivostok, carry on back to Europe, then head to Africa. Yet, along the way, the plan and the travels got all tangled up and scrambled; I ended up chasing and racing rallies all over the place, going on a hard enduro tour, then leading a women's tour in Ecuador on large capacity bikes, and now, I'm between Colombia, Cuba, and Peru riding whatever is available at the time, while the DR is awaiting patiently back in Europe for the next rally season.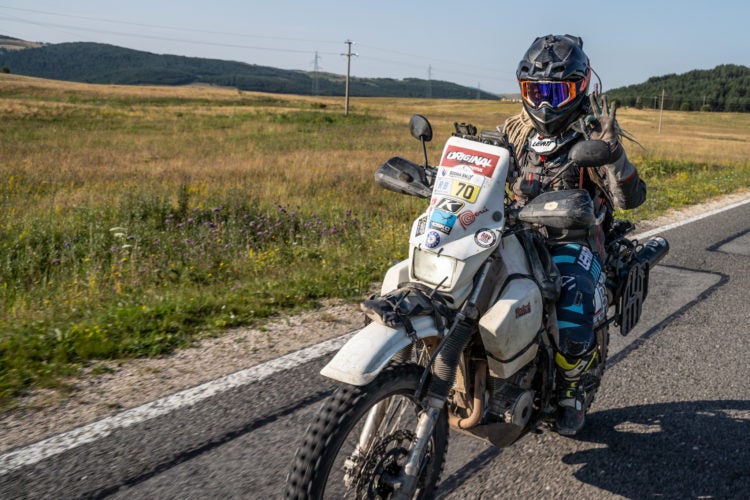 By my own old definition of what is RTW travel, I'm probably already way, way off the mark. But life isn't about definitions, so if you can't take off for years and ride your beloved steed around the world continouosly, having "several dodgy bikes scattered around the world" might not be a bad idea.
Here's why.
Freedom
Adventure and RTW travel, for most people, is all about freedom. And while becoming a full time motorcycle hobo sounds like a dream to plenty of riders, it can actually become quite routine and even rigid as you go along. Sooner or later, the novelty wears off, and what once seemed like the most exciting thing on Earth now becomes your new normal. At the end of the day, the formula of a RTW is this: get up, pack, ride from A to B. Rinse and repeat until you've circumnavigated the world; sure, there'll be adventures, mountains, border crossings, rain, awesome people, and breath-taking scenery along the way, but in a nutshell, that's pretty much how life on the road looks like.
So why not switch it up a little? For me, having some off-road training once in a while, racing in a roadbook navigation rally, visiting friends back home, riding with rally or hard enduro maniacs, and doing a tour adds color, flavor, and thrill to my travels. And that means I sometimes have to park my DR and get on a rented or borrowed bike locally…
Skills
…which brings me to the second point: skills. The more different bikes you ride, the better rider you become – at least that has been true for me so far. I'll get on anything from a Yamaha WR250 to a Honda Africa Twin if I can, just to give it a try and see how it goes. Small enduro bikes help with off-road and rally skills, big bikes are interesting, and after all is said and done, my DR650 ends up with a slightly better rider than before.
Just this year, I've ridden several different bikes from a KTM350 and 450 to the WR250, Suzuki 125, Honda CRF450, Husaberg 300, a manual and a DCT Africa, and my own DR650. I still love my bike the most, and I'm still putting thousands of miles on it; but riding different bikes on different terrain with different people has certainly made me a better rider, on and off the road.
Economy
Fly and ride is becoming more and more popular in the adventure motorcycle world, and it's easy to see why. Sure, in the long run, shipping your bike is cheaper than renting if you're planning to ride for months; but for a blitz ADV vacation, fly and ride is a lot more economical and time-saving. The same goes for "buy-back" scenarios, where you buy a motorcycle locally, then sell it back to the owner after your ride. Or, like my friend Emma, you can buy a second-hand bike locally, ride arond, then store it somewhere for the next time – that way, you can have even more freedom to move around.
So, is there one bike to rule them all, or can you ride around the world on several bikes bought, borrowed, or rented in each new continent? Is RTW travel still kosher if you switch it up, fly home once in a while, and swap bikes for rally racing? Let me know in the comments below!