Many ADV riders use connected devices whenever or wherever they ride.  Securing those devices becomes a major concern particularly when riding off road.  Scosche has been making a wide variety of mounts for years but only recently entered the motorcycle mount market.
Scosche's newest mount for motorcycles is the Terra clamp.   Its design is a bit different than other manufacturers.  Instead of using a spring-loaded rubber fingers to hold the device in place, the Terra clamp utilizes rare earth Neodymium magnets to hold the device.  The second layer of security is supplied by an attached rubber band like holder which attaches to the phone at each of its four corners.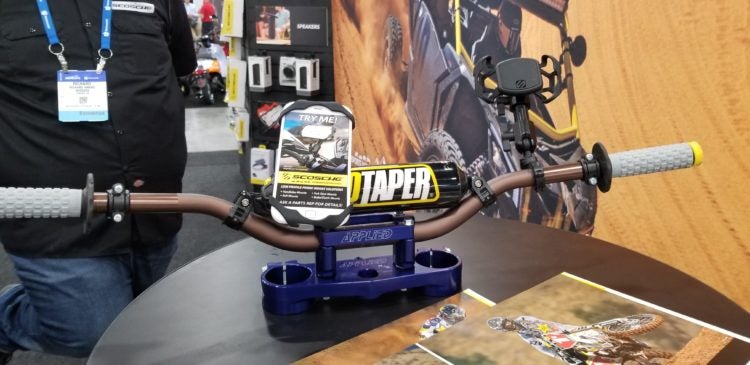 To use the mount you must first attach your choice of a small or large low profile nonmagnetic metal plate to your phone.  The plate can be attached directly to your phone or to the phone case using an adhesive mount.  Once the plate is attached to your phone, you can simply place your phone on the magnetic base.
For an extra layer of security you can further secure the phone to the mount with the included rubber straps.  Once mounted, the device can be turned or rotated 360 degrees.
Scosche's mounts can be attached to your bikes in a number of different ways.   They can be attached at the Brake/Clutch reservoir, fork stem or handlebar.
The base and mount arm are made of 6061-T6 aluminum for durability.  Stainless steel hardware is included for all mounts.
Prices range from about $55 to $65.