While most of us ride in sturdy motorcycle boots, riding suits, and helmets, not everyone wears a neck brace. I first noticed a neck brace on Kinga Tanajewska, a gal traveling around the world and veering off the road quite often. After chatting to her, I decided to get one, too. I was planning to race cross-country rallies and do more off-road riding this year, so I figured I'd give it a go and take the ATGATT policy to the next level.
Choosing a neck brace was a no-brainer: Kinga recommended Leatt, a company known for its scientific approach when it comes to protective off-road gear. I have to confess, I was a little skeptical about the comfort level at first; somehow, I felt like wearing a neck brace would feel a little like being stuck in this:
In reality, however, I got used to it quite quickly, and after a few days, I didn't even notice I was wearing it. For the most part, that was it – I now just had one more piece of protective gear. I did feel a little more confident doing the rallies with extra security, but since I wasn't a very fast rider, I never actually tested the effectiveness of the brace. Most of my offs were at slow speed, and I mostly landed on my side.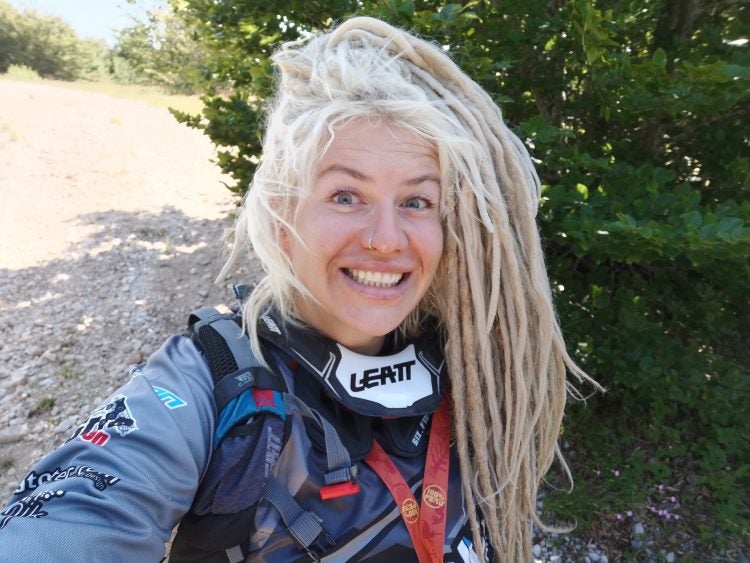 Yesterday, however, the brace was finally put to a real test. Riding some gnarly enduro tracks in Transylvania on a WR250, I hit a small steep bump at speed, figuring I'd land safely on the other side. Except the other side wasn't level – there was a deep narrow ditch right after, and my front wheel dived straight down, sending me flying over the handlebars. It all happened so quickly I had no time to react and managed to land head first, my helmet taking the full impact. I got away with a mild concussion and a badly sprained hand; if it wasn't for the neck brace, though, I bet I'd be in a much worse shape now.
So, should you wear a neck brace while on a long-distance overland journey involving lots of off-road riding? I'd say, yes, especially if you're flying solo. Even if you aren't tackling single track or doing any enduro stunts along the way, there's still a risk of coming off at an odd angle. A neck brace can make a huge difference.