I have been wearing a particular brand and model of boots for about 10 years.  That's my ten-year-old pair in all the pictures.  They have been with me all over the world, across the USA to Alaska and the Canadian Yukon, more than once the full length of the Trans Labrador Highway, through South America to Ushuaia, twice to Iceland as well as 27 countries in Europe.  They are also part of my daily riding gear, so as you can guess they are my "go-to" boots.
Sidi Canyon Goretex boots have gone almost everywhere I have gone.  Amazingly long-wearing, comfortable, walkable and totally waterproof, these boots are excellent.  I have ridden for days in pouring rain and not once has water ever penetrated into the boot.  That's not to say that water has never been inside my boot.  Standing in water deeper than the boot shaft will always let water in, regardless of whether the boots themselves are waterproof.  Just ask me.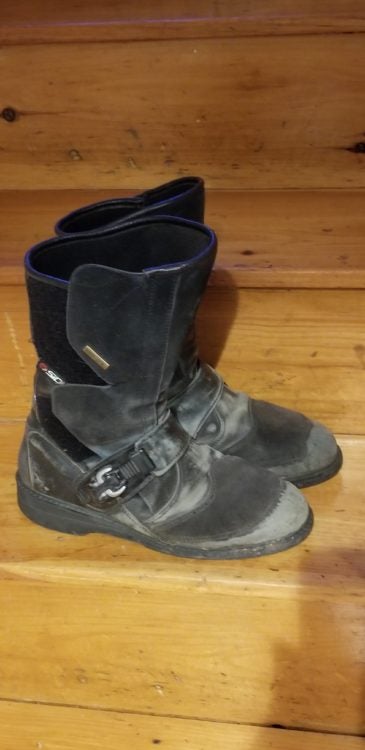 I've yet to find a better riding boot for all but enduro type riding.   The Canyon's are made for traveling, not for single track or enduro.  If that's what you have planned, look elsewhere because these boots are not up to that kind of riding.  But for most everything else, the Sidi Canyons are excellent.  At 12 inches (30.5 cm) high at the front and 10.5 inches (27 cm) at the rear, they provide good coverage to your shins and Achilles tendon.  An internal padded shin plate,  hard ankle protector and toe box provide additional security.  Even with the internal armor, these boots are comfortable enough to go for walks without turning your boot into a portable sauna or giving you the blisters of a 2nd degree burn victim.  They're no sneakers, but they are comfortable enough to walk around in once you reach your destination.  There are no external hard plastic parts to rub against each other as you walk.  Squeakkkkk, squeakkkkk; there's none of that.  No need to carry a spray can WD-40 so you can keep the peace.
Waterproofness and breathability come courtesy of the boots' Goretex liner.  Water is kept out while that stinky sweaty stuff can evaporate pretty well.  Don't expect evaporation miracles.  No boot will allow your foot to breathe like your little piggies were flying in the wind.  But taking your boots off after a long hot day in the saddle will not cause you or your riding buddies to have a seizure.  Nor will your foot take on the look of a mashed raisin in at the bottom of a box of Raisin Bran.  Both these traits are excellent.
Speaking of boot removal, the boots can be taken off and put back on with ease.  There's no zipper to worry about, just a full length inner gaiter adjusted and held in place by two large velcro patches.  This allows you to adjust the amount of space between the boot and your calf for just the right fit for you.  The boot is further cinched onto your foot with a micro-adjustable strap over the instep of your foot.  Just put the strap through the buckle until it clicks.  To release the strap, push down on the side of the buckle until it releases.  The cabin is now ready for departure.  Sound familiar?  But that is in fact how the strap works and it does well to hold your foot just where you want it.
For you fashionistas out there, there is a leather toe shift pad on the left boot.  They've also been nice enough to put another leather toe shift pad on the right boot.  Wow, matching boots!  You look swell!  Sidi also has double stitched all high-stress areas and included a padded stitched bead at the top for comfort.
There is also reflective piping on the back of the boot as well as three reflective dots in the strap on the front.  If you are riding in your underwear, the police will be appreciative of the ability to see your bright reflective boots during the pursuit.  In all seriousness, if you are wearing any real riding gear, the reflective material will be covered.  But if you happen to be out and about walking around at night in other than your riding gear, the reflective material works well.
The soles wear very well and give excellent traction.  The soles you see here are ten years old and have been riding on cleated footpegs.  Even with that, it's just getting time to replace one sole.  Why only one sole?  Ask my right crash shortened right femur.  Anyway, as if you couldn't tell, I really like these boots.  Sidi Canyon Goretex boots are available just about anywhere with prices from about $280 to $350.  Sizing runs a tad small, you may want to order a half size up.