Released at the start of 2019, the CABDR is an 850-mile route riding South to North thru using rugged two-track and remote dirt roads lead riders through majestic canyons, rocky riverbeds, and sandy washes of California's famous deserts and national preserves, including a dream ride in the Mojave Preserve. This is the first Wintertime BDR
This is how the BDR is described in all the promotions…but what is it really like, six different riders, with different skills levels from different areas of the country, share their experiences
The riders:
Kris – Offroad Editor WomenADVriders.com – DR650
Nathan – BDR Ambassador – Husqvarna 701
Josh –  Real Estate Agent – Kawasaki 250
Dusty – W38 Offroad Riding Coach – BMW 1200GS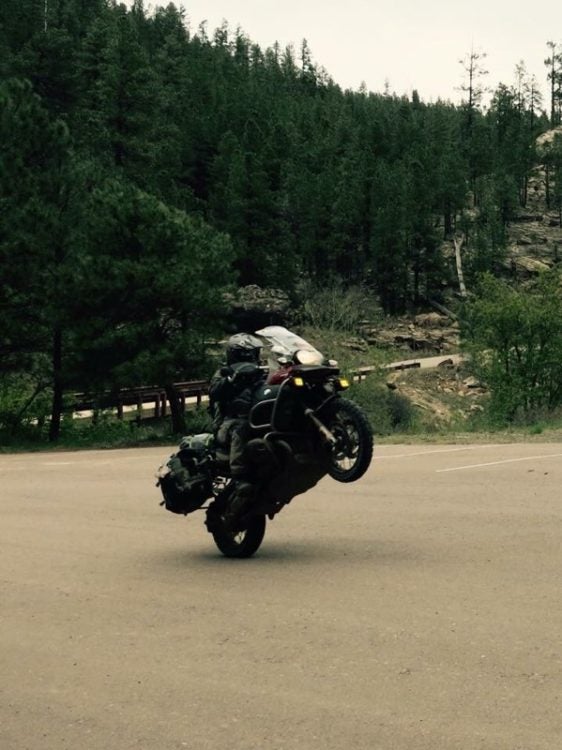 Kevin – Former Desert Racer, now RTW rider – KTM 500exc
rtwPaul – Hey, that's me, RTW rider  – KTM 500exc
The BDR is pitched as a wintertime route, how true is that? 
It depends, all of us just happened to be on the CABDR a few days apart in April this year. We all, also found that part of section 7 was still covered in snow and impassable. Section 6 very recently had the snow melt leaving somewhat difficult conditions…more on that later.
So is it really a wintertime route, yes and no, certain areas will get snow and be unrideable but alternate routes are given as options.
Does this detract from the route?
Again yes and no, if you want to ride this BDR and take all the expert sections then there is a very high chance that will be impossible in the dead of winter, even though it is California.
If you just want to ride and don't mind the alternate routes at lower elevations and finding your own go-arounds if necessary then yes, its a winter route.
What are some of the Challenges?
Kris –
I've struggled with both sand and rock riding, so you might be able to imagine my trepidation after seeing the CABDR documentary. Sections one and two filled me with hope and excitement, as I navigated Indian Pass Road and the Intaglio Loop. Adapting to sand riding, I grew to love the wandering feeling of the bike, because it meant rolling on the throttle and flying on through.
Nathan –
Section 1 – Indian Pass Road acts as a gatekeeper of sorts, checking your sand skills at the door. As if to say, "Sir, I'm going to need you to use the throttle." There are endless deep, sandy washes on the CABDR-S, some are met with a drop in and/or a challenging uphill bank. It almost becomes rhythmic as the bike moves around between your legs back and forth as the tires swish side to side in the sand. As you approach a wash, lean back, look at the other side, and throttle! I can still feel the adrenaline rush as the bike blasts through the deep sandy washes!
The California BDR South is nothing like riding in the Pacific NW where I'm from! It has me thoroughly addicted to desert riding.
Josh –
This route will test your resolve! And the heat…omg! It's hot! But, if you stick with it, you'll be rewarded in wondrous ways. And you might even learn a few things about yourself along the way.
Dusty –
The riding was challenging in spots mostly because of deep sand. Our group was all riding BMW 1200 GS and GS Adventures loaded with camping gear for the week. So, we were loaded heavy, to say the least. That certainly played a part in the deep sand.
As an off-road riding instructor and owner of West 38 Moto, I would not recommend novice riders (on big adventure bikes) ride this route loaded with luggage. Furthermore, if sand is not your friend, I recommend skipping many parts of the route or ride a smaller, lightweight motorcycle. Not to say it can't be done, just to say there is really that much sand and it may be more work and lead to more frustration than you are looking for. Let's face it, we are all at different comfort and ability levels where riding skills and technique are concerned.
You can interact with Dusty about BDR readiness in his thread
Kevin –
There are some long sections of straight and fast roads, but be careful of the "gotchas". i.e. quick turns, washed out road, cow, a patch of deep sand, you just never know what you will see next.  
rtwPaul –
Sand, sand, sand, lower your tire pressure, grab a hand full of throttle and enjoy the feeling of the bike doing its own thing and just go along with it. The ride to The Racetrack will test your resolve for washboard, around 25 miles of it. Your bikes suspension, racks, luggage, wheel bearings will all be tested to extremes that their condition and are mounted tightly and everything is still in working order as you pass Teakettle Junction and continue to The Racetrack trying to find that perfect speed to 'float'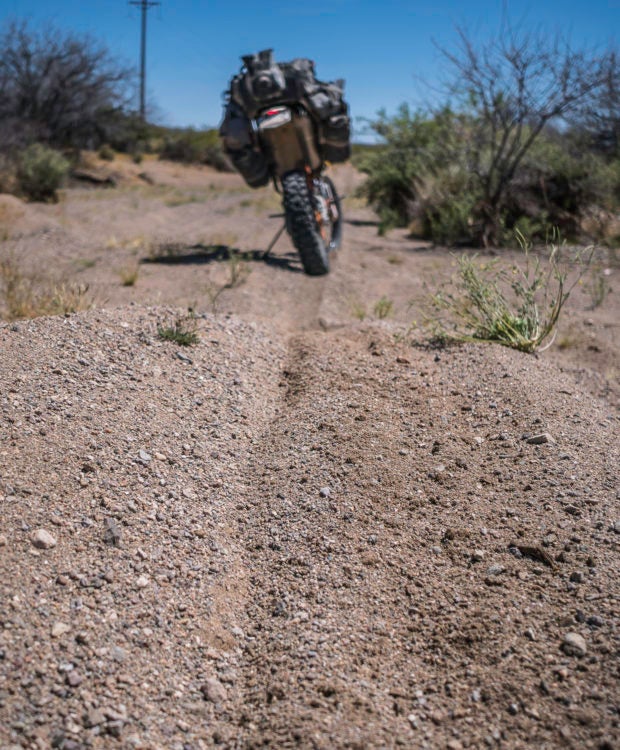 Is there a section that tested your limits?
All agree Lippincott Pass is a true test of your skills
Kris –
When I saw the sign for Lippincott, I was genuinely excited.  Fond of rocks and downhills, I wanted to see how challenging it actually was. As it turns out, it was no joke. It was steep and off camber, with both embedded and lose rocks and few clues which were which.
From a calm steady beat, my heart started to pick up speed. I became the zebra who has spotted a lion; eyes darting right and left, looking for an escape, I followed the lines clear of rocks. Knowing the lion was closing, I paused, evaluated my path, and continued, until no dirt remained – it was a field of rock.
In the headset, I hear from our friend "it gets a little more challenging here."  At this point, I called upon my partner – I knew the lion could not continue past the next 100 feet, but neither could I on my own.
With a small assist, I was back on my bike, and rolling, gaining distance between myself and the lion, breath coming more easily, heart beating more slowly. Lippincott is totally manageable for an advanced rider, but for us novice to intermediate riders, there will likely be teamwork involved.
Dusty –
I have done the Colorado, Utah and Arizona BDR's and those are considered the toughest.
While California has less "difficult" technical obstacles than the other three. I think it would rank as the hardest based on riding all the sand.
All riders agree that the Lippincott section heading South to North is the big test of this BDR, is it the hardest section of any BDR, most likely not, top 5 maybe. Now ride the CABDR north to south and Lippincott will move a few notches up that difficulty level, with both loose and embedded rocks ranging from golfball to basketball sized on an uphill climb it would certainly get your full attention
Kevin –
The commentary on the BDR website is spot on for this Southern California section.  The "Expert" routes are very challenging.
The most scenic section?
All agree Alabama Hills wins this hands down, just purely amazing views that need to be seen first had to be fully appreciated and if possible, try to time your day right so you end your day with an amazing camping spot.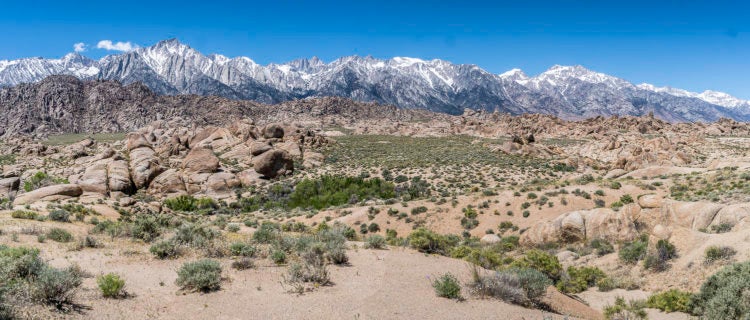 Every day offers something very unique, amazing nature, historic or pure Americana. The was not one area that anyone found boring and just needed to get thru…that shows how great the route chosen really is.
Where to go when you are done, home or…? 
just over an hours ride east you reach Tonopah, Nevada and the end of section 3 of the NVBDR, this gives a very nice option to continue on with a BDR be it north or south.
If you headed north you could then easily link to the IDBDR and ride all the way to Canada, or if you headed south via the NVBDR, the link to the Az and the AZBDR and ride to Mexico
To get more information and GPS tracks, visit the official BackCountry Discover Routes Website
For printed maps which are a great source of information on the trail as you might not have phone service, go to Butler Maps and any questions about the maps inmate Eakins will be happy to answer