"I'm jonesing to ride" is a phrase that I have heard more than a few riders use on here and in other places while being locked down due to COVID-19.
Even as states open up there are still restrictions in place and rides most likely won't be multiple states and almost certainly not international for a good while yet.
How well do you know your area? If you were to draw a one hundred mile circle with your house as the center point have you hit every road, dirt track, double and single track possible…this is what riding might be for a while.
For rides like this you don't need much gear at all, a few necessities, maybe a small pack lunch so you don't have to interact or enter stores or restaurants if you don't want to. A cell phone, some waterproofs may be, and a few tools.
If your bike is set up for long trips you might not want to take those big panniers, that massive tank bag or that humongous duffle.
As a shout out to some ADV companies who obviously have been hit hard during this time here are a few offerings you might not know that they sell and it's also a way of keeping them around for the future.
I purposely kept the price below $110 because right now in reality who is spending huge sums of money until things get better.
If you want to read a little more about the companies I will link articles about the owners that I have interviewed in the past for the front page
Wolfman Luggage, Eric or Wolfie as a lot of inmates know him, redesigned his whole line in 2019 and added a few items you might not have considered, He has a product called the Tin Cup Pocket that starts at $40 and then you pick and choose the base you'd need for the location that's best for you
or maybe a small Rolie bag, starting at $70, that you could stuff everything in, strap on the bike and go.
Mosko Moto and one of its owners Pete aka Side Off had a few suggestions from their lineup for small rides and locating gear on your bike.
There has just been a redesign of the Pico Tank bag and version 2 is now available at $110
You might be a rider who never uses a tank bag, they would like you to rethink that due to its minuscule small size you don't even know its there, Mosko describes it –
The Pico will add a convenient stash spot to the bike you never thought had room for a tank bag.
Maybe your small ride might include a hike? Mosko has you covered here, their Stinger 8 will easily strap to the back of your bike with integrated loops to help hold it more secure. Then when you get there, the Stinger 8 converts to a backpack, and not to worry if it starts to rain its waterproof too…and only $59
Giant Loop owner Harold, aka OlafofOregon has a few suggestions from his line up, again an option for upfront if you aren't a tank bag lover, or maybe you just need a little more space and don't want to buy a new tank bag. Giant Loop offers a unique handlebar-mounted bag called the Zigzag Handlebar Bag™ for holding your small essentials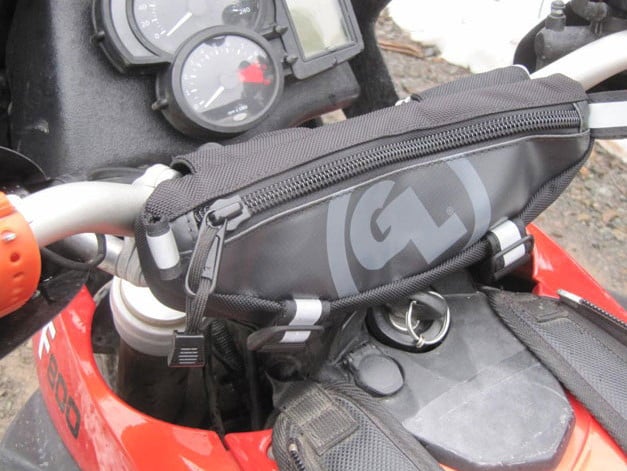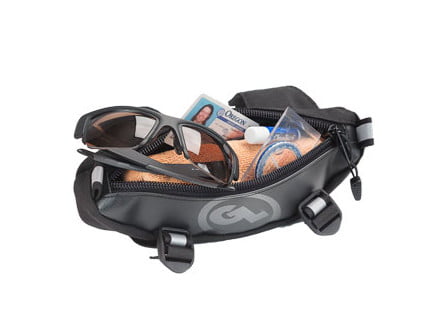 …for fixing a little luggage on the rear end of your ride Giant Loop has its own angle, they have a small bag called a Possibles Pouch™ holding 3.5 liters and 100% waterproof
It mates nicely to their GL® Tail Rack, combined running just less than $100 combined. This is a great option for a more permanent set up on the rear fender of your more enduro inspired dual sport.
As this stuff is small enough to fit on the rear of the bike, what is the best way to hold it secure if you don't own straps for this type of gear?
All three companies have a solution for you to make sure it stays where you put it.
Wolfman has a product called the Tension-o-Matic Strap The Tension-o-Matic Strap uses gutter hooks and tension to grab onto a rear fender, offering a no-drill mounting solution for many bikes. Offered at $9.99
Both Mosko Moto and Giant Loop has their own branded version of the Voile Strap. Mosko's version is called the Moto Strap, it starts at $8.50 and is available in 18 and 20-inch lengths in either black or blue and sold individually
Giant Loop's Pronghorn Straps™ are designed and manufactured by Giant Loop, available in orange or black and sold in pairs from $19
and Giant Loop in twelve seconds will show you how this type of strap works if you are not familiar. Once you use them you will really wonder how you ever got along without them in the past
What other small pack size bags have ou used with great success that other inmates should know about?