Court Rand and Sylvain Gallea, founders of Ecuador Freedom Bike Rental, have been exploring Ecuador's best riding routes since 2009.
But it's not all about riding, Court says.
"I always like to push people to experience new things. The riding in Ecuador, both on and off the road, is stunning, there's no question about that – but what I love is helping people step out of their comfort zone and try something they never would on their own. That's what makes the journey unforgettable".
Court and I sat down to chat about why languages and curiosity matter more than a racing background, what's the secret ingredient in running successful motorcycle tours, and what's the definition of a motorcycle adventure.
Before settling in Ecuador, you and Sylvain rode your motorcycles from the US to Argentina for a year. What has this journey taught you?
Being on the road was such an awesome feeling of freedom. It was just so incredible, and I realized I wanted other people to experience it, too.
In my former life, I sold high technology: artificial intelligence systems. My job was to convince people to try new ways of doing things. I enjoyed getting people to experiment with new things, and I still do that now with bike tours.
I never sold anything I didn't believe in. So starting a motorcycle tours company was a no-brainer: you can do anything you want as long as you have a real passion for it, followed by expertise.
I know what it's like to be working hard, especially in the States, and to have very little vacation time. So I just wanted to offer this opportunity of freedom and discovery on two wheels to people.
Why did you pick Ecuador?
As Sylvain and I rode across Central and South America, we already had a plan to settle down somewhere and start offering motorcycle tours. We looked at everything from crime rates and safety to riding quality, nature, local life – we just took it all in and tried to figure out which country would work best. We liked Guatemala and Argentina, but in the end, Ecuador just made the most sense. The people are so relaxed and friendly; the infrastructure is here, the diversity of nature is amazing.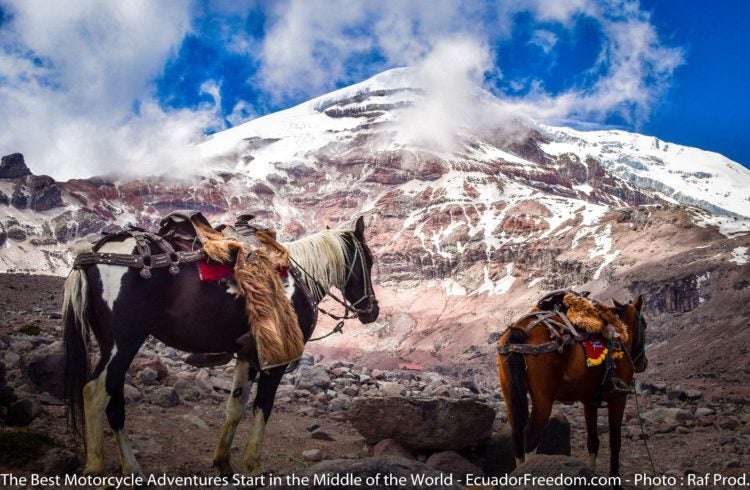 Starting a bike rental and tours company is easy…right?
Haha! When Sylvain and I got back to Ecuador, we decided to try Cuenca. We didn't have much to start the business with, and we didn't know what would work. So we got twelve bicycles, a couple of scooters and a few 200cc bikes, plus our own BMW 1200 and a Buell 1200, and put all that on a website.
We then sat for a month just twiddling our thumbs – nothing was happening! We had rented this big space in Cuenca, and we soon realized we wouldn't be able to pay our rent.
Eventually, there was this big festival in Cuenca, and everybody wanted to park in our space, and so it was selling parking space that finally paid our rent that first month.
Little by little, we started getting customers. The problem was, they all wanted to come to Quito because flights were cheaper and more comfortable there, so we packed it all up and moved to Quito in the beginning of 2010.
There, things started to pick up. In 2011, I contacted Dexter Ford, a journalist from the New York Times and invited him to ride with us. Dexter wrote about the experience and it all just started going from there.
What's it like to lead motorcycle tours?
We ride all year long, so we know all our routes well. And because of that, we can always improvise – which makes each tour unique.
Although each tour has a plan, we love to bring people to places and just watch what's happening. Are they happy with the riding? Are they intrigued about what comes next? Judging on the reactions, we can always adjust or change things because we're so familiar with Ecuador.
For example, if someone is a musician, we'll bring the group to a traditional guitar maker, if they are interested in artisanal crafts, we'll visit an indigenous leather tanner.
For us, it's about immersion in the local culture. The riding is an essential part of the experience, but I also want people to meet the locals, see stunning locations, and get outside their comfort zones so they would experience things they wouldn't otherwise.
If people don't think they can go on a hike, or try a rougher road, that's exactly where I'll take them. Gently, of course, and keeping in mind their abilities – but a little challenge is always good. This way, not only people have great experiences but feel a lot better about themselves after completing something they thought was beyond their capability.
You now have three guides that work alongside you and Sylvain. What are some of the qualities you look for in a motorcycle tour guide?
It takes a while to become a great guide! I'm not looking for motocross champions; I look for somebody who knows how to be a part of the culture, who is interested in the world around them. I prefer motorcycle travelers, not racers. Languages, worldview, people skills, and curiosity – that's what's truly important.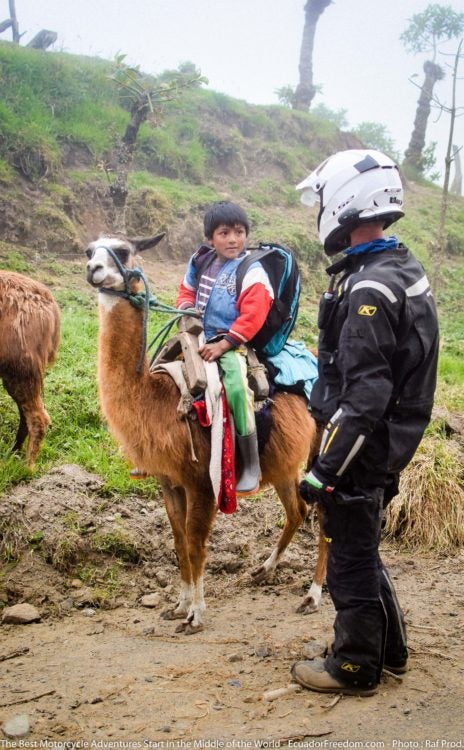 A lot of people who want to be motorcycle tour guides tell me how great they are at riding or racing. That's not what matters. A job of a tour guide is not to teach people to ride, or to show off. People should never feel bad about themselves or their riding! On the first day of the tour, we always try to see what sort of riding is comfortable for everyone and adjust the route accordingly if needed. Going on a motorcycle adventure is about freedom and an unforgettable experience, not a race.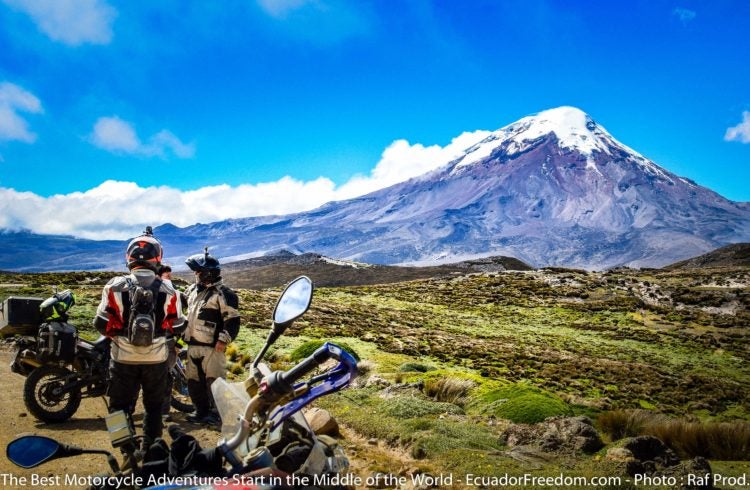 If it's a guided tour, is it still an adventure?
Absolutely. All our tours aren't completely structured, and we adjust them as we go along.
It also depends on your definitions. What are you going to call an adventure? Getting lost, being stranded, having bike problems – sure, these are all adventures, but not the fun kind. We love the fun stuff: hiking, meeting interesting locals, discovering different places.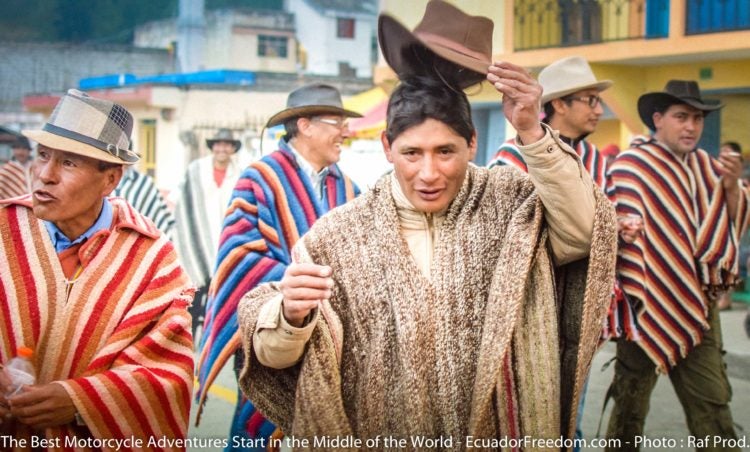 Our Dirt Deluxe tour takes people through really remote places, very striking landscapes, challenging terrain, mud and dirt, and amazing lodges in the middle of nowhere. We go to non-touristy places, places that took us a long time to discover and to meet people who have little contact with Western travelers. It sure feels adventurous enough!
A lot of these places you would just ride by and wouldn't even know these amazing things were there. There might be some nondescript house you wouldn't normally pay any attention to, but we know that this is where Ecuador's most talented saddle maker lives, for example.
On tour, we as guides provide the situation. What you do with it is up to you. We'll take you across the Andes, but it's up to you to be open to the experience. We'll invite you for dinner, but you design the conversation.
What would you say to people who want your job?
My job involves millions of different moving parts: bikes, personalities, weather, routes. It all must be managed; risks have to be taken.
I've taken all of my savings – the money I worked for my whole life – and I bought a bunch of motorcycles in a developing country where the working environment is very questionable. And I'm giving the keys of a $30.000 motorcycle to a guy I don't know. There's a lot of trust involved!
It's impossible to get insurance for rental motorcycles in Ecuador, so whenever we rent out bikes, we take a huge risk.
So much goes into all the preparation and design of tours: we do everything possible to make sure people have an amazing experience.
The reality of it is that yes, you'll get to ride a bike and it's the best part of it! But it only makes up about 5% of the job. People come to me and they just want to ride bikes as tour guides, and I tell them, look, you'll have to wash bikes and talk to people, help run the business, and understand the risks.
A good reputation takes forever to build, and then all it takes is one sullen, negative person to destroy everything in a flash. So customer service is our absolute top priority.
For me, the best part of it all is our Pack for Purpose program, where we have people bring school supplies and soccer balls to local schools. We integrate this 100% voluntary acts of charity into each of our rides.  Customers are encouraged to bring school supplies and we bring them to isolated, rural schools where they are desperately needed.  It's part of all of our self-guided and guided tours. That's always a cool experience.
When we had the earthquake in Ecuador in 2016, we organized off-road capable motorcyclists to visit all these towns and villages that were cut off and bring supplies. Motorcyclists brought doctors, food, medical supplies to places where cars couldn't get through.
Motorcycles are great for situations like that!
Images: Ecuador Freedom Bike Rental and Tim Burke