Aleksandra "Ola" Trzaskowska left her prestigious corporate lawyer job five years ago and embraced the unknown: she became a motorcycle shipping agent and a tour guide, bringing bikes and people to the most remote corners of the Earth: Central Asia, Afghanistan, Bhutan, India, and South America.
"I had a great career and was making a very decent income, but it just wasn't fulfilling. I didn't fit in as an orderly corporate employee, I didn't feel good – I knew I needed something more than the office", – Ola says.
Travel has always been her passion, so she finally took the plunge and, combining it with her new hobby – off-road riding – Ola started her own motorcycle shipping and tours business.
"Combining my hobby and my passion with work just made sense", – she adds.
Currently, Ola runs her tours and shipping company, MotoBirds. Although she organizes trips for everyone, Ola's specialty is women's motorcycle tours. She loves taking female riders on gnarly mountain tracks in the Himalayas, Sri Lanka, Kyrgyzstan and Georgia and says that women are just as badass as men – except they love yoga, good food, and wine a little more, and cooperate a little better.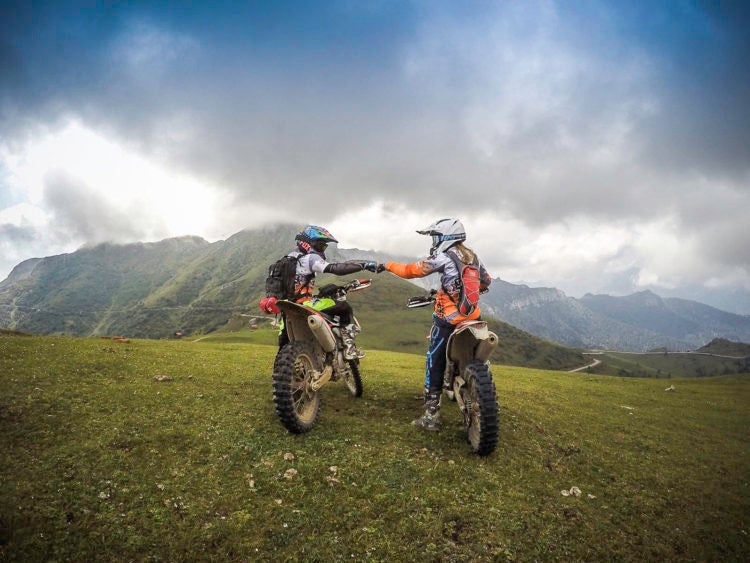 So what's it like to lead all-female motorcycle tours? I chatted to Ola to find out.
Ola, what happens on a women's motorcycle tour?
To be honest, it's the same tour as a co-ed one. We don't ride dainty, pretty scooters and do cooking classes (unless it's a chance to try out some exotic cuisine!). With women, just like with men, we ride off-road a lot, we camp, we ride dirt bikes on all sorts of gnarly terrain in all sorts of remote places.
I think women riders are usually better prepared from the cultural point of view: they don't want just to ride, they want to get to know the countries they are visiting. They are a lot less competitive; there's no showing off, no racing, so frankly, it's a lot easier to lead women's tours! Women also tend to get along a lot better within the group and cooperate more readily.
How do you design tours?
First, I decide on the ratio of road versus off-road. I can do luxurious, comfortable trips on paved roads and nice hotels so people can relax. If it's an adventure trip, I research off-road options first.
I never make the trips too difficult, though, because I just don't want to risk other people's lives. I don't want any broken legs on my trips! I mean, of course, things happen, but I don't want to create these kinds of situations.
And I have to say; nobody has ever complained that the ride was too easy!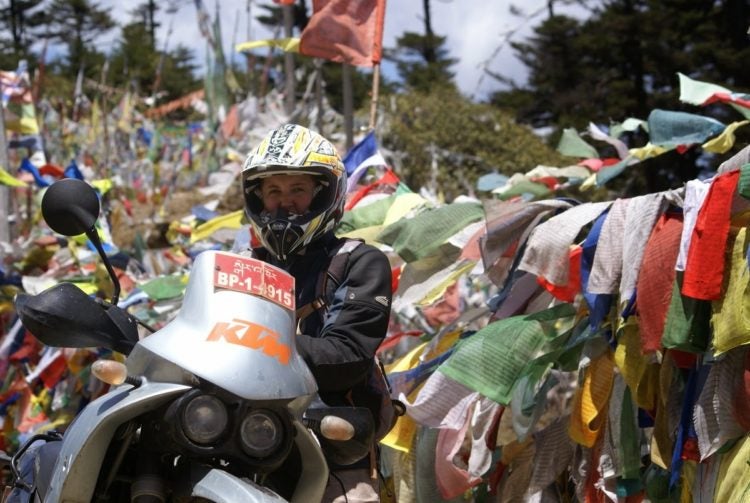 I think it's very important always to be upfront and clear about what you're offering so that people know exactly what to expect.
I love doing tours in South America because it's such a diverse, amazing continent. You can see a completely different landscape there, the food is great, the language is great. You can see the mountains and the high plains, the beaches, the jungle all in one trip which is amazing. I also love the Himalayas very much, the Buddhist culture and the high mountains, flags on the passes and monks chanting, it's just magical.
I love riding off-road and camping, but I do a lot of that myself when I'm on holiday. People prefer to have a bit of comfort, they're on holiday, they need to relax. I try to make it as interesting as possible for them, whatever they choose.
What would you say to people who want your job?
Be brave! If you want a change in your life, do it. The change won't come along on its own, you have to make the decision, go for it, and work for it.
Being a tour guide isn't just riding around though. It's very hard work: demanding characters, different personalities… if you have two difficult people in a group, you have to become a psychologist to make it work and keep the atmosphere great which is the most important thing.
You must be very organized, people will look to you for everything and you need to be prepared for that.
The trip itself is the end of a long chain of events so you can't just throw it together last minute, it simply won't work.
Being your own boss, you also have to be very disciplined. Nobody will tell you what to do, you have to make yourself work – and that can be hard sometimes!
And yes, this life IS amazing: you do travel in incredible places, you get to see so much and meet so many interesting people. Is it worth it? Absolutely.
But you also need to work on stuff that is a lot less exciting, like paperwork, border crossings, bike transport… there are so many things that need to come together.
In less predictable countries, if something goes wrong, you need to react quickly and react well. In very remote places, weather can change unexpectedly, political situations on borders can be problematic if someone has an accident you need to organize help and medical assistance immediately. It's easy in Europe, but in South America or Central Asia, when you have to get out of a place that is flooded or there's some natural disaster happening, it's a different story. So you need to be very switched on and you need to understand the reality of each country or region you're traveling. You have to be very reliable, your guests must trust you at all times. In bad moments, your reliability is extremely important.
What would you look for in a guide?
I always like to test people on the trips beforehand and see if we match, if we work well together.
A motorcycle tour guide would have to be reliable and organized. I hate it when people promise to do something and then don't!
I expect my guides to understand the realities of the countries and to know the language. A tour is not the place to learn, you already have to have some knowledge. You also need to be very social and have great communication skills.
Can I be honest? I really love to work women because they usually are better organized!
What's the worst part about your job?
You have to control yourself and be very disciplined. On some days, you have to be available 24/7, so your working days extend considerably.
And sometimes, it's really exhausting – but you can't show any of that.
In less developed countries, the paperwork can be very unpredictable because it doesn't always work like it would in Europe or the US. Seven days in Central Asia can become two weeks and you need to explain that to people somehow.
And the best?
You constantly have new challenges, meet new people, you ride through the places you love, and you're always out there in the world. There's no such thing as boredom in this job!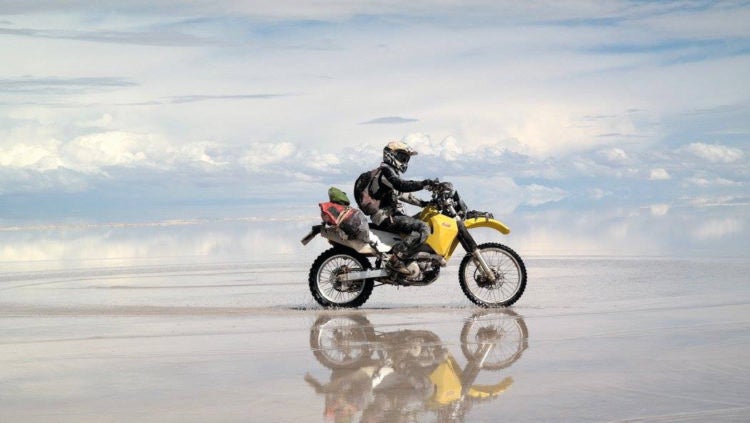 Want to ride with Ola? Check out her MotoBirds page.