How would you like to lead motorcycle tours in Colombia?
Endless adventure, kickass riding, no more 9 to 5, stunning locations around the world and serious hours in the saddle – sounds like a dream job, right? Jeff Cremer, NatGeo and BBC photographer and founder of  Colombia Moto Adventures, says it's all about the attitude – and the adventure, of course.
Jeff, some tour guides often compare leading tours with herding kittens. Is it really such an intense and stressful job?
You know, I lead expeditions in the Peruvian Amazon for years before doing motorcycle tours in Colombia. My tours were always small groups of people, usually no more than 5  at a time. The people who go on these types of tours are usually smart, adventurous individuals who enjoy getting out of their comfort zone and seeing some amazing, once-in-a-lifetime things.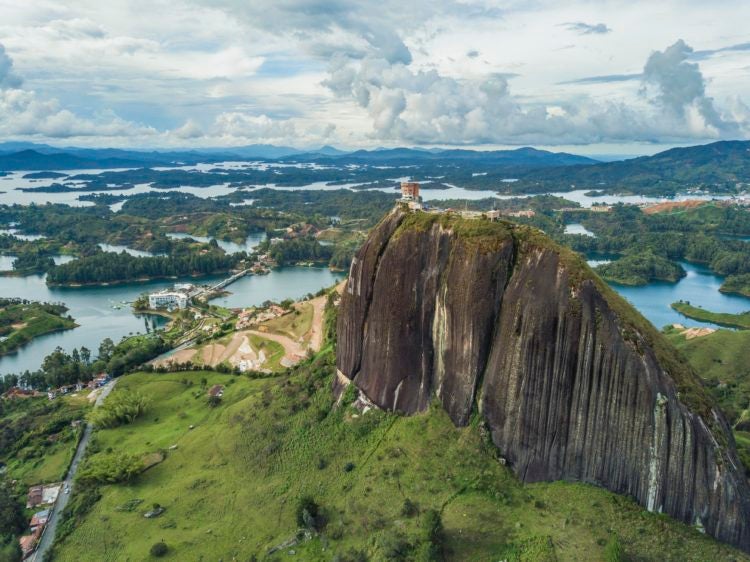 The thing that I like most about the tours, besides seeing some incredible things, is being able to become friends with and talk to really interesting people. I've met people from Canada's top neurosurgeon to a former translator for the president of Ethiopia. To be honest, I've never really had the experience of babysitting a bunch of "sheeple" on any of my tours.
Leading an adventure motorcycle tour is pretty much like going on a road trip with a bunch of friends!
What does a typical day of an adventure bike tour leader look like?
If I don't have a tour that day, I get up, do my emails, have a few appointments – but I guess what still feels really odd is the fact that I rarely speak English! I  live in a "casa finca" above Medellin which is basically a country house located way up on one of Medellin's hills overlooking the city. The view is amazing and I like to open all the doors and windows at night and lay in bed with the cool breeze blowing through and listening to the birds and insects.
Most people who live in this are Colombian cowboys, or campesinos. They do a lot of dairy production. The area is considered the Switzerland of Colombia because of all its beautiful scenery!
On a typical tour day, basically it's just waking up, drinking coffee and riding around trying to find the most beautiful vistas. It's tough: swimming in hot springs, going on coffee farm tours, staying in boutique hotels… I might develop PTSD from all of this, haha!
Why did you pick Colombia? Is it safe?
I lived in Peru for ten years and worked all over Latin America. I had the chance to spend some time in parts of Colombia over the years and always thought that the country was beautiful and the people were super friendly. After so many years of living in Peru I thought that it was time for a change so I picked up and moved to Medellin!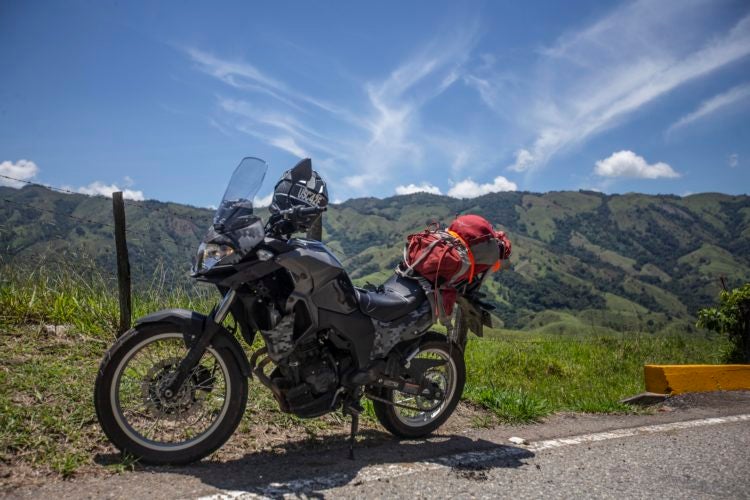 Security isn't an issue here. The only places where the FARC  (Fuerzas Armadas de la Revolucion Colombiana, a local guerrilla group) still exists are radical holdouts deep in the jungle and in extremely remote areas. I spent a year living in Cali, Colombia, in 2009 before the peace agreement was signed. I rode all over and never ran in to any FARC or had any problems!
Colombia has a mystique to it. Every traveler wants to say that they are the ones who have been in the most dangerous place or the hairiest situation, but in reality, as far as FARC affecting tourism – that just doesn't happen anymore.
If anything, the people are overly nice and always wanting to come over to say hi and help you with anything you need. As they say in Colombia: The only risk in Colombia is wanting to stay.
You've worked as a wildlife photographer for the National Geographic and the BBC. What's the Amazon like?
There have been so many interesting things that I've seen: jaguars, harpy eagles, huge snakes, indigenous tribes that had no previous contact with the outside world…During my time in the jungle, we discovered a number of new species including a predatory glow worm that lives in a mud wall and a spider that draws a picture of itself in its web using leaves, and another tiny spider that uses its silk to construct a tower with a picket fence -like structure around it. We also found a spider that constructed a slingshot out of silk and used it to fling itself at flying mosquitoes, and even a furry yellow caterpillar that people say looks like Donald Trump's hair!
How and why did you get into bikes?
My parents always told me that bikes were dangerous so I never really even considered riding one until I had the chance to go for a ride in Colombia. Even though I was a passenger, I was hooked from the second that I got on. My friend told me, "Amigo, you need to get a motorcycle" I said, "but I don't know how to ride one" He said, "Learn."
So my Colombian friend, Orlando, taught me how to ride a motorcycle and I've been riding ever since. I started with a little red Honda CBR 125 that I loved and drove all over Colombia on it. I then got a BMW G650GS and toured around Colorado and the desert southwest of the United states with it. Now I'm back in Medellin, Colombia and am riding all sorts of bikes all over the place and I love it.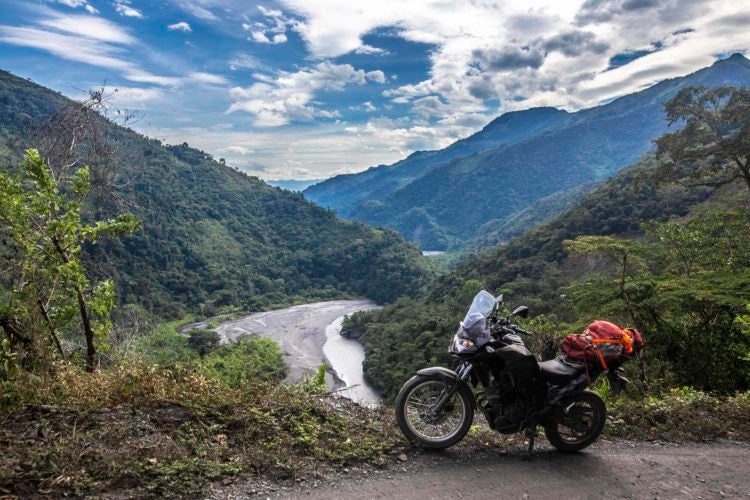 What are some of your best bike adventure memories in Colombia?
We were on a road when some people waved us down and said that the road ahead was closed due to a mudslide. We were looking at the map and talking about taking a longer route back when some locals offered to take us around the mudslide. It turned out to be an amazing adventure consisting of a nighttime ride down a trail that was an old railway converted to a remote jungle path. The trail took through three or four train tunnels as well as passing cows sleeping on the road. We also made a random stop for the lady to pick up wood shavings for her chickens.
All of a sudden, the bikes stopped and I noticed that there was a huge abandoned train bridge ahead of us standing about 250ft over a river. I saw that they had old wooden boards on the sides of the tracks that we could walk or drive down but they didn't exactly inspire confidence. There was a tiny little section in the middle of the track that was made out of concrete and was just wide enough for me to put my front tire on. I spread out my feet so they would touch the other train tracks on either side of me and I cracked open the throttle and slid my feet down the sides of the rails while slowly guiding the bike across the bridge.
Once we got to the other side we were all giving each other high fives and celebrating the fact that we made it. It's just one of those cool random adventures that pop up when riding around Colombia and make it a special place!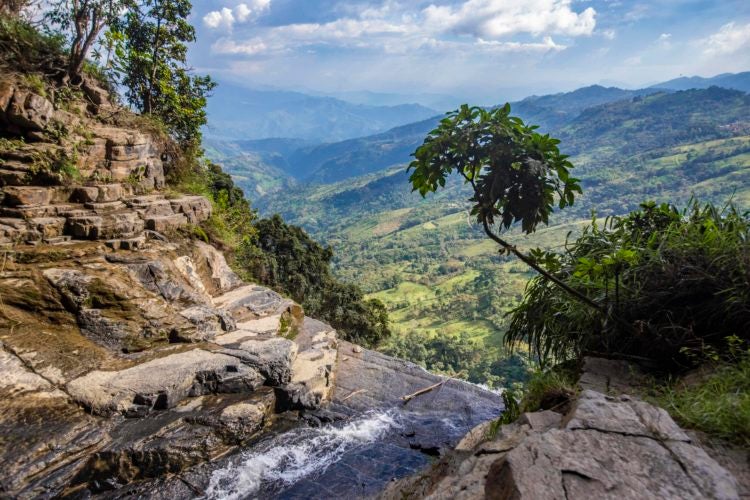 Want to ride with Jeff? Check out his Motorcycle Tours in Colombia and his Facebook page!
What's your dream job in the adventure motorcycle industry? Let me know in the comments below, and I'll find out all about it!