So you're ready to ride South America? Most riders go via the traditional Alaska – Ushuaia route, usually sticking to the Pan-American highway and stopping at some of the "must-see" spots along the way. But which of the South America bucket list destinations are really worth seeing, and which ones are just hype? Here's a quick guide to what's unique and what's touristy.
Pan-American Highway
Not exactly a destination, but I couldn't help but mention it here as this is the most popular route from Alaska to Ushuaia. So, what is it and should you ride it?
Simply put, the Pan Am is a network of highways connecting the entire length of the Americas except for a short 100 km distance at the impassable Darien Gap. Starting in Prudhoe Bay, Alaska, and ending in Ushuaia, Argentina, the Pan-American Highway is sometimes called the longest motorable road in the world, but it isn't one continuous highway – it's merely a system of roads.
Should you ride it? In some South American countries like Ecuador, the Pan-American highway is actually a nice route as it runs along the spine of the Andes. In Chile, it stretches all the way to Patagonia and becomes the Carretera Austral, which to me is easily the most beautiful road in the region. Everywhere else, however, the Pan Am is just a main road, and most of the time, you can see a lot more if you choose to get off the highway and explore smaller backroads. This is especially true in Peru and Colombia.
Machu Picchu
An ancient Inca citadel perched high atop jungle-covered cliffs, Machu Picchu has long become a "must-see" in Peru. It's an impressive archeological site made even more dramatic by the stunning mountain backdrop; it's certainly unique.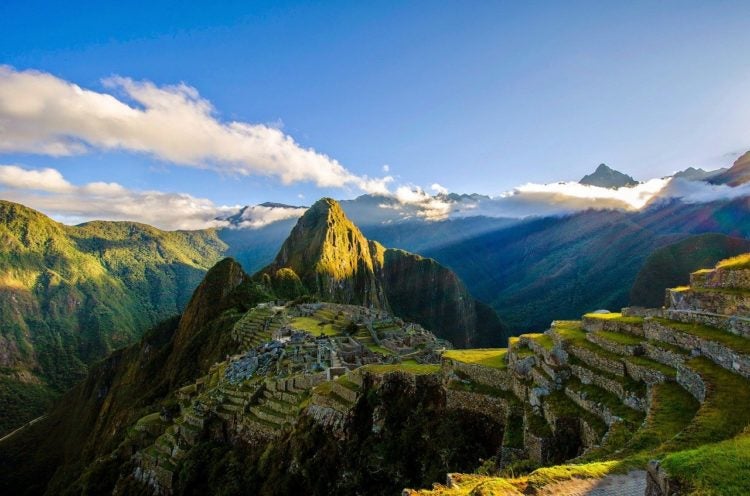 It's also fairly easily accessible by motorcycle: you can ride almost all the way to Machu Picchu, park your bike some six miles away, and hike up the mountain.
Should you go there? Absolutely, if seeing Machu Picchu has always been your dream. It is overrun by tourists, however, so if you prefer to see something more off the beaten path but equally impressive, head to northern Peru and visit the fortress of Kuelap – a ruins site older and even more mysterious than the Machu Picchu.
Salar de Uyuni
Called Salar Celeste, or the Desert of Heaven by the locals, the Uyuni salt flats is the largest salt lake in the world – so vast it's visible from space. An endless expanse of white salts in the high Andean plateau, this natural wonder in Bolivia offers stunning views, optical illusions, and a feeling of riding on the surface of the Moon.
Should you go there? Undoubtedly. Not only Salar de Uyuni is a truly fantasmagorical place to see, it's also in danger of disappearing: vast resources of lithium lie below the desert, and the Bolivian government has already begun the extraction works. Chances are, Salar de Uyuni will grow smaller and smaller as the exploitation of lithium starts, so visit it before it changes forever.
Death Road of Bolivia
Cut into the living rock and winding down a mountainface from Bolivia's capital la Paz to a small cloud forest town of Coroico, Bolivia's death Road was once a dangerous mountain path claiming several lives each year. Now, as a new road has been constructed, the Death Road is a lot less deadly and it's highly popular among cyclists and motorcyclists alike.
Should you go there? Yes, as the road is incredibly beautiful and offers some of the most stunning mountain scenery in Bolivia. Is it truly deadly, difficult, or technical? Not at all – it's been ridden by people on large capacity bikes, small dirt bikes, and scooters alike. Do watch out for the cyclists however as they come flying down the road from La Paz.
Perito Moreno Glacier
Located in the heart of Patagonia, the Perito Moreno glacier in Argentina looks like a massive wave of tsunami frozen in place. A truly spectacular sight, Perito Moreno glacier near the town of El Calafate is easily accessible and is definitely one of the South America bucket list destinations.
Should you go there? Yes: this place is so awe-inspiring it would be a pity to miss. It's very touristy, but seeing the Perito Moreno glacier is undoubtedly a highlight while traveling South America.
Ushuaia
The final destination of the Americas journey, the southermost city in South America, Ushuaia has long become a must-see place in Argentina. located on the eerie island of Tierra del Fuego, the Land of Fire, Ushuaia has become a Mecca for motorcyclists.
Should you go there? Not necessarily. While it is on the South America bucket list for riders, and while Tierra del Fuego has some fascinating and tragic Ona history and some beautiful Arctic scenery, Ushuaia itself is just another expensive port city wildly popular among tourists. Instead of going all the way to Ushuaia, considering exploring Southern Patagonia in more depth visiting the Torres del Paine glacier park or riding the Carretera Austral in Chile.