If you're riding around the world – or just someplace far away – on your own, chances are, you've had to deal with solitude every once in a while. Alone doesn't equal lonely, but during the Christmas and New Year's days, you may feel a little out of place. People everywhere are decorating trees, getting together with their families, wearing silly hats, and swapping their morning coffee for mulled wine; in the meantime, there you are, rolling down dusty roads all by your lonesome, trying to find hotels with motorcycle parking, and scrambling to locate an open moto shop to get that spare tire tube before everything shuts down for the holidays.
In 2014, I spent the New Year's night huddled in a cheap nylon tent on the side of the Ruta 40 as the Patagonian winds howled around me, threatening to blow the whole camp away – my tent, my little Chinese motorcycle, and me – and all I had for the party was a tiny piece of cheese and a few drops of whiskey in my flask. The next morning, I found out I was out of gas, but not out of luck; and at the end of the day, that New Year's night is now among the most memorable.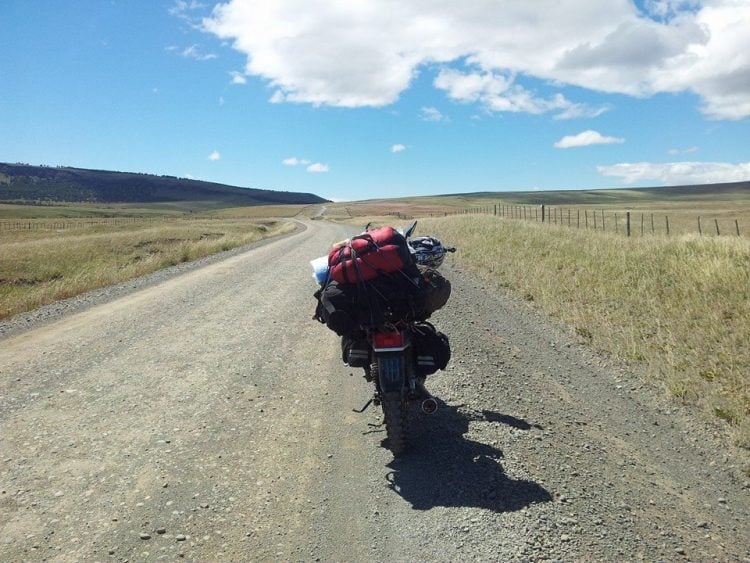 Christmas on the Road
This year, bimbling around Ecuador on a borrowed bike, I will be spending Christmas on the road. I'll probably find myself pottering about the dirt trails near the Chimborazo volcano, or doing loops around the Quilotoa crater lake. I've been wanting to explore more of Ecuador on dirt, on my own, and I'm looking forward to crossing the Andes again. I might carry a little flask of rum with me – after all, the Andean nights are notoriously cold – and I'll stock up on Kinder Eggs just in case I meet this little girl again:
But mostly, I'll just be riding, because it's good for the soul.
So if you find yourself on the road during Christmas time, and you're not entirely sure how you're supposed to deal with it, here's what you can do:
Ignore the Holidays
If you're a heathen with a tar-black soul and zero sentiments towards brightly decorated fir trees like me, just ignore Christmas. Do what you normally do – ride, work on your bike, update your blog, go on a hike; or, take a day off, hole up in a cozy hotel room, and read a book. Unless your family and friends are harassing you into doing long Skype sessions just so you can see how much their children have grown and which ugly Christmas sweaters were allocated to which individuals this year, you don't need to do anything about Christmas.
Anything at all.
Just ride on.
Chill on the Beach
On the other hand, Christmas can be a good excuse to do something nice for yourself – like lazying around on a beach. If you're someplace warm, and if there's a beach within riding distance, put "ocean" in your GPS, locate a hammock, and unplug. Falling asleep as you listen to the surf crashing on the shore, waking up to cloudless skies, and frolicking in the sand aboard your bike sounds like an ideal day to me, Christmas or no Christmas.
Head for the Hills
If you're too tough and rugged for a short beach holiday, ride some mountain passes instead. If there are mountains, there will be dirt trails, including some nice single track; make sure you got those spare tubes, hydrate well, and head for the hills. If the altitude is going to get over 9,500 feet, make sure you've got warm layers and adjust your idle/carb a tad if your bike doesn't have fuel injection. Hole up in a little mountain cabin or lodge, preferably with a fireplace, and enjoy the peace and quiet.
Find Other Overlanders
Even if you're riding somewhere remote, there are other overlanders – people traveling with bikes, push bikes, camper vans, 4×4's, and all sorts of other overland vehicles – nearby. Find them, join them, and have a Christmas ball overlander style – probably in a campsite, probably with some barbecue, and likely with an ungodly amount of beers.
Party On Your Own
If you find yourself approaching a bigger town or city around Christmas time, and if you feel like celebrating, just go out on your own. Do a solo pub crawl, meet people, explore the local nightlife, and have fun – especially if it's New Year's, and your bike is parked somewhere safe.
Fly Home
Missing your family and friends during the holidays? Long video chats with your loved ones is a good solution if you're homesick, but if it's all getting too much, just abort mission temporarily and fly home. Taking a short break from your travels and seeing your people can bring new inspiration to hit the road again!
Are you spending Christmas on the road? Let em know in the comments below!