I had the best cup of tea I've ever drunk, on a tea plantation high above Mahiyangana. I usually have my tea with lemon and sugar, and I know people who drink it with milk, but anything like that would have been sacrilege. This tea was sublime, and I guess finding it was a matter of serendipity – although our host, the owner of the plantation, was a schoolmate of my guide Michael who had taken me there quite deliberately.
And no, I'm not suggesting that you should visit Sri Lanka just for the tea, although there would be worse reasons. The island is true to its old Arabic name of Serendib; there is serendipity around every corner. It's tempting to call the island 'India Lite'; you get all the spectacle, the beauty and the oriental vibe, without the pressure of the vast multitudes and the ever-present poverty. But calling Sri Lanka 'lite' anything is not doing justice to this place.
Here, you come around a corner on a narrow road through slim, enormously tall trees – eucalypts, incidentally, but taller and more majestic than I'd ever seen them in their home Australia – and there's a hut that looks to be put together from corrugated iron and advertising posters that serves the most amazing pancakes cooked on a sheet of flattened corrugated iron. There, you ride across the dam of a huge reservoir to find a huge bull elephant casually begging for treats from passing motorists. He's behind an electric fence, but the electricity in Sri Lanka is not necessarily reliable…
As a reminder that Sri Lankan elephants are not to be taken lightly, there's a story in the paper about a motorcyclist who was chased and trampled by one in Lunugamwehera National Park.
"Didn't we ride through the Jungle Corridor there?" I ask Michael.
"Ah yes," he says, "that's where the enormous elephant droppings were in the middle of the road, remember? And we possibly saw the leopard."
That was just after we had visited the surf beaches around Hambantota, which suffered major damage and many deaths from the 2004 tsunami. It's looking pretty good now, in the usual ramshackle Sri Lankan way. Terrific backpacker-type restaurants line the main road and the beer is excellent and cold.
Distances are not great on the island. It took us two days to ride from Hambantota to Nuwara Eliya in the rocky, mountainous centre but that wasn't because it was a long way. It was because there were so many things to stop for – scenery, with many refreshing waterfalls; animals including some majestic deer and many monkeys; colourful temples – the locals play it safe by having all the available religions represented in some of the temple complexes, including Christianity. You takes your choice and pays your sacrifice, usually beautifully arranged and decorated baskets of fruit.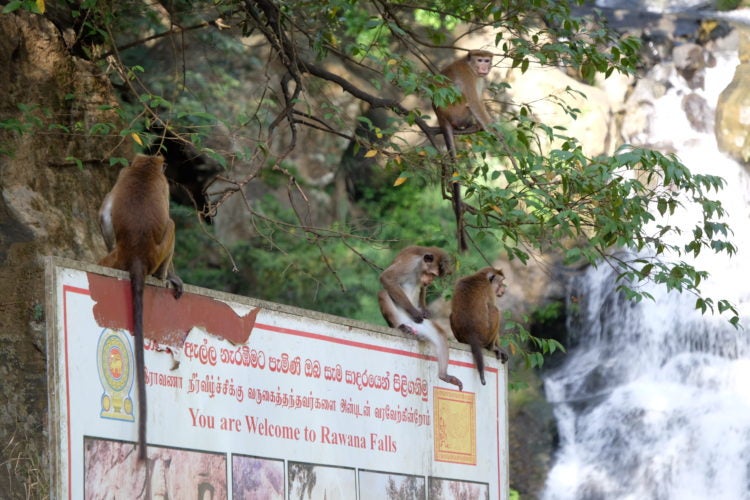 The roads are narrow but usually in pretty good condition, and side trips often mean a few kilometres on well-surfaced gravel. The only exception would be an occasional mud patch, but that's all part of the fun.
We stop in Kandy, the old capital, and visit Michael's old school. It has impressive old buildings including a wonderful chapel of carved wood which is open all the way around to catch the breezes. The school teaches in three streams: English, Sinhala and Tamil but everyone plays sports together and mixes otherwise. I stay in a seriously impressive five star hotel – the manager is another of Michael's school friends. It pays to be traveling with someone who was a rugby star in his school days!
We continue north, to Sigiriya. This knob of rock with its vertical sides was a palace and fortress, clearly the most impregnable in its day. Climbing up the side is no easy task in the heat, but the beautiful wall paintings and the all-encompassing view from the top make it worthwhile. Please note – admission to outstanding historic places like Sigiriya costs a lot more for foreigners than for locals. Just live with it – you probably earn a significant multiple of the local wages.
Anuradhapura is the furthest north we go, staying well clear of the ex-war zone towards Jaffna. Not because it's not safe, says Michael. He's planning a separate tour up there eventually. It's just that there's so much to see, even staying in the south.
I'm here as Michael's guest. He wants my advice for a tour operation he's starting with Royal Enfield Classic 350 singles – the largest engine size allowed in Sri Lanka. One bloke I speak to at a service station laughs about that. "It's because the police only have 600s," he grins. "They don't want anyone to have anything near their capacity!" It doesn't matter, anyway. The Indian 350s might have been made for the terrain in the island. Anything bigger would be pretty pointless.
"And there are traffic police!" Michael says. "You saw them by the side of the road."
Well, yeah. But they looked pretty relaxed to me. A bit like the rest of this serendipitous island.
My friend Michael Rohan Sourjah is a motorcyclist, author and too many other things to mention. After our exploratory trip, he has started Serendib Motorcycling Adventures. If my experience is anything to go by, his tours will be spectacular. Call him on +61 (0) 438 264 632 or see serendibmotorcyclingadventures.com . Oh, he does rentals out of Colombo, too.