If the name stoltzfii doesn't sound familiar then you need to read the ride report The Pan America Trail and be prepared to be amazed and wonder why you never read it as it was happening.
Easily one of the most inspiring Ride Reports this forum has seen in a very long time.
As a collective group (us inmates)  we are known to do a little dual sporting, we have nothing on stoltzfii (Allen, on the right) and his two riding partners James (left) and Jeremy (middle)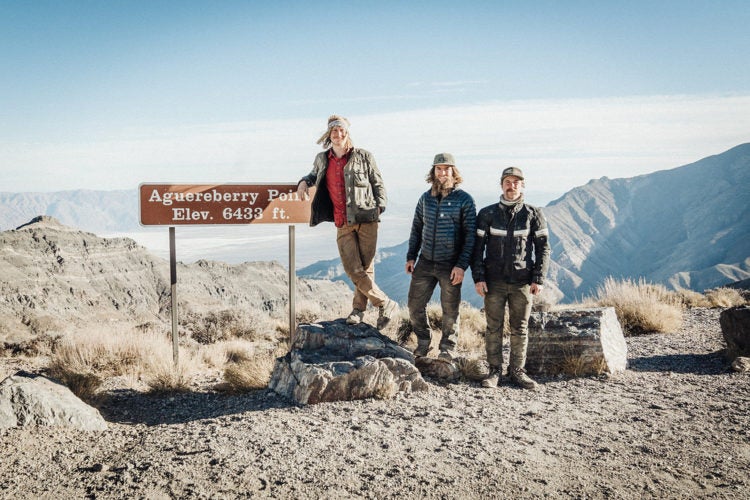 they as a group of three took dual sporting to a whole other level…motorcycling and mountaineering – dual sporting
Riding from Pensylvania to Alaska and down to Ushuaia…sounds normal enough right?
Add specifically made leather luggage by Welsh Mtn Co. custom designed by Allen.
They were made to  carry enough mountaineering gear to top seven peaks by Allen on the way south, Denali (Alaska), Mt Robson (Canada), Mt Hood (Oregon), Mt Whitney (California), Pico de Orizaba (Mexico), Churup Oeste (Peru) – Failed Summit, Alpamayo (Peru) – Failed Summit, the highest peak Allen topped was Denali in Alaska at 20,310 feet
James and Jeremy topped a few more while Allen was laid up sick with Lyme disease
Whose idea was it to ride and climb as one trip?
I would have to go with James on this one.
Jeremy and I were the original two for the motorcycle trip and due to our interest in hiking and very low-key mountaineering,
I'm sure there would have been mountains involved, but not to the level it was with James.
He called me maybe 6 months before the trip and said his friend Sterling Taylor would climb Denali with us if we were in; that was all the push we needed and it was full steam ahead from there. Once we were geared up for Denali, it was easy to add other mountains because we already had almost everything we needed.
Looking back, it was a great call to incorporate climbing and riding as one trip. Although it added a lot of gear, the climbs were definitely the most memorable experience of the trip.
How long have you guys known each other?
We all grew up together and Jeremy is my cousin, so basically since we were born. That was one of the main reasons we wanted to do the trip with all three of us. We had so much history together that it made it an especially unique experience.
Of all the peaks which were the most – memorable – enjoyable and exhausting to climb?
Mount Robson in the Canadian Rockies. Over a year before the trip, I watched an awesome video on YouTube of two climbers summitting Robson, and I immediately put in at the top of my bucket list. For me, that was one of the main goals of the trip, to at least attempt it. When we did summit, it felt so rewarding.
Mount Hood, in Oregon, was an easier one-day climb but after pushing through bad conditions with icefall and almost turning around, we summited just before sunrise and experienced the most incredible sunrise I have ever seen.
I was back in the States for two months fighting a serious case of Lyme Disease while the guys were climbing in Peru. Once I returned to Peru, mostly recovered, I spent a week acclimating before attempting a pretty serious 18,000 ft mountain. Around 16k on summit day I completely ran out of steam, I had never been so tired in my life and even cried a little as we were forced to turn around because I could not handle it physically. It was a tough place to be at.
Is there one peak you'd like to go back and reclimb and why?
Denali. James and I have our eyes set on the Cassin Ridge in 2020. Not saying it will happen, but you gotta dream big!
Any peaks you missed and regret skipping them?
I would have loved to climb something in Patagonia, but the weather wasn't good yet when we were down there and we were ready to end the trip so we ended up not climbing anything down there. Also, Patagonia is notoriously challenging climbing and more likely than not we would have been completely shut down there.
If you were to give advice to other climber/ riders wanting to do the same what would that be?
This sounds cliche, but I really believe that almost anything can be accomplished with hard work and perseverance.
You don't have to be an amazing rider, you don't have to have a lot of money, and you don't have to be extremely talented. You need to be determined.
Also, I read a lot of amazing Advrider forums and I never would have even thought it was realistic to drive from Alaska to Patagonia until I saw some of the wild trips that other people did. I drew a lot of inspiration for the trip we did from what I saw others accomplish.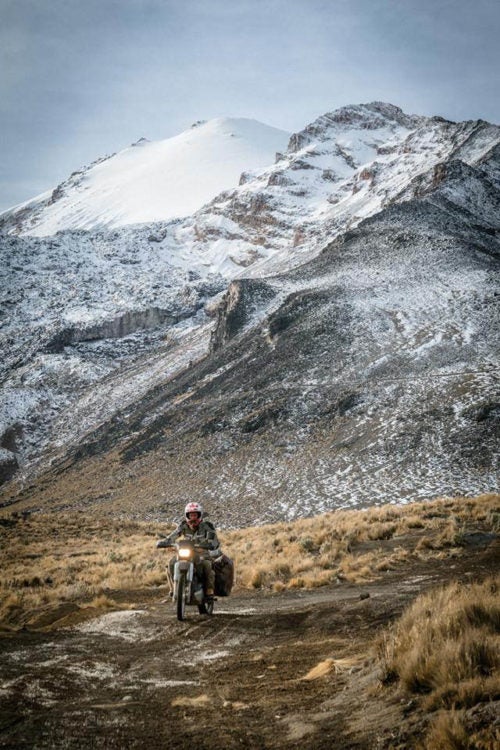 What came first, climbing or motorcycles?
Motorcycles. I got a motorcycle when I was 20 and I never climbed until I was 23, about a year before the trip. I always wanted a motorcycle, but I was a crazy driver when I was younger and my parents never would have let me have a motorcycle right after I got my license (and it really was for the best).
I finally got a motorcycle when I showed them how much money I could save with a little motorcycle. I road a Ninja 250 that got 70 miles per gallon for over a year before moving on to bigger and better bikes.
You took 'dual sport' to another level, any plans for another ride in the future combined with…xxxxxxx???
I would love to ride the Trans Canadian Trail. Hopefully, in the next few years, I'll be starting a trip forum about the TCAT Trail!
I would love to do a trip that is only focused on riding which would eliminate a lot of the gear and allow me to have a way lighter and more road-focused bike. So not really combining anything, but rather subtracting. It would be great to do a minimalist style moto trip.
Have you replaced your DR650's at home with other bikes?
Unfortunately no. The finances were looking bleak when I finished the trip so a bike got pushed to the back of my list of priorities, but I would love to get a bike in the near future. Hopefully something with a lot of dirt capabilities but still able to legally ride on the road.
Do you have a dream bike that isn't your current bike – if you had an unlimited budget?
Probably a KTM 690 Adventure. Or if we are talking a truly unlimited budget then it would definitely be a KTM 450cc Dakar Rally Bike. They are incredible bikes.
Where is your favorite country to ride and why, and which other two round out your top three
America is incredible. I loved Death Valley. Amazing trails, lots of history, and huge. We spent a little less than a week there but I would love to spend a lot more time there. Also, Nevada was awesome. We road a 250 miles stretch of trails through the middle of nowhere for 5 days and it was such a great time. The trails are endless and there is an incredible amount of public lands where you can ride and camp anywhere.
Bolivia is amazing but brutal. I have never been so cold for so long in my life, but it was beautiful.
It's tough to narrow it down to three, but I think I would go with Peru; great riding and great people. The mountains are massive and the terrain is top class for adventure riding.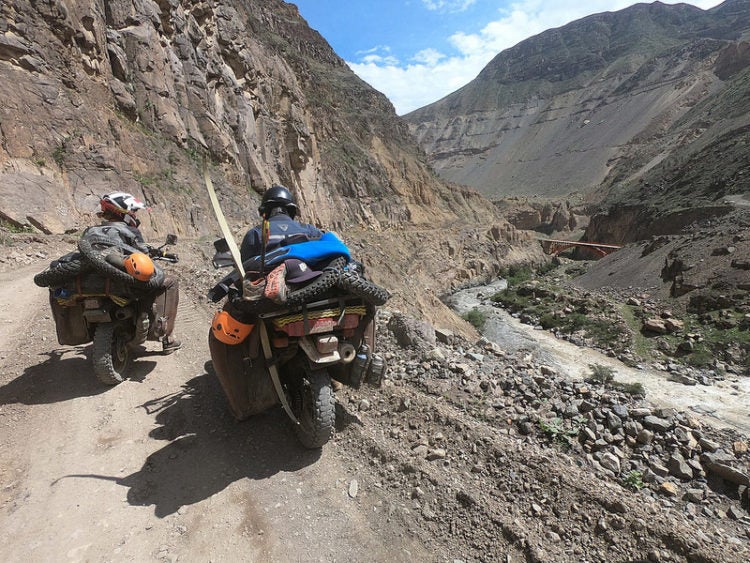 Is there one particular road or track that stands out above all the rest?
We road 250 miles of the Backcountry Discovery Route in Nevada and it was one of my favorite experiences of the trip.
A dream location to ride to that you have yet to visit?
Deep in Patagonia. We, more or less, stuck to the main roads there and were slightly rushed. In the summer I could spend a lot of time there. There are so many roads that lead to nowhere.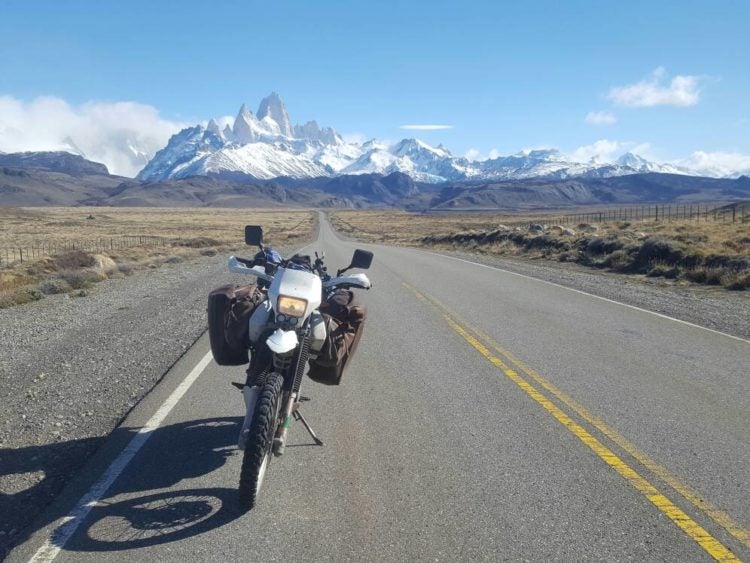 Scariest moment on your travels?
Jeremy was buried in an avalanche for over 5 minutes while James fought to dig him out. When he got to his face, Jeremy was purple and not breathing. James gave him CPR and soon after that, he started breathing again. That was incredibly scary. I was actually back in the states over that time, recovering from Lyme Disease so I was not there for that experience, but it was definitely the scariest experience of the trip.
Most memorable day?
The last day riding into Ushuaia Argentina. It was so, so cold and my bike motor was about to explode. But we made it, and the destination never felt so good!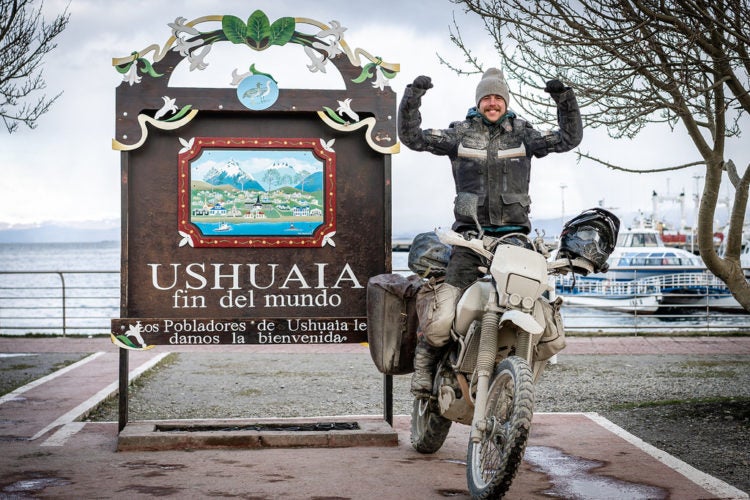 Do you think more people should travel and why?
Yes. It opens your eyes to a lot, both around you and inside you. It's really easy to live in a nice bubble here in America and traveling can be an excellent way to break out of that and see what the world is really like.
Top 3 tips for a new rider?
1 – Ride slow and don't be afraid to wreck, it will happen a lot.
2 – Carry a basic tool kit. Actually, if you're doing a long trip, take a pretty extensive tool and spare parts kit.
3 – Be alert all the time. Anything can happen really fast on a bike.
When you aren't riding what do you do for a job?
I have a mechanical engineering degree and I am currently a sales engineer for a metal fabrication company in Pennsylvania.
I am moving to Colorado in a few months and continuing my job, but remotely, which means I will have a lot of control over my schedule.
This will offer me a lot of flexibility to continue to pursue adventures and hobbies while still holding down a full-time job.
What does the word 'adventure' mean to you?
Adventure means to challenge yourself in whatever capacity that is. It doesn't have to be in the classical sense of adventures, such as climbing or a motorcycle trip. Anything that puts you out of your comfort zone and causes growth is an adventure. That's what it means to me.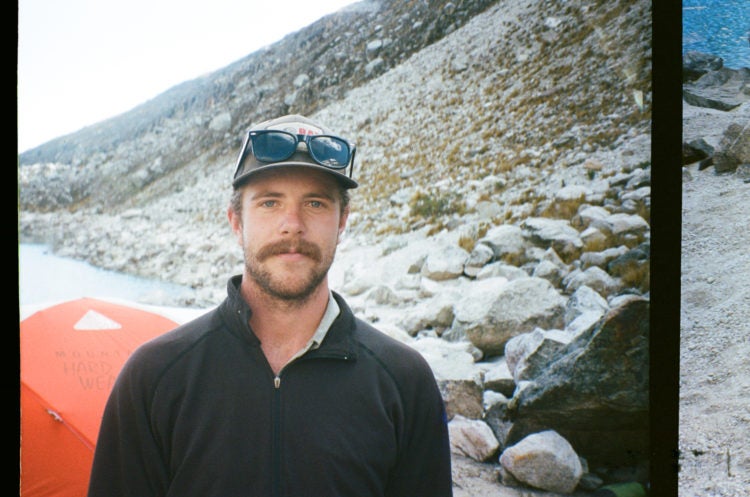 What is your one favorite photo ever from all your travels?
Deadhorse, the northern terminus, accessible by road, of North America. We were so cold, so muddy and so tired, but victorious; we were ready to head south.
If we wanted to see more of you guys individually  and follow you on Instagram
My Instagram handle is @allen_stltzfs 
James Barkman is @jamesbarkman
Jermy is @thejeremybeiler
==================================================================================
For more interviews and a small look into the life of some inmates make sure you check out the Interview Series in the forum that has been running since 2007 – you can find it here