Suzuki unveiled its new V-strom at this year's EICMA. Just by looking at It, you can tell that the designers at Suzuki had a clear idea in mind: make the old-school Dakar fans happy. They wen as far as displaying the old Dakar DR-Z at their EICMA booth and the resemblance is pretty spot on. Like Ducati did with its Desert X, Suzuki wanted to pay an homage to its history.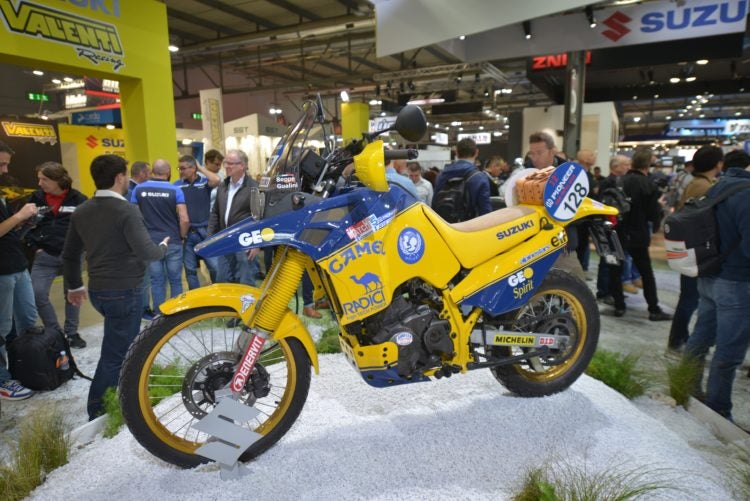 With a dry weight of 216 kg and 107 hp delivered at 8500 rpm , this new does not have a "dakar"-style engine. They certainly want to keep their old customers happy, maintaining the same vibe of a comfortable motorcycle with decent engine, designed for long and short distance trips.
I personally believe that the old V-Strom was a great bike, with modern feel. I was very excited to see what kind of modern and cutting edge design Suzuki would come up with, to captivate the interest of its own customers and steal some thunder from its competitors.
The LCD Screen is small and monochromatic, a poor choice for its category, but everything seems well balanced overall in terms of controls. Riding position is optimal and very comfortable; seat stance is in the high range, being 85cm from the ground.
Suzuki introduced the Ride-by-wire system to this Storm and the new ESS (Easy Start System), starts the engine with one single press of the button, no need to hold it down, is a nice touch.
Radiator is 15% bigger, to accommodate the bigger engine cooling needs, and there is also some additional sensors, one that regulates airflow called PAIR (Pulse Secondary Air Injection) and another one that regulates the idle ISC (Idle Speed Control) and automatically manages the perfect idle engine speed, for a smoother riding experience The fuel tank is 20 liters, allowing the new Suzuki to reach the 300+ km range.
The 1050 series will come in 3 versions, the 1050, the 1050 XT and the 1050 XT Adventure, which will differ mostly by only few optionals, like crash bars, heated grips and luggage system.