When I decided to race in the seven-day enduro challenge that is Hellas Rally in Greece, countless people told me I had the wrong bike for it. A Suzuki DR650 for a rally? That's crazy, stupid, thoughtless, risky, plain nuts; too big, too heavy, too underpowered; get yourself a nice KTM350, lassie, was the basic message.
Thing is, I don't have a nice KTM350, I have a banged up Suzuki DR650. My choices were simple: postpone Hellas, or any other cross-country roadbook navigation rally, indefinitely, save up for that lovely 350, and do my first rally in 2022 or 2023.
Or, take care of Lucy, my Suzuki DR650 pack mule, best I could, and enter Hellas Rally Raid now.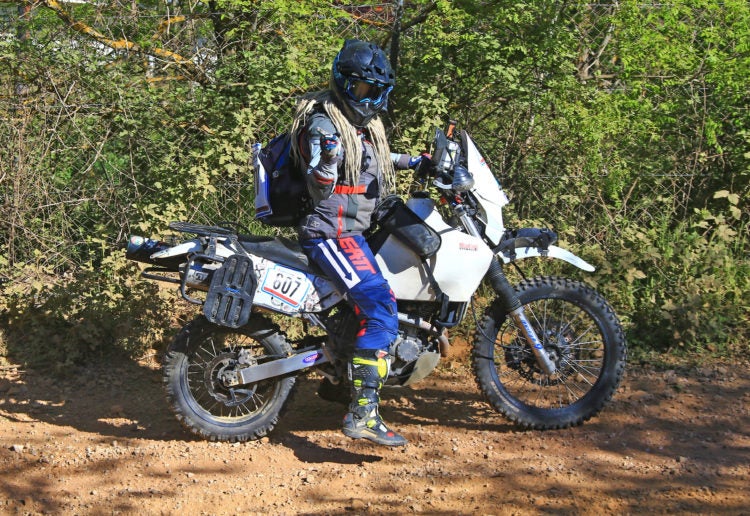 To me, that's a little like preparing for a long overland journey. You can postpone it indefinitely and save for the best bike, most genius bike build, the fanciest luggage set up, expensive riding and camping gear, and go a few years from now. Or, you can saddle up your current bike, get a $50 tent from Walmart, put your helmet on, and ride off into the sunset tomorrow. Both choices are valid, but patience just never was my strong suit.
And so, without much further planning, Lucy and I entered – and survived – Hellas Rally Raid 2019. Granted, I made a bunch of stupid first-timer mistakes, I didn't prepare the bike as best as it could have been prepared, I was a complete rally noob, and, alas, I came in last in my class. Still, I finished the rally, and if Lucy had a better rider, I bet it would have made it to the top three in Hellas Lite.
So, how did the bike hold?
Pre-race: the Setup
Prior to the race, I did not change a single thing on Lucy. Set up for long distance travel three years ago by none other than @rtwpaul, Lucy was already a sturdy beastie, so I knew it could take a beating. I had it fully serviced back in Lima, some 8,000 kilometers ago, and I hoped this would be enough for the rally. A day before the race, I simply switched ADV tires for full off road front Golden Tyre and rear Mitas Enduro, changed worn out front brake pads, and topped the oil off. In hindsight, I should have taken the luggage rack off – pretty obvious now, but somehow, I figured it'd be ok back then – and the oversized 30-liter Safari tank, while great in South America, doesn't make much sense in a rally. Still, I had to work with what I had, so mainly I just hoped Lucy would hold.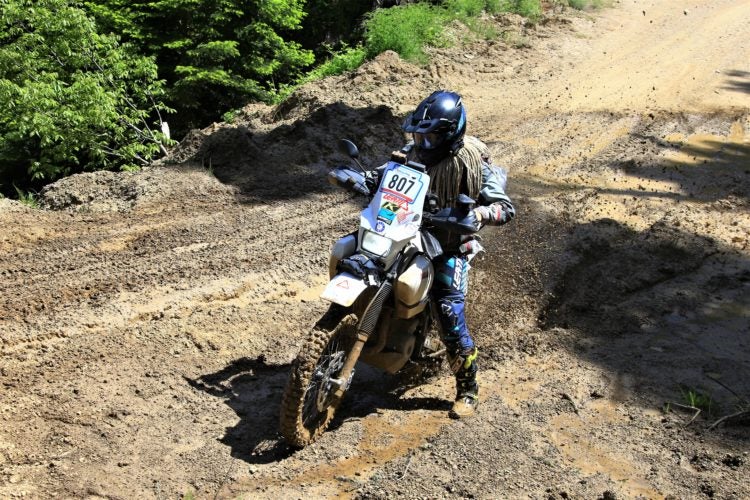 During the Rally: Maintenance
During the rally, I watched pro racing teams work around the clock to bring fallen KTMs, Husabergs, and Yamahas back to life. Lucy, on the other hand, kept going strong. I did not have the means to hire a rally mechanic for the whole race and had to pay per job to whichever team that had a little time after they worked on their riders' bikes, but I'm thankful to say I didn't really need that much help in the first place.
During the rally, I simply washed the bike off after the special stages and oiled the chain. I lost a spoke and broke another one on Day 3, broke the luggage rack on Day 4, and the front sprocket seal gave out by about Day 5, but other than that, Lucy didn't need much maintenance work at all.
Post-Rally: War Wounds
After the rally, I packed Lucy up and rode to Albania where the mountains are just as beautiful as in Greece but the costs are significantly lower. Here, I'll hole up for a little while to work and prep for the Bosnia Rally in July. Lucy needs some TLC as soon as possible, too: I need to replace the broken spokes, reconnect rear turn signal wires, fix the broken luggage rack, replace the front sprocket seal, do an oil change, clean the air filter, and finally fix that broken odometer that stopped working somewhere in Colombia. I should also change the chain and sprockets, maybe change the piston rings, and possibly rebuild the shock and get new front fork seals – I'm not 100% sure and hope I can find a knowledgeable and trustworthy enough mechanic to help me out.
Other than that, though, Lucy is good to go again. After Bosnia Rally, I'm dreaming of Serres, but this is a much tougher deal altogether, and I'm not yet sure I can pull it off. If, however, I do, it'll be me and Lucy vs Greek terrain again – and we might just finish that one even if we come in last again.
Bottom line? Sure, a lighter, more powerful bike would make more sense. But in a weird way, I think I'm getting intrigued: what else can the DR650 do, and is there perhaps some crazy build that would enable me to do a desert race someday?..