With the lockdown keeping us all put, people have started working on their bikes a lot more than they used to. I'm no exception: although the long-awaited Hellas Rally Raid has been postponed till October, and the Europan borders are closed until further notice, I figured I could give Lucy, my trusty DR650, a bit of a once-over. Apart from basic maintenance and some new tires, with the help of a local mechanic, I embarked on a suspension project.
TFX Suspension Technology
While I'm hardly an expert, I have ridden three continents on the DR650, raced Hellas, and did the Bosnia Rally training event. Having also experienced what it's like to race on a KTM450 this year, I realized that while my beloved Lucy is still an ideal choice for me as I both travel and race on the same bike, it needs a little help.
Enter TFX Suspension, a Netherlands – based company that does one thing and one thing only: custom suspension. After a quick chat with Hans-Dieter Fischer, founder of TFX, I knew I was in good hands. Hans asked me about everything – not just about the weight of the bike, me, and the luggage I typically carry, but also the sort of riding I do. I told him about my dilemma – essentially, I need an ADV mode and a racing mode on my bike, which is a tall order for the DR650. Hans, however, was up for a challenge. "Let's see what we can create", he told me. Several weeks later, my new suspension set up arrived.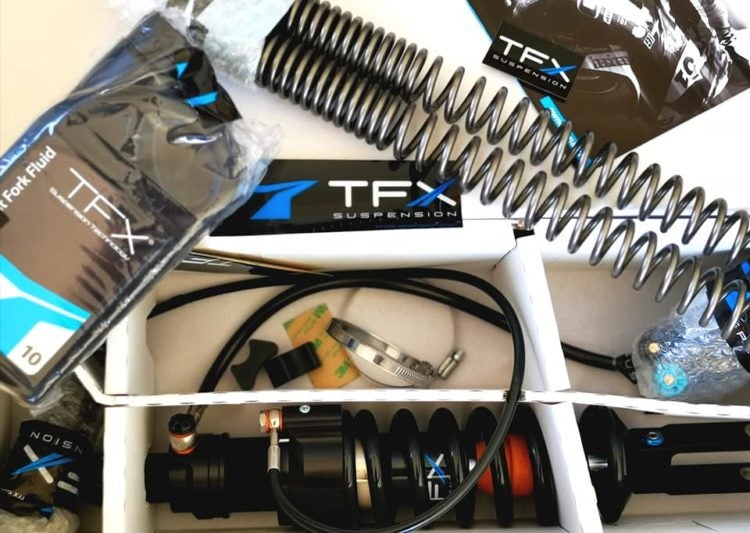 Adjustable Shock
After installing the rear shock and the front fork springs, I immediately felt the difference – the suspension felt much harder and more stable overall. However, being stuck at home, all I could do was ride a few circles in the front yard – not exactly a real suspension test. Luckily, once the weather cleared up a little and the lockdown restrictions were loosened a bit here in Lithuania, I was able to get out there and ride.
The really interesting part about the TFX Suspension upgrade is the adjustability. The rear shock is fully adjustable for different weights, for example, when taking luggage off for a rally. I feel it will probably take a little while to find that sweet spot for different riding and different conditions, but I'm very intrigued to see what the end result will be.
First Ride with TFX Suspension
I confess: I hadn't expected a very drastic difference. I knew Lucy would do better, but just how much better? Countless people have told me that a good suspension upgrade can make a significant difference, but as always, I needed to experience it for myself.
Right off the bat, even on the pavement, the bike felt a lot more stable and much better – balanced. Balance is something that Hans has emphasized several times, explaining how the shock works under different weight and on different terrain; while it made sense to me in theory, I needed to see what it felt like in practice.
Getting off the road, I finally got to ride some local forest trails and sand quarries. Although it was just a short, half-day ride – again, we aren't supposed to be doing much in terms of off-roading right now – the difference was night and day. I was quite used to the DR650 feeling a little sluggish, a little unwilling, and a little clumsy, especially when it came to sand or uphill climbs; now, it feels like the bike wants to go forward regardless of the terrain.
Just like on tarmac, it feels a lot more stable and balanced off-road as well. It jumps a lot more willingly, too – I am yet to take it to a motocross track, but when it came to tiny hill crests, it felt effortless. Frankly, when people ask me about the pre-TFX and post-TFX difference, I tell them Lucy feels a lot more KTM-y now. I'm not sure if it makes sense to anyone but me, but there it is.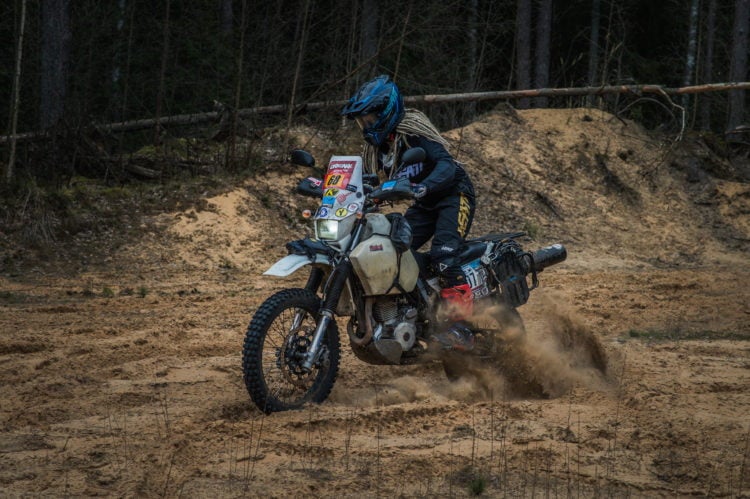 I am yet to test everything out in travel mode with all of my luggage on, as well as in rally mode when I'm racing Hellas and Iberian Rally. For now, it'll have to be the local trails here and there. Yet, it already feels that I didn't just get a new suspension – it feels like I have a new bike.
Have you upgraded your suspension recently, and how did that feel? Let me know in the comments below!