What's better than a bunch of men and woman playing in the mud with excessively big motorcycles and drinking a lot of beers, for a whole weekend?  If you are a motorcycle rider having fun with your mates and having a cold one at the end of the day is as good as it gets.
This is what the KTM Adventure Rally held at Silver Star Mountain, in Canada is all about. These rallies are a fantastic opportunity to test your skills and put your big engined machine to some serious work. Abd if you make it to the end were are some serious prizes for the best riders too!
This is not one of those "fun rides" you organise with your friends to find an new location for brunch on sunday. No no. This is some hard enduro with big adventure bikes so, no high tea or foot massage at the end of the day.  You are actually more likely to enjoy some Voltaren and some ice instead!
Similar to BMW with its BMW Motorrad, KTM launched this series of events targeted to the keenest riders, passionate about the brand, who are also searching for that big shot of adrenaline.
As motorcycle lover myself and keen KTM aficionado, I couldn't miss the opportunity to participate to such event, even as a mere spectator.  The rally was held at the fabulous Silver Star Mountain, a ski resort with unlimited possibilities for any level of adventure riding.

The dramatic scenery of snow-covered peaks, autumn-colored forests, and blue sky, created the perfect conditions to have one of the best adventure riding event of the year, here in Canada, where unfortunately the motorcycling season is as short as my Italian swimming costume.
The KTM rally is one of the roughest and harshest events you can put your big adventure bike through. Even with riders having plenty of experience and knowledge of the terrains, the track was indeed worrying some of the participants, partly because nobody knew the official routes until the very last minute, much like a real enduro rally. No free practice. No qualifying. Just riding the best you can as fast as you can, without getting lost.
Every morning wake up call was at 5:30am and, during the quick breakfast/briefing, every team was accessorized with GPS and a Spot Gen3 Tracker (for emergency geo-localization), so daily maps and checkpoints could be pre-loaded on their devices.
A team of "sweepers" was also allocated to each group to guarantee that everybody was coming back to the village at least, at the end of the day.
The rally was open to all motorcycles over 600cc and was not brand restricted, so we had two Super Tenere, one Triumph 1200 and even a GS 800 showing up at registration day.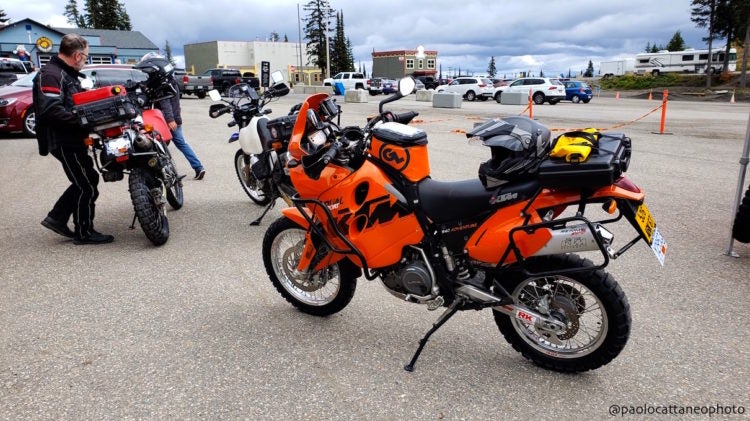 Most of the bikes were KTM 1190R or 1090R, tuned up to perfection. There were some participants who showed up with the old, but more "dakar looking", 990, 950 and we also had one guy rocking up on a 640 Adventure in mint condition. There were also custom made lighter beasts, like 690R and even some new Huskies 701.
Very few people showed up on the 1290R, which is the biggest of the KTM adventure bikes family. Riding a 1200cc motorcycle with more than 150hp, up and down those mountains, is something not to take lightly. It requires some skills, some physical strength and definitely some confidence to blast through those tiny trails at speed with a 250 kg bike!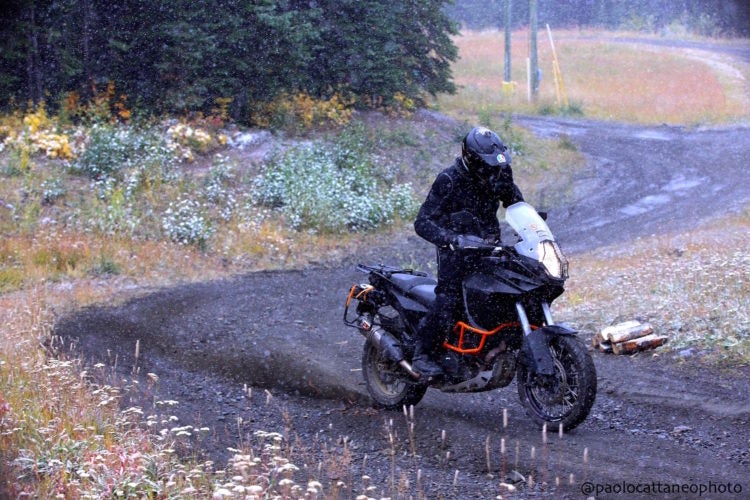 At registration day, the air was electric; even though the event was based on navigation skills, more than speed, I could sense in every participant the excitement growing inside and the eager to prove to the others that they were better riders.
Big bikes, big engines echoing through the mountains, and the permanent smell of fuel that pervaded the paddock area were just a few of the catalyzers for the incredible amount of adrenaline running in everybody's veins. These events are usually attended by all sorts of riders but there's always a special guest that shows up and showcases his talent for all the others to watch.
This year KTM Canada invited Chris Birch. If you are not familiar with KTM or you lived under a BMW 1200GS till today, let me tell you in short who this guy is.  Chris is a KTM and RedBull Ambassador, KTM test rider, off road instructor, New Zealand Enduro Champ, Romaniacs champion, Dakar Racer, and much more. His repertoire, other than being one of the world's best Enduro riders, is to be able to handle a 1200cc motorcycle like it was missing a zero at the end in that engine displacement spec.
There are some incredible videos on youtube of him riding these beasts so I don't want to spoil these for you.
Personally, seeing him ride and how it is able to show the true potential of a bike has been an inspiration for me.
The rally was composed of three hard enduro 350km single track days, which were designed to deliver to the participants gradually more challenges. The available routes were also divided into three levels: Ultimate Race, R1 and R2.
The Ultimate Race paticipants were competing for a spot in the next Merzouga rally in Marocco, one of the main world enduro championship stages. Out of all KTM Rally events around the world, only 6 champions were selected to participate to the big event of next year and, on top of this, they were given the opportunity to race with the "most wanted" new KTM prototype 790 Adventure R, still not in production till next year. Pretty much a man-child dream, right there!
The level of competitiveness was high between the Ultimate Race teams; while the R1 folks instead were challenged more by the difficult terrains and the possibility to get lost in the woods.  R2 riders were consequently the "luckiest", since their course had only few technical sections and apparently very little mud. The conditions of the track were somehow ever-changing, depending on rain, temperatures and on how many people were passing through.
It was with little surprise then, after the first day, that only 6 of the 150 competitors made it in time to complete the full length of the initial track. On the second day, more than 60%, had to pull out because of the terrain and the difficulties they were facing. Therefore, the Ultimate Race group shrank down to 10 participants after only 1 day and most of the R1 group shifted to R2 for day two.
The technical abilities of the riders were challenged not only by hard sections and muddy hill climbs but also by the length of the tracks, which were stretching for 300-400 km a day.
After almost 1000km of dirt, sweat and tears, all the participants made it back safely to the village and, at the end of the day, they all received a prize for making it through the weekend in one piece.
I didn't have the chance to race with my 1190 at the event but nonetheless it was a great weekend hanging out with great riders and playing with some of the KTM toys.
I could only imagine how would have been to shred those colorful hills with my motorcycle and hear the sound its engine echoing through the mountains.
The closest we can get to be like the "rally gods". For some of us, a dream come true.