This is the 5th post in a series focused on riding in Colombia. A special Thanks to Colombia Moto Adventures for sponsoring this post and making it possible to bring you South American adventure content.  Jeff Cremer, an award-winning wildlife photographer, and his team provide motorcycle rentals in Medellín and Colombia motorcycle tours.
In recent years, Colombia has become a paradise for adventure riders. Improved safety and rapidly developing infrastructure now allow two-wheeled travelers to go off the beaten path and explore the Andean and coastal regions. If you get lucky, friendly local riders will show you the best routes in Colombia. The motorcycle culture is exploding here, so don't be surprised if you see Colombian-plated BMW GS 1200s and KTM Adventures flying past with the riders giving you a friendly wave.
Colombia is large and diverse, and to truly get to know this beautiful corner of the Earth you could be riding here for months. But if you don't have months, make sure to hit these five spots to experience what Colombia is all about.
Caribbean Coast, Magdalena
If you are shipping your bike across the Darién Gap, chances are, you'll end up in Cartagena, an iconic Caribbean port with a beautiful Old Town and sunny beaches. Once a wild town of pirates and soldiers of fortune, Cartagena today is a modern, safe and breathtakingly beautiful city. Try local food (including fried ants; long story – try them yourself!) and coffee, get your bearings, and start your trip riding north-east towards Santa Marta.
As the road meanders along the turquoise-blue Caribbean Sea, stop in little fishermen's villages on the way, grab a lunch of freshly caught fish, and stay in Taganga Bay for diving and the dreamiest sunsets on the planet.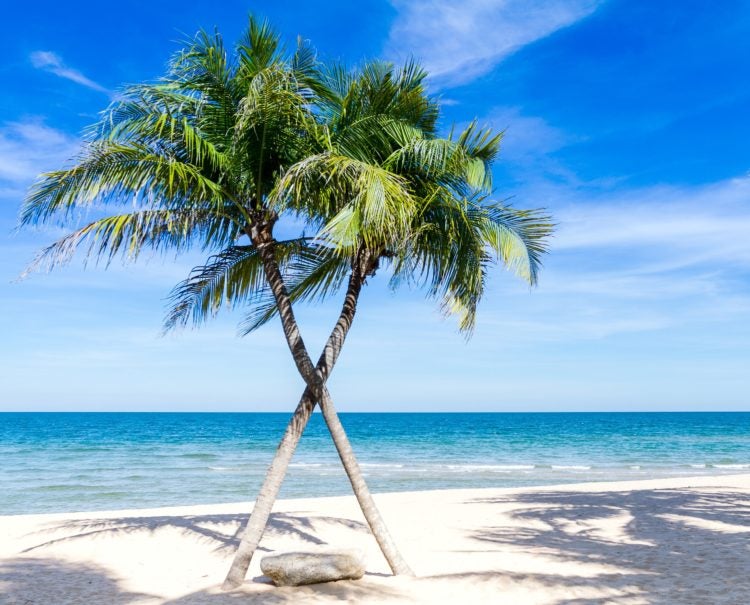 Medellín and the Coffee Region, Quindío
Medellín is easily my favorite place in Colombia. A city of eternal spring, Medellín always has pleasant weather, great food and a friendly, artsy vibe. Get an Airbnb and explore the city for a few days. Service your bike if it's needed – there are plenty of great dealerships and workshops here. For day trips, check out some of these ideas.
From Medellín, head south into the coffee region. Make sure to visit the famous Piedra de Peñol in Guatapé – a large, mound-shaped rock near a beautiful lake on the way. You can also take a high altitude ride across Colombia's longest road climb on the side of the Nevado del Ruiz Stratovolcano, and to unwind, swim in the hot springs in Santa Rosa. When you reach Salento, a pretty little town right in the heart of the coffee region, take a coffee tour of one of the neighboring coffee ranches.
You can also take a horse ride or a hike through Cocora Valley, famous for its Wax Palms – the tallest palm trees in the world.  If you'd like to take your bike off the road, there is a beautiful dirt track leading you straight through the valley and offering stunning mountain views. Look for the Salento – Atocha – Ibagué route on Google Earth.
San Gil, Santander
The town of San Gil in the department of Santander is Colombia's adventure capital. Near the jaw-dropping Chicamocha Canyon, San Gil has it all: great riding both on and off-road, river rafting, kayaking, paragliding, bungee jumping… you name it, they've probably got it – plus great coffee and amazing national parks nearby.
 El Cocuy National Park, Boyacá
From San Gil, head East and ride towards the town of Cocuy. This is where Colombian adventure riders congregate on weekends: the roads are fun, narrow mountain twisties; there are plenty of off road tracks in the area; and the nature is just too beautiful to be true. Here the foothills of the Eastern Andes begin, and the riding gets interesting.
Make sure to ride the 15 or so miles into the El Cocuy National Park on a hard-packed dirt and gravel road. Stunning views of the Ritacuba glacier and some great riding are guaranteed!
If you're into some serious hiking and would like to reach the glacier on foot, you will need to sign in and get a permit at the entrance of the National Park. This hike is for experienced mountaineers only.
Emerald Country, Boyacá
Deep in the eastern portion of the Colombian Andes in the department of Boyacá lies the town of Muzo, known as the world capital of emeralds. Take the amazing trip from Medellín and ride through the heart of the Colombian Andes to this remote area. Cross mountain ranges; see amazing vistas and waterfalls; and finally, get the chance to talk with and photograph emerald miners –  a truly fascinating experience in South America.
The Devil's Trampoline, Putumayo
Considered to be Colombia's equivalent of the Bolivian Death Road, the Devil's Trampoline in Southern Colombia is a 45-mile ride along a narrow mountain road. Linking the towns of Mocoa and Pasto, this road takes you across the remote, vibrant green country of the lower Andes. It's a graded dirt track, at times a little washed out and covered in cobblestones in patches. Because of its remoteness and the fact that it's so narrow, with sheer drops into the river valleys and canyons below, it's considered a little more extreme than usual, but any adventure motorcycle can tackle this route quite comfortably. Be mindful about your speed – there is some traffic on the road, and the conditions are often wet and foggy with waterfalls spilling over the road.
Even if you only hit a couple of spots on this list, Colombia is guaranteed to leave you wanting more. Make sure to bring plenty of spare batteries – you'll be stopping to take a photo more often than you might think.