11 years ago, Bonebag, Northwoods Yeti, and Jason were touring the Southeast on their new adventure bikes—a GS, a Tiger, and a KTM 950. "Our previous trips were on street bikes. We didn't know what we were doing as far as dirt riding America or GPS tracks, but we headed to Rick's Rendezvous," Bonebag recalls. They met Rick and had an awesome time.
After returning home in Wisconsin, Bonebag asked on his computer, "Why don't we have a rally here? I was pretty good at throwing parties and pretty connected to what we needed."
Who could imagine that such a simple idea would lead to marriages, children, and the very best of friends?
Bonebag hired a bartender he knew named Brit and a band for the first rally. Brit and Bonebag had been acquaintances for over a year and he had taken photos of her with with a BMW to promote his photography business. His photos ended up becoming popular on ADVrider's home page rotation.

Here is Brit (now Britbag) 11 years later with their daughter at what has become an annual tradition:

After arriving at the rally I watched people roll in from Kentucky, Toronto, Chicago, Indiana: farmers, airline pilots, mechanics, wedding photographers. They own almost every imaginable type of motorcycle from hardcore dirt to pure road and almost every brand available.
In the paradise of Northern Wisconsin's lake country it is an annual family reunion for most of them. Bonebag and Britbag made a decision from the very beginning to make it (mostly) family friendly so families often bring their kids and dogs. I say mostly because what's a few f-bombs and a beer trailer among friends?
Ah, but the motorcycling. The planets aligned to make the Central Rally magical when ADVRider legend Cannonshot showed up for the first one.
He publishes incredible GPS tracks  (
example
) with pics so riders can enjoy some great routes, and he knows those confusing woods better than anyone. 
I never had any idea where I was other than following @Cannonshot's bike deep into the forest.
Cannonshot spent some years as a county cop, he's a wilderness first responder, and he seems to be the camp rescue ninja. I watched him rescue a rider felled by a water crossing, tow a rider back to camp whose water pump failed, and wrap a messed-up ankle. Bonebag concentrates on the social while Cannonshot focuses on the riding element of the rally.
Imagine persuading a local government to build a multi-loop single track trail in the forest just for off-highway motorcycles. It would require a new local motorcycle club, a cooperative County Board, approval from various forestry and water regulations officials, funding, and formal training for people to become skilled in the art of building great trails in the forest. It seems unattainable.
And yet that's exactly what Cannonshot spent years working to make happen here and in other parts of the state. At CADVR 11 we got to attend a ribbon cutting and meet the local officials who supported the project and the remarkably ambitious local club members that constructed the first 8 mile loop under pressure to complete it for the rally.
It's an incredible single-track trail that had most of us sweating and exhausted while having the time of our lives. Overheard from Heidi, grandmother of five after a loop: "I fell and thought I should turn back, but then I said fuck it, I didn't come here to turn back. So I did the whole thing and it was amazing!"
Bonebag was right about knowing how to throw a party. There was a pig roast that generated some fascinated gazes:
He is incredibly creative so each rally gets amazing art for posters, T-shirts and stickers.
After dinner there was a raffle in the big hall and the Bonebag/Britbag children charmed everyone by calling out the names of the winners and fitting dad with horns: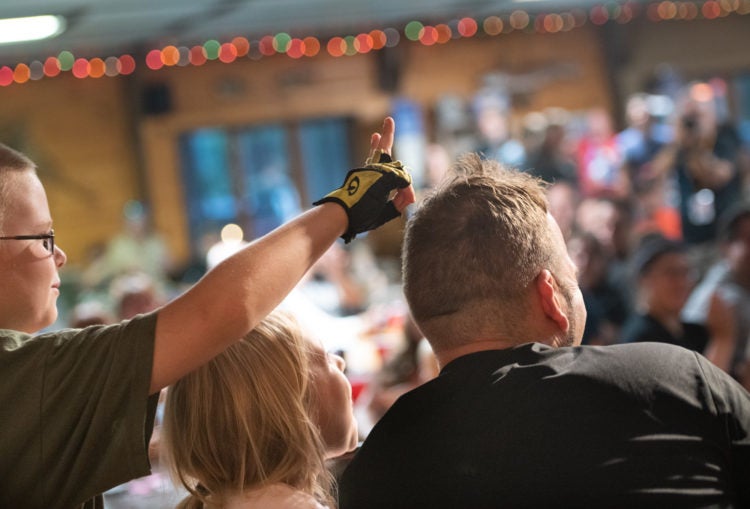 The ultimate raffle prize was a quilt crafted by 11-time rally attendee Cheryl that included the ten previous T-shirt designs:
I asked Bonebag what makes a great rally. He said the most important thing is when someone arrives, having people come introduce themselves and take interest in them. "How long have you had your KLR? What kind of riding do you like to do? Then they can be paired with compatible riders and come back with a huge smile on their face. That's why I do it, to see them smile."
"The Central Rally is really a love story."
Speaking of love stories, After 11 years of organizing the Central Rally together and two children, Geoff (Bonebag) and Brit were married on September 1st. More than 40 friends who attend the rally were there. Backwoods Yeti was the best man.
More photos can be viewed here.
Continue reading Part 2 "Stories within the story of the Adventure Rider central Wisconsin rally" at Cake.