When it comes to riding Bolivia, most people have two destinations in mind. One is the infamous Death Road, a narrow, often steep, and mostly off-road trail carved into the mountains between capital La Paz a small rainforest town of Coroico. And two, Salar de Uyuni – the largest salt flats in the world, often called "Salar Celeste" – "The Desert of Heaven" – by the locals because of the way sky is reflected on the salt when the flats are underwater.
While both of these destinations are definitely worth checking out, there's more to Bolivia than the "I survived the Death Road" shirt and a visit to Salar de Uyuni. Here are two of Bolivia's hidden gems I loved most when riding there.
The Lagunas Route
This is easily one of the most scenic routes in Bolivia, crossing the high Andean plateau and skirting along such surreal places as the Salvador Dali desert, the colored lakes often hosting swarms of pink flamingos, otherworldly rock formations, and smaller salt lakes. This is a very remote and lonely place with very few little settlements along the way, and it's all off-road with quite a few sand sections, so be prepared – but it is absolutely worth it.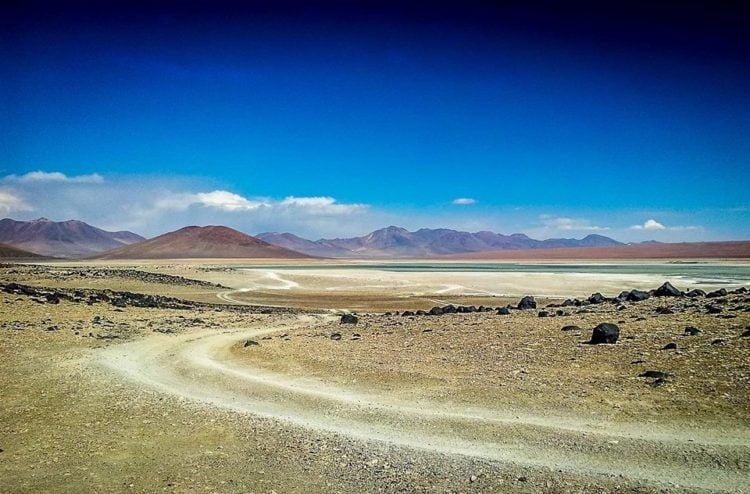 How to get there: from Uyuni, head South on the 701 (last gas is in San Cristobal, so make sure you fill up!). Once you pass Alota, look for a smaller track splintering off; on Google maps, it's also called 701, as is yet another branch of it, so just follow the southernmost one:
This track will take you across the "Reserva Nacional de Fauna Andina Eduardo Avaroa", probably the most beautiful part of the route. On the other side of it are Chile and tarmac.
Lake Titicaca
Most travelers head for Lake Titicaca on the Peruvian side, visiting Puno and taking a boat to see the floating islands from there. The Bolivian side in Copacabana, however, is much cozier, less crowded, and a lot more interesting than Puno.
How to get there: on the Peruvian side, ride up to Yunguyo following route 130. Here, cross the border into Bolivia and stay in Copacabana for a few days exploring the nearby floating islands and the Isla del Sol, the mythical birthplace of the Incas. Bonus: if you'll decide to keep riding Bolivia, you'll get to experience the rickety wooden Tiquina ferry!