Stefan Hessler, the founder of Hessler Rally Team, has become synonymous with DR Big. Stefan has been nothing short of obsessed with Suzuki DR motorcycles since 1990, and he currently builds rally and adventure bikes out of RM450's, DR650's, and most recently, a monster rally V Strom. Stefan placed 4th in the big bike class in this year's Hellas Rally on that V Strom, while his rider Otto won the M5 category on a DR650.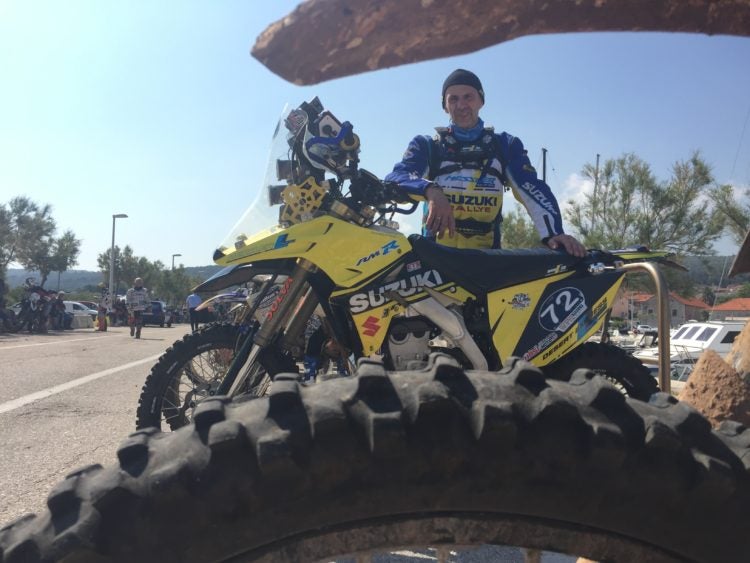 "I'm from Eastern Germany and I was riding bikes off-road since I was seventeen, but in my area, off-road riding was forbidden by 1990. Imagine being a young guy, dreaming of the Dakar, and not being able to ride off-road! After the borders were opened again and I could travel to West Germany, I saw the Suzuki DR800 – the DR Big – for the first time. I knew Gaston Rahier raced the DR Big in the Dakar, and I became obsessed with it. I bought the DR800 and just absolutely loved it", – Stefan told me.
In 1995, he entered his first cross country rally, the Trans Danube race from Munich to Budapest finishing 8th overall. "I was blown away by the fact that while it was an international rally, you didn't have to be a pro to take part. There were so many hobby riders there who were just in for the adventure. I was hooked", Stefan remembers. He continued racing the Trans Danube, finally winning the pro class in 1999. The following year, Stefan raced on a KTM 500, but the universe had other plans for him. A few years later, Stefan discovered an old, beat up DR800 for sale. "It was in a sorry condition, and it had this insane 64-liter tank. I bought it anyway and began restoring it. I raced that bike in Croatia and Germany doing Baja races, and I realized that I wanted to go back to the origins. That DR800 project was a crazy idea that just devoured money, time, ideas, and energy, but eventually, I made the DR Big better, lighter, and faster. I never looked back".
Stefan continued building rally bikes and racing, and by 1998, it became a business. "For me, it's all about passion. I love these bikes, and I love creating rally builds. Of course now, the rallies are different than years ago. In 1995, you could ride in a rally race at what now would feel like a leisurely pace. It used to be more about the endurance and the adventure than speed. Now, it's all motocross style riding, longer distances, and speed. That's partly why I started building Suzuki RM450 bikes, but for me, the DR Big is still the bike".
According to Stefan, one of the most important things about building rally bikes is weight, but it isn't the only factor. "The bike also needs to be versatile and reliable: you will ride long distances, crash, there will be water crossings, rocks, weather conditions, so the bike needs to be able to withstand all of this. The DR's are incredibly reliable, they just keep on going. If you break something, the bike will not stop, it's indestructible, you can run it half-broken. For me, the bike has to be pretty simple and be able to deal with the environment as well as whatever the rider throws at it. When it comes to electronics or any kind of high-tech, especially if we're talking roadbooks, again, I prefer to keep it simple so that it can be easily fixed on the side of the track if need be. Same with materials for the builds. I love using carbon fiber for tanks, but for the navigation tower and roadbook holder, I'll use aluminum because during a crash, it might get bent but you'll still be able to ride whereas carbon fiber will just shatter. So it's not about the material itself, it's how and when you use it."
Suspension Theory
The suspension is one of the key things to think about when building a rally bike, and Stefan explains that it's especially important for less experienced riders. "For the V Strom, I built a completely new suspension, and it's tricky because good suspension specialists are hard to come by. For the DR650 build,  we simply upgraded the suspension instead of building a new one. Every suspension is individual, it depends on the weight of the bike and rider, the riding style, the terrain, and so on. One rider might go through rocks and push hard, another rider might be more cautious, ride smoother – all of that makes a difference. A great rider will ride with any suspension, it will be hard, but doable. For a beginner, bad suspension will be very hard, they'll have trouble controlling their front wheel. So for amateurs, suspension is very important. It should be tailor-made to the rider.
For adventure bikes, what's different is you have a load on the bike. You will ride long distances for long periods of time, and you will have luggage and maybe a passenger. Weight is the most important here too; on an adventure bike, you're on a big journey, and the weight changes – you may ride alone or two up, with luggage, without luggage, so the adventure bike has to be able to do it all. Either way, a light bike will always have an advantage over a heavy bike. After all, a bike is for riding, not lugging your stuff around. I saw some 1200cc bikes at the Hellas Rally, and I love big bikes, but I think my 250kg V Strom was crazy enough!".
Rally Build Budget
So how much does it cost to build a rally bike?
"When people ask me about the costs of a build, I always ask them what their budget is and what they want to do, then recommend solutions. Your budget may be anywhere on the spectrum between $2,000 and $14,000 or more, so we may just upgrade the suspension – or do a complete rebuild.
If you want to upgrade the bike, again, it's not what you upgrade, it's how. It's not the money or the best aftermarket parts, it's how you set it up. You will crash, you will break parts, etc, and a bad build will break fast, so you want to set it up perfectly. If you don't have a lot of money, just make it very reliable, very durable and stable, and make sure it's easily fixable. With more money, sure, you can get better parts, but always aim for durability and simplicity. It's the same with navigation equipment. Simple mechanic roadbook setup is always better than complicated, high-tech stuff that's more prone to breaking."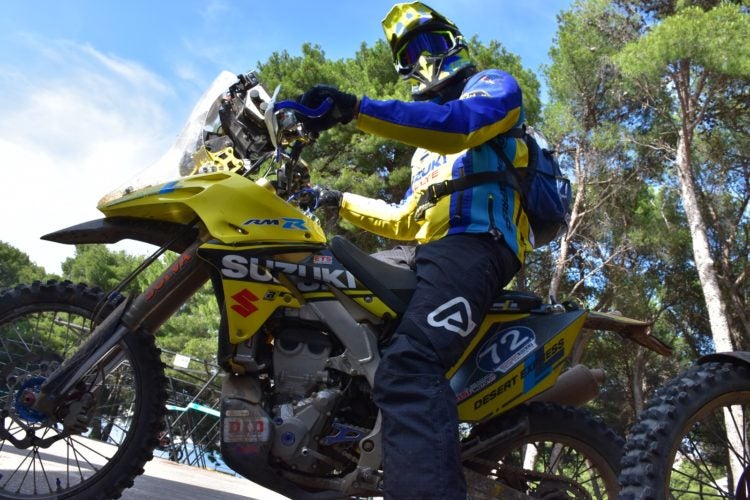 After giving me a virtual tour of his workshop, Stefan adds that he loves helping adventure riders with parts, manuals, or advice, wherever they are. "We can ship spare parts or tools anywhere in the world. If you're broken down and in trouble somewhere, drop us a line. We want all Suzuki riders to make it back home safe!".