What comes to mind when you think about words "Mexican motorcycle club?"
Rolling along the twisty Copper Canyon roads in Mexico, Paul and I were enjoying a sunny, leisurely day. We'd teamed up with Swiss riders Sandra and Thomas for a few days and, having decided to visit a small town of Batopilas in the bed of the canyon, we were traveling together.
Thomas and Sandra had told us about a Mexican adventure motorcycle club that was also heading towards Batopilas. Sure enough, about midday, we were passed by a fully kitted out BMW GS 1200 rider, then another, and another still. Waving and stopping to take photos once in a while, the Mexican riders were expertly flying down the road while we plodded along behind them.
Stopping briefly to say hi and take some more photos at the viewpoint of the Batopilas canyon, we finally met Gustavo Scherenberg and Ernesto Gonzalez, founders and editors of the Mexican ADV Motero magazine and leaders of their Chihuahua Motorrad motorcycle club. Fluent in English, laughing and joking, Gustavo and Ernesto made for perfect company. But what was really cool about them was their mission: that day, they were delivering shoes and footballs to a small school for indigenous Tarahumara girls!
"We've been doing this for a while now. In Mexico, you still have a lot of really remote places where people have so little. So we figured, we have these capable adventure motorcycles… why not do something good with them!" Gustavo said. His project, Dejando Huella (Leaving a Footprint), has already visited numerous indigenous communities across Mexico delivering shoes to children in need.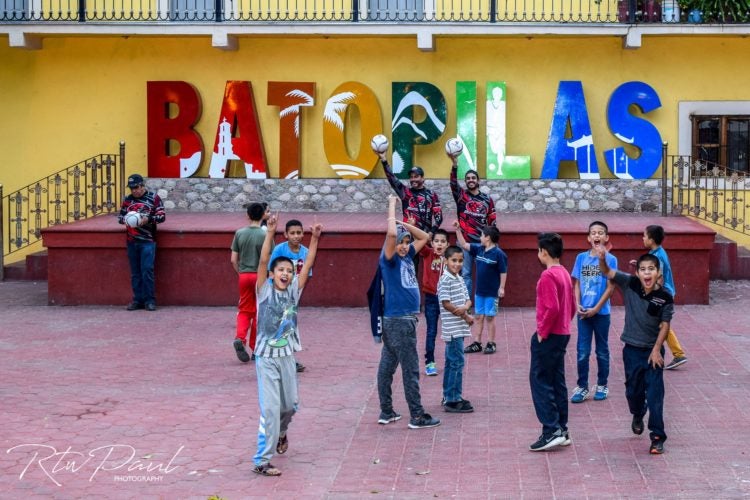 What followed was nothing short of a fiesta of giggles. Arriving to Batopilas, Gustavo's club ditched the bikes and the gear, grabbed boxes of shoes and footballs and set off to surprise the girls. The whole town seemed to join in. The girls squealed with delight trying their new shoes on, and suddenly, there was an impromptu football game happening in the small sleepy plaza of Batopilas, with the fearless Mexican riders trying their skills against the local kids.
"When you help someone, you become part of their story", – Gustavo said to me later.