I can't remember when I started thinking of Ducatis as the Ferraris of motorcycles. Probably age 12. I always think sexy, Italian, fast, and red.
Turns out Ducati North America is within skateboarding distance of my home. I've heard so much Multistrada love from my friends who own them that when Ducati offered a few days with one, it took me Ducati's 0-1 mph time to say YES!!
I own a Ural because the sidecar means doggie can come. The unintended consequence is I seriously miss flicking a modern machine through the beautiful twisties of the Santa Cruz Mountains.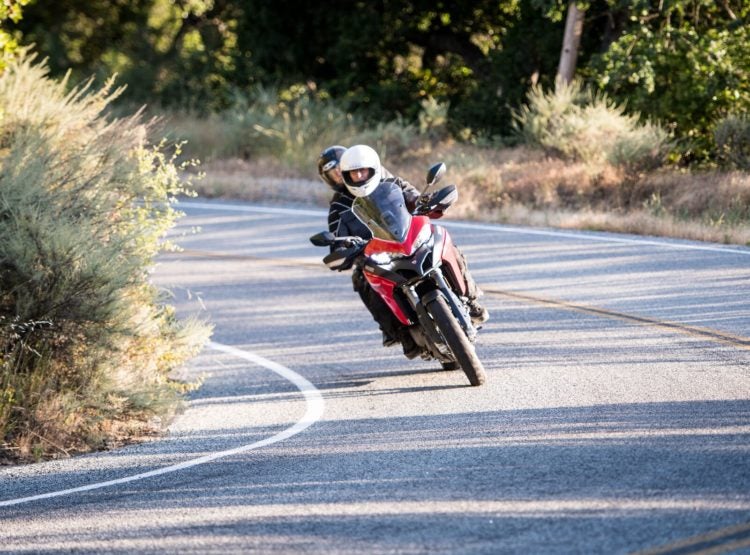 Before I met my wife as a teen, I was all about cafe racers. With her, I prefer a medium-large machine with a more upright seating position that I can let fly when I'm alone.
The Multistrada 950 is not new, but the 950 S has only been out a few months. The big additions for the S are sophisticated electronic controls and Sachs semi-active suspension. The S has a Bosch IMU (Inertial Measurement Unit) which enables lean-aware ABS and traction control, plus the ability to quickly adjust the suspension for things like a passenger. Oh, and Ducati's wheelie control, which my wife refused to let me test. No faith.
I notice the Multistrada doesn't get the attention on ADV that the BMWs and KTMs get. Too much of a road bike, not dirt worthy enough? No subforum for Ducatis so you have to find a Multistrada thread in the Beasts sub?
The thing is, 95% of my riding is on beautifully paved twisties not far from home where the 950 S is perfect for me. 2% is on trails where I need a KTM 500 anyway. What about the remaining 3% on dirt roads in places like Death Valley? I couldn't go that far on this bike to find out, but I did find places to switch the electronics to Enduro mode and try some stuff:
I'm 6'4" and have a way of making bikes look smallish. I could have taken the rubber peg covers off and gained .5". As it was the bars felt just a little too low for me as configured, so I could hear Jimmy Lewis in my head cursing about sticking my ass out.
Delicious-looking spoked wheels, though.
My wife, who loves to ride, is 5'5" and 115 pounds. She wanted to ride it but felt the seat was too tall for her. She could barely get two tippy toes down at the same time. This is what it looked like for her with the bike on its sidestand: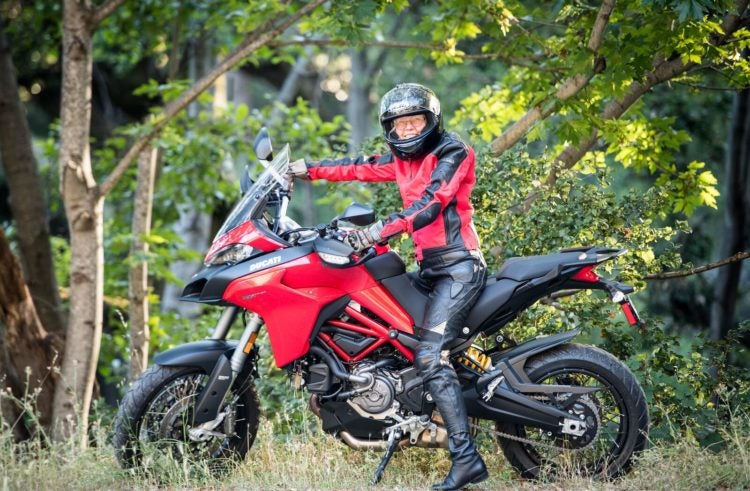 But there's a seat for that:
We didn't get a chance to try it, but she was close so I think it would have worked (especially if she had better boots with thicker soles, which she needs anyway).
As far as passenger seat height went, she loved it because her head height and mine were the same. Amazingly, that small windscreen in the high position kept us in still enough air on the freeway. I didn't get any buffeting to my head.
But oh my God the way it handles curvy roads. All the things combine — the tire profiles, the suspension, the smooth and awesome power delivery, the traction control, that 19" front wheel, and the riding position make it seriously fun to ride. I've put many miles on GSs and KTMs on these roads and I love them, but this is Ducati's domain.
It was a hot day with melted tar on some of the curves — plus gravel patches — so the bike danced a little and gave me the willies, as any bike would. Great time to test the traction control and ABS while leaned, but with Toni on the back I refrained.
My legs look cramped but I didn't feel that way. Maybe I would on very long rides. The mirrors, by the way, are the best I've ever seen. No vibration, great views.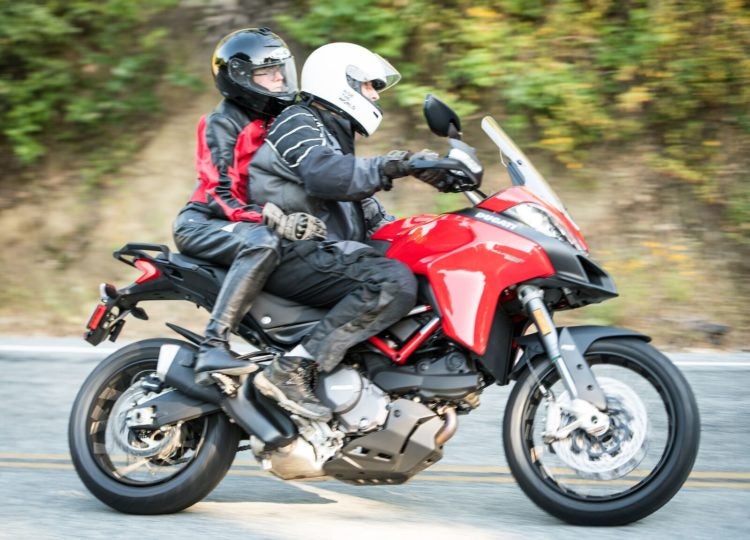 Off road? Hmmm… It's not a trials bike like I was pretending it could be. First gear is pretty tall and the drivetrain felt a little snatchy at low speeds over rough things. Not surprising. I'd opt for the enduro package if I was to ride in Death Valley and make the bike look more badass, like this:
What about the Multistrada 1260 with its insane power? Could I live with 113 horsepower when I could have 158? Yes, I could. 113 was enough. For me and the riding I do, the 950 S is perfect.
A few days later, I had the Diavel 1260 for 3 days that the CEO of Ducati NA owns. Oh my God. Wikipedia lists the top 84 motorcycles in 0-60 time and the Diavel was #2. The one I had, however, was not that slow; it has Ducati's performance exhaust.
Here's my review of that beast: https://cake.co/c/VQDHddV/RMwPRPq.