You have to meet Tiffany in person at least once in your life, her positive outlook to motorcycle travel is infectious…and the stories she has to tell are better than any bestseller you are reading.
People might have only read one or two ride reports of yours and think you just ride a little! There's a LOT more to Tiffany than meets the eye can you give us a brief history?
I've always been a traveler, my Dad was in the British Army and so my childhood was spent on the move.
As an adult, I initially traveled with my backpack and worked my way around the world. And then one day, 20 years ago, I was talking to my best friend Becky and innocently said "I fancy going to India";
Becky wanted to go there as well and that set the whole ball rolling. We decided we would go overland to reach India and why not go by motorcycle?
The fact that we didn't have bikes or licenses and actually had no idea how to ride didn't deter us – we did a five-day training course on 125cc bikes, took our tests and got licenses.
We then started looking for a bike – we'd already decided that due to having a small budget, we would take one bike between us -not only cheaper but also simpler as we wouldn't be able to lose each other.
A mechanic friend helped us to track down a second-hand R80GS (which we named Thelma) and two months later we set off – still wobbling and dropping the bike on a daily basis – we'd had a nasty shock the first time we rode it as we hadn't realized just how big and heavy it would be compared to the 125's we'd learned on!
However, we succeeded in riding across Europe, Turkey, and Iran – where we had to don chadors over our bike leathers before we were allowed in.
Next was Pakistan and finally India where we traveled around for a while and then, realizing how much we were enjoying this adventure life on two wheels we made the decision to continue through South East Asia and see if we could reach Australia.
More adventures and fun ensued until we found ourselves in Sydney working hard and saving up the money required to get home. Initially, we were going to ship Thelma, the bike home but that felt like it would be cheating. And so we had a light-bulb moment and decided to ride home through Africa.
At which point Becky met the man of her dreams and decided to settle down with him. I offered my boyfriend the chance to ride with me, but he said no and so I continued the journey after persuading Maggie – another friend and equally as inexperienced as I had been at the start.
I shipped Thelma to Capetown and we set off northwards from there. The ride across Africa proved to be the toughest continent in terms of lack of infrastructure, difficult riding, and poor road conditions but we made it through all the desert sand and across the rivers until eventually arriving at home, two and a half years after I'd first left. I realized that I'd discovered a new passion in life- a burning desire to see more places on two wheels.
Since that first journey, I have also ridden from Alaska to Tierra del Fuego, to Timbuctoo, to Outer Mongolia, Tokyo, across Central Asia, China and Tibet reaching Mount Everest Base Camp, along the Trans-Labrador Highway, around Madagascar and on many other journeys including 27,000 miles in North America.
I am now one of the world's foremost freelance motorcycle guides and lead tours on every continent.
Tell us about Thelma?
Thelma is my 1992 BMW R80GS – the ONLY vehicle I've ever owned, having somehow managed to skip the small bike stage and also having never had a car.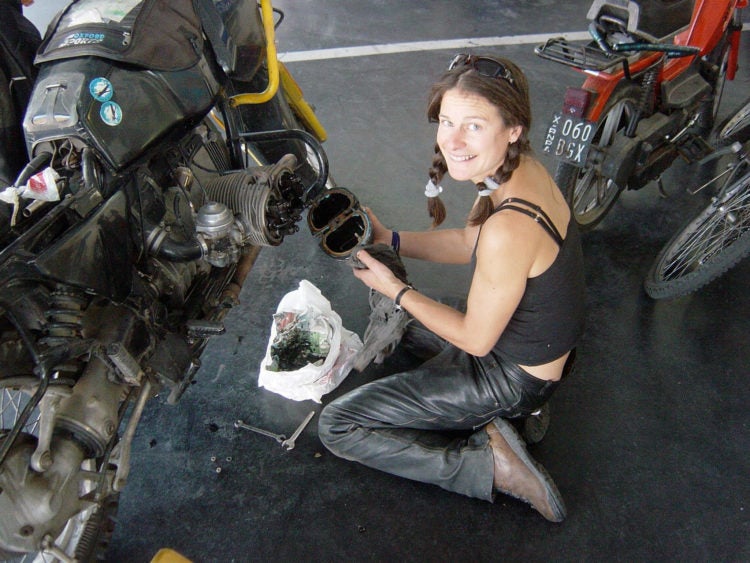 I've ridden her around the world a couple of times and she now has 220,000 miles on the clock. I still ride her every day as I have no other transport and live in a remote area, Lands End, Cornwall, England.
Your original trip wasn't solo like most of your more recent ones, can you tell us about your partner and if they still ride anywhere nearly as much as you do?
Oh dear, that one has a bit of a sad ending – Becky was my best friend and traveled with me for 18 months on that first ride to India. On returning to the UK, she joined a cult and cut off all contact with her friends and family. All we know is that she's alive and "happy".
Any idea how many miles/ countries you've ridden a motorcycle?
Over 300,000 miles, the number of countries is about 82 I think.
When you aren't riding Thelma but using another bike do you research bikes in foreign countries and have a model in mind before you go or just wing it and ride whatever is available?
Got it in one with "wing it"! Although I do follow up on contacts beforehand to start tracking down a bike.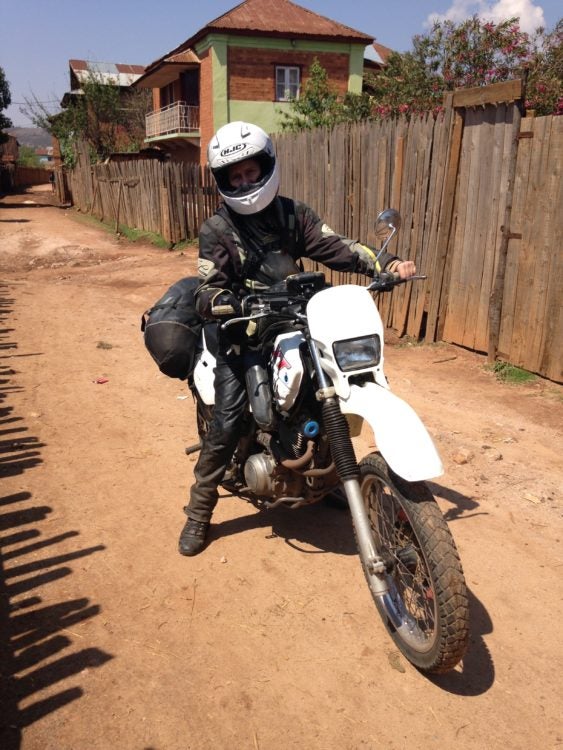 Are you riding anywhere right now or planning to go next?
I've just got back last week from South America, I'm about to go to Transylvania and then immediately after, I am flying out to South East Asia to ride around Borneo.
Do you have a dream bike that isn't your current bike – if you had an unlimited budget?
No- I feel I have the perfect travel bike that suits me and it's simple enough to get it repaired anywhere in the world.
You are a light packer, something that a lot of riders struggle with can you give us a few tips?
Get someone else (who is an experienced traveler) to pick through your packing with a critical eye and identify those things they reckon are not essential- it's tough but worth doing.
My tent is a compact 2 person tent which rolls up small enough to fit in my top box.
Be ready to offload stuff once you've set off – post a parcel home, or if doing a circular trip, leave stuff at the start point to collect upon your return.
Most importantly – don't beat yourself up just because you feel you have too much stuff compared to your fellow travelers. It's YOUR trip and not theirs.
Is there one particular road or track that stands out above all the rest?
For real?? This is like asking someone who their favorite child is! I've got different routes in different parts of the world that I love to ride.
South America – Carretera Austral
Central Asia – Wakhan Valley
Africa – the road from Ethiopia into Sudan at Gedaref.
A dream location to ride to that you have yet to visit?
Cameroon
Scariest moment on your travels?
I guess people usually expect me to talk about a situation where I felt threatened – but apart from the bears in Alaska, I haven't really felt threatened, or if I did, I just got angry. And believe me – a pissed-off Tiffany is not a good thing!
One occasion when I did get scared…
South Eastern Madagascar – conditions were brutal and a lot harder than I had expected. I was solo on what was supposed to be the main road but in reality was very remote with almost no other road users.
From my research, I knew the worst part would be the final 300kms. Halfway there and I felt I was at the end of my tether and wouldn't be able to cope with more of the hell I'd been riding through. I actually got scared and thought I wouldn't be able to go on any further – for someone like me, who is accustomed to being away for months or even years at a time solo this was a new feeling for me – I lost my mojo, was doubting myself and was about to give up – scary.
I somehow managed to convince myself to carry on and hope for the best, which somehow worked out ok because the final 300kms were not as bad as the first part.
Most memorable day?
Arriving at a landmark destination.. riding into Ushuaia after nine months solo on the road from Alaska. Or riding into Timbuctoo after a very tough ride across the Sahara, reaching the end of the Trans-Labrador after being chased by wolves.
Do you think more people should travel and why?
I would never force anyone to travel but I do encourage people of all ages to travel as I feel there are only benefits to be gained from travel including pushing you out of your comfort zone, challenging yourself and growing as a person. Becoming more tolerant of others and developing a better understanding of those we share this planet with.
Top 3 tips for a new rider?
Don't let what others say restrict you – whether it's because you want to try different bikes or take on the challenge of a long journey.
Ride within your competence level – don't feel you have to keep up with others unless you've got the confidence. But do feel ready to ask for help.
Make friends with other riders!
What do you do for a job when you're not riding?
I'm a youth worker and I specialize in working with children and young people aged 8-18 who live in social housing and come from the most disadvantaged backgrounds.
Who influenced you to first ride a motorcycle?
Just my own sense of adventure, there was no internet when I started so I didn't know of any other bike travelers.
What does the word 'adventure' mean to you?
Excitement, risk and new experiences.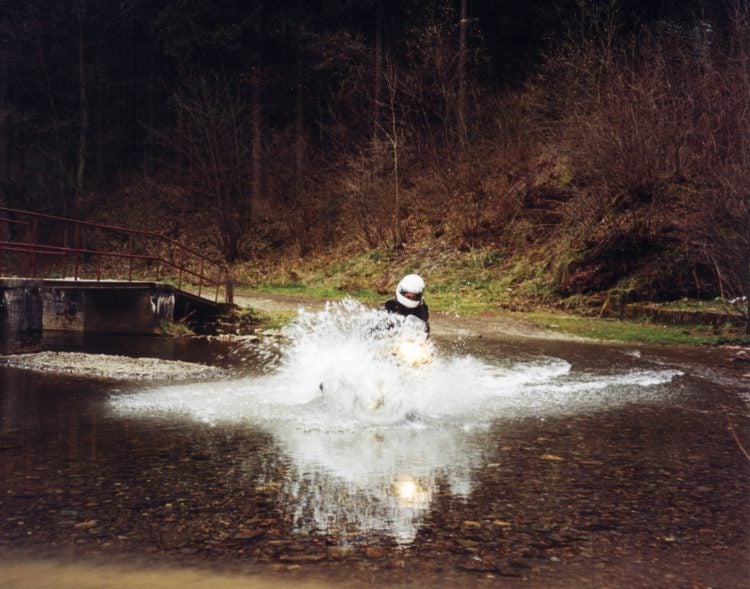 What is your one favorite photo ever from all your travels?
Another tricky question to answer – The Muddy Madagascar picture.
If you think Tiffany is only adventurous on a motorcycle, think again. At the end of her road is a beach (I've been there BTW) She swims in the sea as a daily occurrence now – every day of the year including winter. In fact in March this year there was (unusually for us) so much snow that I was able to snowboard from my front door to the beach and have a swim
If I wanted more Tiffany (websites/ IG/ FB etc) where could I find it, and if I wanted to ride with you is there a possibility?
www.tiffanystravels.co.uk
I'm on FaceBook, Twitter @tiffanystravels  I've got an IG account but I'm not very good at putting stuff up.
In 2019 I'll be leading groups in India and South America, but I can lead riders anywhere in the world – just ask!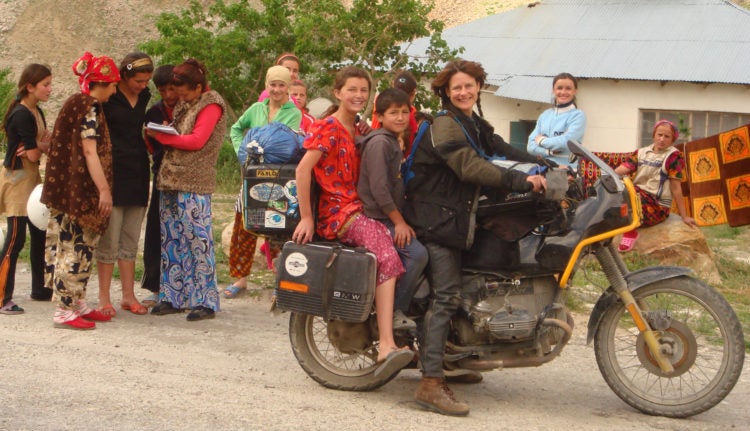 Any speaking engagements on the horizon?
In between travels, 2019 will find me at the following events:
The London Motorcycle Show  – 15th-17th February
GS Club UK Lands End Meet – 5th-7th April
Overland Expo – Flagstaff, AZ – 16th-19th May
HUBBUK (Horizons Unlimited) Wales – 13th-16th June