Editors Note: I am very pleased to be able to share an extract of Heather's fascinating journey. I own a copy of Timeless on the Silk Road and I highly recommend it. The first extract can be found here.
In this book extract, I am at the Russian Mongolia border post of Tashanta. I have just ridden along the Chuysky Trakt, the M52 highway, which cuts through the Altai Mountains. The route was the northern branch of the ancient Silk Road once used by traders and by Genghis Khan's armies to reach Central Asia. After a breakfast of salty milk tea and dumplings, I thanked the family who had so kindly given me a bed in their yurt the night before. In the brisk morning air, I headed towards Tashanta to cross into Mongolia. I reached the border post two hours later and handed my passport to the Russian soldier on duty. He and his comrade looked with intense interest at my passport, at me and at my motorcycle. They were armed with AK47s and wore battle fatigues over a blue and white striped T-shirt.
'Nyet cross. Only for Russian and Mongolian. Nyet foreigner,' said the young soldier with short cropped blonde hair and stern, pale blue eyes.
'Visa,' I said pointing to the Mongolian visa in my passport.
'Nyet,' he shouted and raised his weapon indicating this rule was not negotiable.
The Mongolian border was a mere 200 metres away, and I knew the Mongol officials would welcome me into their country. I just had to get past the Russians. Opposite the soldiers' guard post was an old truck parked next to a timber shack that operated as a roadside store. A dozen or so Mongolian men and women with bags overstuffed with their possessions sat in the back of the truck under the tarpaulin cover stretched over a metal frame. I parked the TT behind it and asked a man where they were going.
'Ulaanbaatar,' he called down to me.
'The Russians won't let me through,' I called back.
'Mongolia let you. No problem. You follow us. Stay close beside truck. Russians inside drinking vodka. No problem,' he said and the others nodded, some laughing when he'd translated. 'Come. We go.'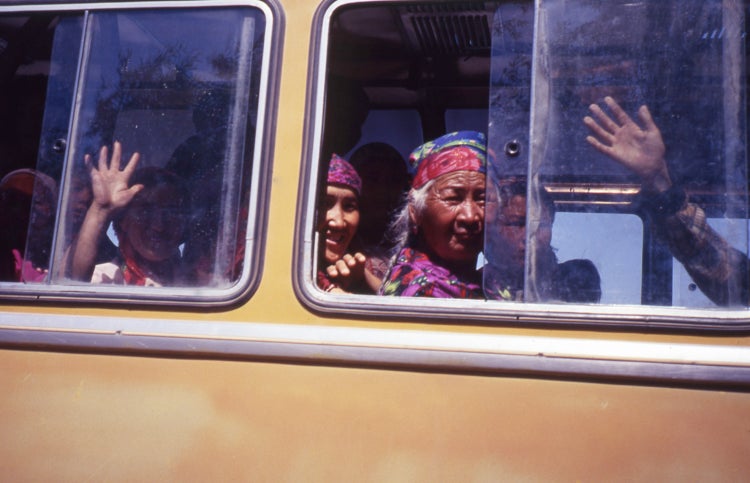 As the driver returned, I quickly pulled on my helmet just as he started the truck's engine, crunching its old gears. As it lurched forward, I slowly rode beside it making sure its large wheels hid me from the Russians on the other side. I didn't dare look in my mirror, but as the truck approached the Mongolian border post, a man suddenly stood in front of it waving frantically. I looked behind, and the two soldiers had their AK-47s pointed at me. My plot was foiled, and I had no choice but to turn around.
'Bullets in guns. You nyet stop. We shoot you. You dead,' the soldier bellowed when I pulled up beside him a moment later. For my sake, I expect he had overemphasized this possible outcome to ensure I understood the seriousness of what I'd just attempted to do. I fully expected I'd now be arrested, but he and his comrade retreated to their hut, and I was left to plot my next move.
I parked the TT next to the small store and headed inside. A middle-aged Kazakh man with a paunch stood behind a wood counter. On the shelves behind him were rows of vodka bottles, cigarettes, soft drink, chocolate bars and not much else. A television sat on a high shelf. A video played hard-core porn. It was so unexpected, I stared at it for several moments, the storekeeper grinned and his hand disappeared below the counter.
'Russians catch you,' he said then leaned forward. 'Easy to cross border on mototsikl. Fence finish not far,' and tilted his head to the side to indicate the fence ended a few hundred metres or so to the south. 'Easy, you ride around. Tonight, when Russians go, I show you. No problem for you on mototsikl.'
Word had travelled fast about my attempt to jump the border. I looked up at the television and then at the man, his hand still below the counter.
'I don't think so,' I said.
After buying a Coke and Snickers bar, I left the store to enjoy my treats outside. I looked along the two high fences topped with razor wire that ran parallel to each other and disappeared over a yellow wasteland of dry, undulating steppe. I had no idea what to do, and this dejection weighed heavily. I physically slumped and with this came a feeling of severe tiredness. It may have been the shock of nearly being shot by the Russians; not even the sugar hit from the soft drink and chocolate lifted my spirits. Added to this latest blow, the TT's clutch plates needed adjusting. The ride to the yurt then back to the main road that morning had finished it off, and the plates were slipping badly. Between the workshop manual and having watched Peter, the motorcycle traveller from New Zealand I'd met in Nigeria, Africa adjust the plates, I knew what to do. But even so, I was delaying the inevitable until absolutely necessary. I'd felt so confident that I'd easily cross into Mongolia where I'd get a visa for China and head down to South East Asia. But here I was stuck in Russia with no legitimate visa; it had expired nearly a month ago. If I rode back through Barnaul and the police caught me, I would not get a second chance. If I slipped by without detection, how would I cross into Kazakhstan?
I opened my map, hoping it would reveal a secret road that would carry me out of Russia. But there was no option other than going back through Barnaul into Kazakhstan. I had no choice but to return to Almaty. It was a 2000-kilometre ride on already worn tyres and there was no chance of buying new ones. The thought of riding back over territory I'd already covered filled me with dread, especially the ride over the flat dry plains of the northern Kazakh steppe. I could not face such a long ride back to Almaty. A lift on a truck was my best and safest option.  Once in Almaty, I would have several choices: cross into China from Kyrgyzstan at the Torugart Pass and ride to Kashgar through Tibet to Nepal; cross into China from Kazakhstan riding to Urumqi; or fly myself and the TT to Pakistan. Travelling through China depended on getting a Chinese visa with permission to travel with my motorcycle. Permission, I'd been warned, was highly unlikely. The Torugart Pass was my preferred route and had been my plan before meeting the Frenchmen. I remembered again the British traveller I'd met at the Orient Hostel in Istanbul who'd travelled illegally for months in Tibet. To avoid detection by the Chinese officials, he'd blended in with the locals; then hid in the back of a truck to cross into Central Asia.  He'd given me a white scarf, ripped and worn from its miles of travel. It was an 'offering scarf' called a khata and had been given to him by a monk as a blessing for his journey, and he'd given it to me. 'I'll take it back to Tibet,' I'd promised. I'd tied the scarf to the bike's handlebars so the prayers of goodwill bestowed on it could fly free in the wind and bring me even more good luck. I needed it now more than ever, and as I ran my fingers over the scarf untangling the silky threads, a plan began to formulate.
As I lingered at the border, the occasional Russian truck carrying a shipping container lumbered past. Would one give me a lift? This latest plan was the most feasible and I could travel undetected through Barnaul and save some of the tread on my worn rear tyre. After that, I could risk slipping back into Kazakhstan at that apparently unmanned border I'd crossed nearly a week earlier. I may even get a lift in a truck all the way to Almaty. I coiled the scarf around my fingers and prayed to God.
'Tourist,' I heard a voice behind me and turned to see the Russian soldier who'd been so stern with me before. 'Go to Kosh-Agach. Police chief give you permission to cross,' he said. 'Long journey on mototsikl,' he added.
'Spasiba. Spasiba,' I said and could have hugged him. With this latest information, a rush of new-found energy surged through me. I may just be able to cross into Mongolia after all.
Timeless On The Silk Road: An Odyssey From London To Hanoi is published by Phonte and is available at bookshops and online or signed copies can be purchased from Heather for $30 (including postage) via Paypal at www.heather-ellis.com. It is also available from Amazon and is on Kindle.
All Photo by Heather Ellis