This is the 10th post in a series focused on riding in Colombia. A special Thanks to Colombia Moto Adventures for sponsoring this post and making it possible to bring you South American adventure content.  Jeff Cremer, an award-winning wildlife photographer, and his team provide motorcycle rentals in Medellín and Colombia motorcycle tours.
Whether you're crossing Colombia on your way to Ushuaia or you come here on purpose to explore the country, finding the best routes isn't always easy. Most riders tend to stick to the Panamerican Highway. In Colombia, that's the main road connecting Bucaramanga, Bogotá, Ibagué, Cali, Popayán and Pasto). But if you want to dig a little deeper, here are the seven top adventure rides in Colombia.
Bogotá – El Cocuy. Distance: 240 miles
If you've just arrived to Bogotá, heading East is a great way to discover the Colombian Andes. Following Route 55, ride to Soatá, then turn off to a smaller road in the direction of El Cocuy. Breathtaking mountain vistas, narrow paved twisties and dizzying dirt road hairpins will make it a journey to remember.
Stay the night in El Cocuy and explore the El Cocuy National Park the next day. You are allowed to ride a small portion of the park on your bike, but if you want to see the Ritacuba glacier up close, you'll have to hike.
El Cocuy National Park is one of the most beautiful easily accessible spots in the Colombian Andes.
Bucaramanga – Barichara – San Gil – Villa de Leyva. Distance: 163 miles
To explore the best of Boyacá, ride South from Bucaramanga towards San Gil and Villa de Leyva. On the way, be sure to make a quick detour to Barichara, an enchanting little colonial town that feels frozen in time. In San Gil, take a day to explore the nearby Chicamocha Canyon. Villa de Leyva, another small colonial town, has a very friendly vibe and amazing food.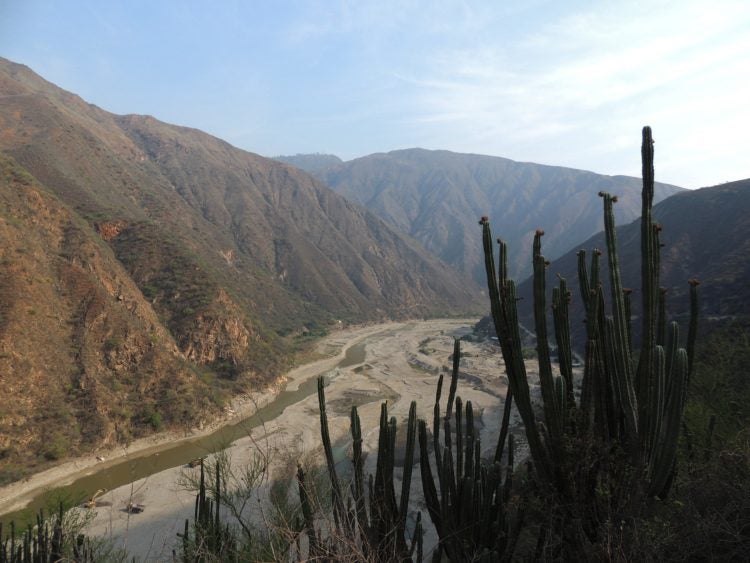 The riding between San Gil, Barichara and Villa de Leyva is spectacular. The main roads are paved, but you can go explore any of the little off road trails on the way that takes your fancy.
Medellín – Jericó. Distance: 70 miles.
Jericó is an awesome little town about 3 hours outside of  Medellín and makes a great motorcycle day trip from Medellín.  The road to get there is absolutely beautiful and there are tons of activities in town.  Jericó is undoubtedly one of the best places in Colombia to go paragliding, and the views around Jericó are incomparable. Here, you can soar past huge, lush mountains, through the valley and across the Piedras River. There is nothing quite like flying through the thick clouds, next to the eagles which make this beautiful region their home.
Medellín – Guatapé. Distance: 100 miles
This is another great little ride that can be made into a loop from Medellín and back. Guatapé is a small touristy town located on the shores of a large lake, and has been dubbed "the most colorful town in Colombia" because of its brightly decorated streets and houses. There are plenty of outdoorsy activities available in town, and Guatapé's most famous landmark, the Peñón Rock, is a must-see if you're passing by. If you want to taste some great local street food, head for cuatro esquinas (ask any local, they'll point you in the right direction) and start sampling empanadas.
To ride back to Medellín, take the dirt trails leading out of Guatapé and back towards the city.
For more Medellín and Guatapé route ideas, check out this post.
Coffee Region: Ibagué – Salento – Pereira. Distance: 140 miles
Colombia's coffee region is famous for more than great coffee. There is a fantastic dirt road from Ibagué to Salento (when setting your route, aim for Atocha in between to get you on the right track) leading straight across the Cocora Valley, a stunning part of the mountains and valleys with the highest palm trees in the world. Around Salento and Pereira, there are numerous mountain tracks to explore – just ask the locals.
Bucaramanga – Puerto Boyacá. Distance: 170 miles
Although this isn't a particularly twisty or gnarly road, the Bucaramanga – Puerto Boyacá route takes you along the majestic Magdalena River. Tropical heat, congregations of monkeys hanging out near the road, and beautiful green countryside make it a worthwhile ride. This is a two-lane road with some dirt sections.
Neiva – Pasto via Pitalito and Mocoa. Distance: 380 miles
This is a beautiful route leading across Southern Colombia. The Mocoa – Pasto section is the notorious Trampolin del Diablo ("The Devil's Trampoline"), a narrow mountain dirt road passing sheer cliff edge drops and sometimes disappearing under a small waterfall or stream. The whole department of Putumayo is an outstandingly beautiful mountain region with amazing pristine nature and friendly locals.
Mocoa – La Hormiga. Distance: 90 miles
If you're headed to Ecuador, make sure you aim for the San Miguel border past La Hormiga. This is a beautiful dirt road meandering across the Eastern slopes of the Andes, which means the views will be spectacular and the weather, humid and hot. This border crossing is very easy and friendly.
Colombia has so much great riding that it's hard to pour everything into one post, but if you plan your route along these suggested spots, you'll see some of the best places in the country. When you're traveling Colombia, be sure to befriend local riders as they have the best local knowledge and are happy to help you out.