Never seen in the US before, because it arrived from the EICMA show in Italy via FedEx just two days ago where it was officially released, the Touratech new helmet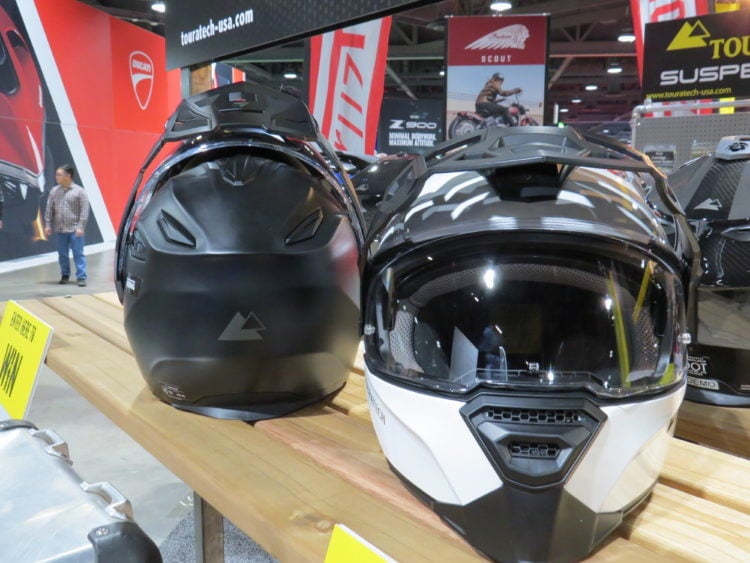 Touratech's new Aventuro Traveller is a lightweight modular helmet featuring huge airflow, while remaining quiet for the rider. It offers the communication convenience that only a modular helmet can provide, while still being lightweight for all-day comfort.
A helmet's job is to keep you protected. A side effect of this protection is often excessive heat for the rider. The Aventuro Traveller solves this problem with a peak design that directs airflow into the oversized vent on the forehead, which distributes air through the liner keeping the rider's head cool.
In fact, the flow is so great that the helmet liner comes with a 'low-flow' flap that can be closed to reduce airflow for riding in cooler weather. Further airflow cools the rider's face by entering through the large chin vent. The glove-friendly vents are easy to open and close while riding.
The Aventuro Traveller is lighter than its predecessor and most other modular helmets on the market. The carbon version is a half-pound lighter than the previous model and the multi-fiber version is a third-of-a-pound lighter. The benefit is reduced neck strain and improved rider comfort for long days in the saddle.
An innovative double seal on the shield and chin bar closure keeps rain and dust out while reducing sound levels for a comfortable ride. A large opening provides better peripheral vision and accommodates goggles & glasses. It also features an integrated sun visor that quickly flips down with a glove-friendly control to reduce glare while riding.
The helmet is set up to accommodate most communication systems including SENA, Scala Rider and more. Cavities for speakers and microphone and easy routing paths for wires make communication installation a snap.
Features:

Peak & vents work together to maximize cooling airflow around head
Large closeable chin vent for cooling rider's face
Easy-open & easy-close, glove-friendly vent controls
Lightweight design for reduced neck strain and all-day comfort
'No-grab' peak design cuts through wind cleanly
Anti-gravity chin bar stays up with no surprise closures
Double seals keep rain and dust out while reducing sound levels
Wide field of vision to take in sights and boost safety
Eyeglasses friendly, with opening large enough for goggles
Quick-ratchet chinstrap for easy action and smooth operation with stainless steel internals
COOLMAX liners for moisture wicking dry comfort
One-piece liner & neck-roll for easy removal for cleaning
Internal sunshade that flips down
Includes Pinlock© shield and insert to minimize fogging
Intercom system ready, with speaker cavities, wire routing paths, and place to clamp on unit
Camera mount for top included
Made in Portugal
Not one to sit on their laurels more innovation from Touratech is there new quick-release luggage
'Evo,' the name given to its latest iteration. ZEGA Evo combines proven strength and utility while giving riders quick-release capability for easily removing the boxes.
ZEGA Evo provides quick-mount convenience without giving up reliability, even in the most demanding applications. Riders simply slip the hooks onto the rack, push the case completely in and close the lever to secure the box. Equipped with a new locking design, the boxes and their contents remain completely secure from theft or tampering.
The company has also improved the ergonomics and feel of the panniers. Their development team created a new die-forging technique that creates rounded 'finger-friendly' contours making the release mechanism effortless to operate for easy-on, easy-off convenience.
The lid has a tough tongue-and-groove aluminum edge with an integrated silicone seal making a completely waterproof closure.
***I got none other than the CEO of Touratech USA to do the demo for me, this man knows his products and is here at the show waiting to answer all your questions about the whole product line
If a few photos don't give you a sense of how easy it is to remove these then a real time video surely will
Another distinctive feature of ZEGA Evo is its new embossed shape in the styling of the Touratech brand. ZEGA cases by Touratech are often emulated, but never matched for quality and function. The new ZEGA Evo again sets the standard for motorcycle luggage that is ready for any adventure.
Touratech's legendary range of pannier accessories extends storage by easily snapping onto the accessory pins that come pre-installed on the Zega Evo. Now, fuel cans and bottle holders are a snap to add to your panniers.
ZEGA Evo – Product Highlights
Quick-mount convenience to easily attach or remove the boxes
Locking design secures boxes and contents to prevent theft or tampering
Finger-friendly latches with ergonomic die-forged release mechanism
Accessory ready with attachment pins pre-installed for a variety of mounts
Modern design with embossed style accents that also add strength
Easy access lid that hinges on both sides or can be removed
Waterproof storage with deep channel aluminum edge and silicone seal
If you are familiar with Zega Panniers, here's a little history lesson direct from Touratech
About ZEGA Panniers

Touratech was a pioneer in motorcycle luggage with its first all-aluminum case developed in 1992.

This original Zega was the first aluminum case manufactured to industrial quality standards with the durability to withstand the rigors of long –distance adventures in Africa.

ZEGA Cases by Touratech are an integrated luggage system combining a light-weight and strong aluminum box with a bike-specific stainless steel rack and mounting hardware that installs easily on the bike with basic tools.

ZEGA Cases offer the perfect blend of aesthetic appeal, durability and functionality with a rack made of 18mm stainless steel tubes for off-road reliability.