Lucy, my trusty Suzuki DR650, has been through some stuff. Having bought it second-hand in Arizona three years ago, I then took it across the Americas and Europe and completed Hellas Rally 2019 and Bosnia Rally training event that same year; this year, I'm hoping to finish another Hellas Rally and, if I don't completely destroy the bike, my bones, and my budget in the process, do the Iberian Rally in Portugal in the fall before continuing my solo journey to Africa, Corona-allowing.
Right off the bat, Lucy was no stock bike. Having been set up by none other than @rtwpaul, my DR650 already sported a whole bunch of mods from Warp9 wheels, levers, and pegs to a steering damper, a larger tank, and a custom Seat Concepts seat among others. Being a self-proclaimed dyslexic when it came to all things mechanical, I'd never dreamed I'd begin getting into bike builds and mods myself, but trying to transition from adventure riding to cross-country rally racing, I simply have no other choice.
If you've got the means, the easiest thing to do is either buy a proper rally bike like a KTM450 or do a rally build with the pros, like Stefan Hessler who is an expert at transforming Suzukis into rally beasts. When your means are below modest, however, you've got to do it yourself, get as much help as you can, and modify little by little.
Lucy is far from finished when it comes to my dream rally build; and, even with the best mods, it's never going to be a true rally machine. But I've got to work with what I have, and besides, Lucy and I are still on the road between the races, so it still needs to function as a pack mule most of the time.
Here's what I've done with it so far:
Suspension Upgrade
I'm someone who learns by experience rather than theory, so although I've heard countless riders tell me just how important suspension was, I never gave it much thought – that is, until I wet my toes and tires at the Hellas Rally. There, it became crystal clear I needed to upgrade the suspension to something much better and more durable. But what?
After chatting to Kinga "On Her Bike" Tanajewska, I decided to go with TFX Suspension Technology. TFX is a Dutch company obsessed with custom suspension builds for different motorcycles, and when we got to chatting, I realized they were the perfect fit. TFX would build an adjustable rear shock and front springs for me, allowing me to both do long distances on a fully loaded bike and get off the road or race with the luggage off.
My suspension has two points of adjustability – the compression and rebound of the shock, and it's made such a huge difference I feel like I practically got a new bike. On tarmac, Lucy now corners much better and feels a lot more stable and sure-footed; gone is the wobbly, buttery feeling of the front when fully packed and loaded, and the overall feel is that of increased stability and balance. Off-road, and especially with the luggage off, I soften the suspension so I don't bounce all over the place, and the bike feels a lot more agile, grippy, and aggressive than before. It feels like it now glides over stuff it used to clumsily plow through, it's much better on rocky terrain, and it's doing better in steeper hillclimbs.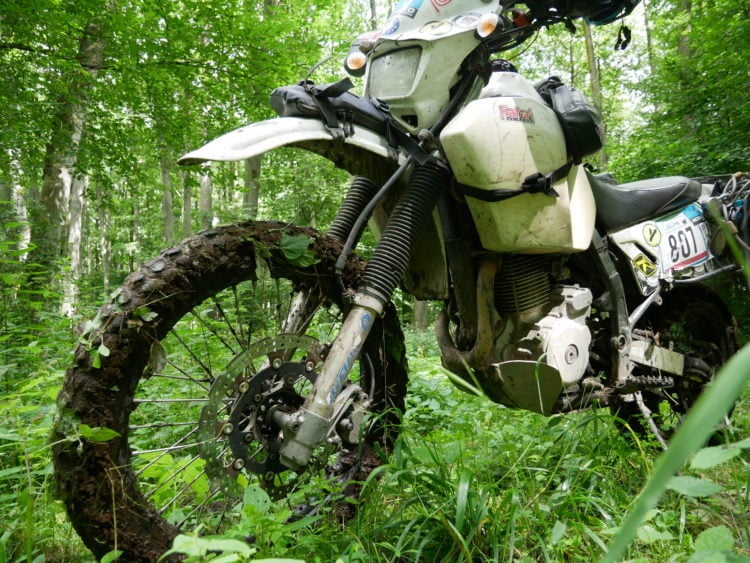 I've only done around 3,000 km with the new suspension, but it included everything from tarmac to fast sandy trails to mangled muddy ruts and single track, so I'm confident that when I get to a rally, the improvement will be just as massive.
Roadbook Navigation Setup
When it comes to roadbook navigation equipment, most people go for the usual suspects like F2R; for me, simplicity and durability is everything, so I went with a Laba7 setup instead. It's beautifully simple, made to last, and dead-easy to install, even for me; somewhere along the way, I'd love to build an actual roadbook navigation tower… But for now, sticking the roadbook holder on the handlebars is all I need. The Laba7 kit comes ready with the trip master and all the wires neatly arranged for a quick installation, and I'm confident this thing is going to last for years.
Another reason I still haven't got the navigation tower is that paper roadbooks may become obsolete somewhere down the line. With all the talk of Dakar switching to electronic roadbooks, all the other rallies will follow suit, so perhaps a simple and affordable Laba7 set up is just what I need for now.
Next on my list is a tank swap; I currently have a humongous Safari 30 liter tank which gets in a way when I'm standing up and leaning forward, and to be honest, I never needed the 550 km fuel range in the first place. I'm thinking of sourcing a smaller, 20-liter Acerbis tank somewhere and leaving the Safari monster behind. Finally, I'd love to experiment with a clutch change; people tell me it won't make that much of a difference, but the thing is, every little thing adds up, so I'm curious to give a hydraulic clutch a go. I'm racking my brains for a solution of how to make the throttle response a little sharper, too; more of an aggressive, KTM-ey feel of "let's gooooo" rather than the current "ok, ok, fine, I'm moving, I'm moving" response I get.
I suppose there's also the question of graphics, but when it comes to aesthetics, I just don't know if I can be bothered. The stuff's pretty, for sure, but it's also expensive, so for now, I'll just stick with the Raggedy Duct Taped Zombie Outbreak Response Unit look. Speaking of duct tape: I really need to get the seat redone, as it's coming apart at the seams and the only thing holding it together is hope and the aforementioned tape.
What other mods would you do on a DR650 for a rally, and why? Let me know in the comments below!