So you've got your bike, your finances, and your gear ready for a round-the-world trip or a long overland journey? Good for you! But don't forget: just like your bike needs good fuel, your body needs good food and exercise to be fit and strong for those long miles ahead.
During the first few months on the road, very few people think about travel fitness. Everything is new, the ride is exhilarating, all of your senses are in overdrive, and that's normal. But after a while, you settle in a routine – and that's a good time to start thinking about healthy meals and exercise. A steady diet of gas station snacks, greasy fast food meals, and beers will only get you so far! At the same time, eating healthy and working out as you travel the world doesn't have to be expensive, bothersome, or difficult. All you need is a little planning and creativity.
Before you dive in, check out this comprehensive article about setting up your cooking gear and your "pannier pantry." It's full of awesome tips!
Now that you're ready, here's some advice on hacking travel fitness like a pro.
Plan Ahead
Yes, you might be on an adventure of a lifetime – but a little planning can save you a lot of hassle!
If you're riding through Western countries, finding healthy, wholesome food is easy enough. But in places where food is scarce or where fresh food is less available, packing some snacks and canned foodstuffs can make a big difference.
Always have some apples, nuts, and protein bars (if unavailable, try tuna sachets or canned tuna salad) in your pannier. Apples keep for days and provide lots of nutrients and vitamins, whereas nuts and protein bars of tuna snacks are great for satiety and energy. This way, you'll always have a choice, and a tuna salad is usually a better choice than gas station hot dog or fried chicken.
Carry some "base" foodstuffs like pasta, mashed potato mix, canned meats and fish, canned veggies, olive oil, and spices. That way, if food isn't readily available, you can conjure up a campsite meal using your reserves!
Choose grilled vs fried when it comes to meat and fish in restaurant, ask for a side salad instead of fries or rice, and go for your apple and nut stock instead of sugary snacks or chocolate bars. These are little changes, but they add up significantly as you go along!
Top tip for great coffee on the go: if you need good quality coffee daily and miss your espresso machine, don't despair! Check out this simple but incredibly handy French Press Travel Mug – it serves as a coffee maker, mug, and a thermos all at the same time. This is hands down my favorite piece of our cooking equipment!
One Fresh Ingredient Rule
When cooking on the go – and I cook a lot to save costs and to stay healthy on the road – I have a simple One Fresh Ingredient Rule. That means that I always, always try to have at least one fresh food item whether I'm cooking in a campsite in the middle of nowhere or in an AirBnB in a city.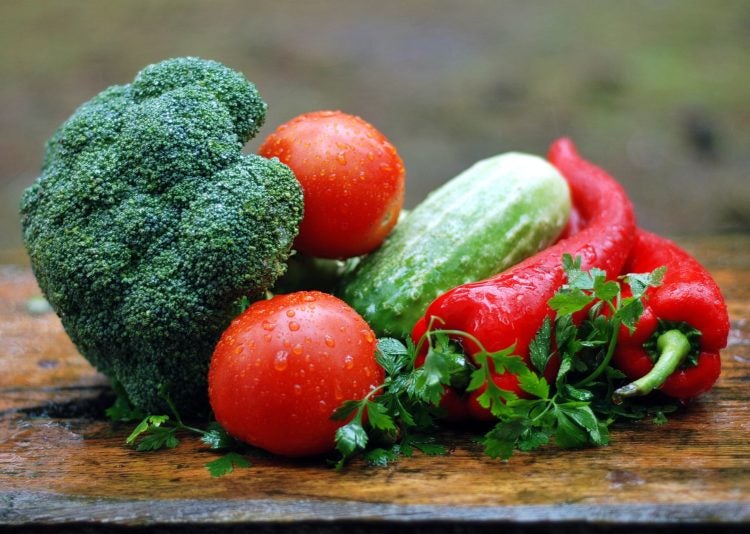 Fresh bell pepper or blue onion can add a whole new flavor (and nutrient content!) to your campsite pasta dish; fresh mushrooms and garlic can make your regular chicken dinner taste differently; fresh bananas and blueberries can be a game changer during breakfast. It doesn't have to be anything fancy: just try to find fresh produce as you go along and buy a few simple items like bell peppers, garlic, avocados, carrots, pineapples, and so on.
If you know you're headed somewhere remote, pick something that will keep for a few days: hard avocado, radish, cucumbers, onions, apples, pears.
If you really want to spice things up, pick up some local herbs. Depending on countries you're traveling through, you may find basil, peppermint, spring onions, thyme, and a variety of other herbs at local fresh produce markets.
Top tip for fresh food on the road: if you're traveling somewhere remote where fresh food might be scarce, stock up on some dried fruit, berries and mushrooms. Dried apples, goji berries, mulberries and plums will keep forever and provide a lot of essential nutrients and vitamins whereas dried mushrooms is a great additive to make your meals smell and taste so much better! (If you dislike mushrooms, try beef jerky or biltong)
Get Moving
Most of the time, exercising is the last thing on your mind, especially after a hard day's ride. If you ride off road a lot, you may think you're moving enough. Unfortunately, that's just not the case!
If you're a fan of zen, yoga might be your best bet. Better yet, yoga for bikers!
If you enjoy running, get up forty minutes earlier and go for a jog. Love working out in a gym? Use your luggage as weights!
If you don't like the idea of exercising,  at least try to get off your bike and go for hikes and walks, swim in the ocean, climb a hill for a better view – whatever you do, just get moving!
Personally, I'm a big fan of strength training and HIIT. I work with Hurst Strength to combine the two, which means two full body strength workouts and two HIIT cardio sessions a week. I follow the routine religiously – even when we're stuck in the freezing Andes at altitude or are sweating like crazy in the Amazon. I don't do it because I have insane motivation; I do it because I need a strong, healthy body to be able to ride round the world.
Top tip for easy work outs: consider carrying a set of training bands – they pack down very small, weigh next to nothing, and can be a great aid to get the best workout possible anywhere! Just make sure you choose the right resistance for you.
A RTW journey by motorcycle can be demanding: harsh terrain and weather, picking your bike up, gnarly off road tracks, varying climates and altitude – all of this has an effect on you, so the better your physical shape, the easier it gets, and the more resilient you are!
What are your top tips for travel fitness? Let me know in the comments below!