This article was kindly contributed by Michnus who originally published it here.
We should have covered this topic a long time ago as it's such an important part of overlanding and travel.
Travel health insurance must be one of the most important things to arrange for a trip and must be calculated as part of the cost and total expense of a trip. It is not really a negotiable purchase; no matter how long you will be travelling for, it is a must have.
If you have travelled without insurance, you may have been lucky and come away without serious injury or illness. However, here and there along the way, your luck could have run out. We can offer some advice and tips on adventure travel and travel insurance.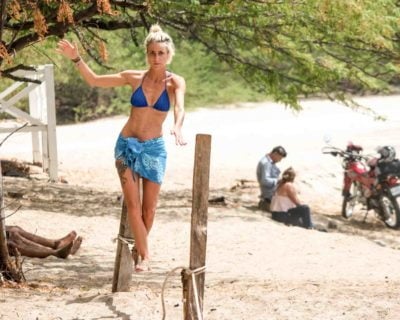 Obviously there is the option to not purchase insurance. Save the money and when things go seriously wrong start a GoFundMe campaign, freeload on parents and friends, or play on people's emotions on social media for help.
It seems that many travellers have a huge misconception about what travel health insurance and medical coverage truly entails.
Personal experience
In the USA I had a tooth filling come out which resulted in a US$250 new filling. In most other countries, like France, Holland, South Africa, and Mexico, it would cost around $40 to $60. The USA is NOT the place to get sick, and we had World Nomads coverage, so we were okay.
On the same trip, we received the devastating news that my mother had a terminal illness and so we had to fly back home. World Nomads paid for our flights and expenses. No BS, no quibbles!
Roughly six months later in Mexico, Elsebie managed to tear three ligaments in her knee. Luckily, we were close to Guadalajara, the second biggest city in Mexico. If we didn't have coverage we would have had to pay a deposit of US$16,000 for the operation. In the end, she spent three days in the hospital and had to enjoy the hospitality of the city of Guadalajara for eight more weeks. The bill was close to US$20,000. If we did not have that coverage we would have been on our way home without the medical procedure she needed.
So, let me explain what travel insurance and travel medical insurance are. Travel insurance protects you against the unforeseen. It offers protection against unforeseen accidents and illness that could inflict massive expenses.
The type of travel health insurance we are talking about is not the typical credit card bank insurance or travel insurance you buy with your flight ticket. They offer very limited protection and are more suited for the tourist on a two-week holiday with private health coverage back home that will kick in when they are abroad.
What is travel insurance then?
There are basically two parts to it. Travel insurance is not automatically health insurance. Many insurers do not offer all of it in a complete package.
The first part is typically for when your laptop or camera is stolen, your luggage is lost or you have to cancel your trip to fly back home due to a family emergency. It normally covers trip cancellation, loss of personal belongings, and trip interruptions. Sometimes these policies will also include some evacuation coverage.
The second part is the medical health insurance for sudden illnesses and accidental injuries. When you break your leg or an arm falling down the steps of the Eiffel Tower while taking a selfie, if you have an unforeseen massive tooth infection, get food poisoning from bad street food, or your appendix decides it's had enough and wants out, travel medical insurance will be invaluable. It offers help in the event of an accident or other unexpected event outside of your control.
Some respected companies offer legal assistance and translation services. Obviously you are not looking for trouble, but shit happens. Having access to legal assistance is incredibly valuable when in need of a liaison between your embassy's consular authorities and a local government.
Evacuation and rescue insurance. This is also one of the most important aspects of the insurance that travellers need. What will happen and who will pay when you need to be flown back home due to an injury or sickness? Travel medical insurance usually does not include that coverage. You need to buy separate travel insurance for that coverage. If you use GARMIN or SPOT for example as a tracker the coordinating company GEOS offers cheap annual coverage for situations where rescue is needed and is not covered in your regular travel insurance package. There are some excellent companies with similar plans.
Not all countries will rescue you for free! Many will charge you for rescue services and that can become expensive when helicopters are involved.
Do your research first!
Check on government advisory pages to learn what risks are attributed to different countries—the Foreign Office in the UK, Bureau of Consular Affairs in the US, Dept of Foreign Affairs in Australia, etc. Most insurance will not cover "red" or conflict areas or areas where the countries specifically advise against all travel.
Travel medical insurance does not cover pre-existing conditions and is not a substitute for health insurance back home. If you get sick while travelling, travel medical insurance will cover you. It will not, however, cover medication for an ongoing chronic disease or a medical condition you had before signing the policy.
If ever you absolutely have to read the fine print, it is with insurance policies. Not because they are generally dodgy but because most people's expectations and understanding are different. Most of us rarely read the fine print but it matters and can save you a lot of trouble and expense.
Always ask upfront for the policy terms and documents to read through. The sales documents can differ from the policy you receive in the end. And it is easier to ask questions upfront than trying to cancel a policy once it's paid for.
Never lie on an application form. That is the quickest way insurers will repudiate a claim, and they have a dastardly good ability to find out about that kind of stuff. Always be truthful and state what you will be doing.
As an example this is a condition from one of the insurers: "The following hazardous activities are excluded: playing professional sports and/or taking part in motorsports of any kind; mountaineering, including potholing, spelunking or caving; high-altitude trekking over 2,500 meters; skiing off-piste or any other winter sports activity carried out off-piste; and Arctic or Antarctic expeditions." If you know you will be partaking in any sports or adventure type activities you'd better speak to your insurer and make sure they will cover you for that activity.
Coverage differs from country to country for citizens and companies. For example, UK residents using motorcycles over 125 cc won't be covered by some travel medical insurance companies, World Nomads included. Also, the USA is one of the most expensive places in the world for medical injuries that are not covered.
As an example, in South Africa, our private medical insurance covers us for 90 days outside of the borders. We only need to buy coverage for time spent abroad after that. Some other countries have different rules. Make sure those rules apply to your country and in conjunction with the insurance companies' rules and guidelines.
I had the good fortune to work in the insurance industry for 17 odd years prior to our travelling life and I know this all too well. Life insurance will pay out as the policy was underwritten before acceptance. Travel and medical insurance will pay out according to the terms expressed in the fine print. If something happens that is outside of those terms, they will probably not pay. They tend to follow the letter of the contract.
Let me say this again, read the fine print!
Take the time, sit down with a cold one and go through the policy document. Phone a friend, talk to somebody that is clued up on the lingo to help you make sense of it if necessary, but read the bloody fine print!
Make sure you understand the fine print for you as a person and from your country of residence and where you will be travelling to. In the end, it is you who will sit with injuries and no money when the shit hits the fan.
We have been with World Nomads for over three years and have a claims history with them. They do as they say and for travellers we can recommend them for sure.
Some question you need to ask:
Is the medical coverage for only in-hospital treatment or does it cover small out-of-hospital procedures? There are hospital plans and there is full coverage; make sure to understand what you are buying.
Very important—are there any treatment limits, i.e., how long will they pay if you are in ICU?
Does it cover any dental procedures or only pain relief? Check for everything from tooth fillings to jaw operations.
Do they only stabilize you and send you back home for treatment or do they only cover treatment in the country till you have recovered?
Do they pay upfront or must you pay and ask for reimbursement? This can be problematic when a procedure costs thousands of dollars and you do not have reserves for such events, or even if a hospital asks for an upfront security deposit.
Do they cover repatriation and medical evacuation?
Do you have the option to decide where you want to be treated for more serious illnesses?
Do they cover follow-up treatments needed for injuries? For example, physiotherapy for knee injuries.
Do they cover accommodation while you are recovering, or for your partner or spouse?
Do they cover injuries due to the mode of transport you will be using? This is more complex when riding a motorcycle—be VERY careful!
Do they cover you "off-road" or in rural areas?
Do they cover you above a certain altitude?
Ask what adventure activities are covered and which are not.
Will they allow you to renew your policy or do they force you to take out a new policy?
Can you take out coverage (or renew) when you're already abroad?
Will they repatriate your vehicle if you are flown back to your country of citizenship for medical treatment?
If you have rescue/extraction coverage, will they actually extract you unless there's an official report/travel warning issued by your home country or the one you are traveling in? With COVID some companies have excluded coverage and repatriation.
Unjustified complaints & lazy consumers
Most of the complaints I have heard over my 17 years of being in this industry were from consumers who have not fully understood what they purchased. The rage then is loaded onto social media and the companies unfairly accused of not paying.
Be skeptical of reviews and complaints that you find on the Internet. Some companies pay for reviews and some complaints are not legitimate.
If it is snowing, for example, and local teams can not get to a person, it is unfair to accuse them of not responding. They might also have other emergencies to attend to. In Chile it took 16 hours to get to one injured hiker, the road and trek were such that it took the rescue team that long to get to them.
Normally, the extraction and rescue company will make the call with the locals to use air transport if it is warranted. That is why it is so important to try to have a two-way communicator device with you. They can make better decisions with more information, especially when venturing into remote places.
I have read about overlanders knowingly venturing into an area when they knew it was going to snow. They still went and had to press the SOS button. They were lucky to be rescued but endangered the lives of the rescue team and possibly of others in need of assistance. One girl pressed SOS just to get rescue teams to help her pick up her bike on a road when she could have waited for a passer-by. Yes, this actually happened.
It is advisable to always carry and ride with the unit with you and not attach it to the bike.
More medical travel insurance options:
Apart from World Nomads we have also used Regency Travel insurance; we have not claimed from them so we can not comment on that. Their pricing and package are a bit differently structured to the others and suited our circumstances at the time. Our dear friend Suzie Bostock used Tokio Marine for their insurance while travelling in South America for two years.
Keep asking questions, get information in writing and make sure the company knows what your activies and destinations will be.
From Suzie aka Avvida:
PLEASE NOTE: This is not an exhaustive list. There are many insurance companies that offer coverage, so look around. These are just the ones I found or people told me about (and thank you to the Horizons Unlimited community for their input). Most of those who offered information about their insurers were from the USA, UK, Australia, and Canada' this is why several of the providers listed are limited to coverage for those countries.
ADAC Gold – The site is primarily in German so I am guessing it is for Germans, but it's worth checking out. They have a membership programme (see this link) and also a travel insurance policy available on this link with upto 24 months' worth of coverage available, from what I can see. If you speak German you will be able to make more sense of it than me!
Allianz Global Assistance – Apparently available for up to two years of travel. As always, please check options if riding a motorcycle, especially if over 250 cc. The initial link is to the USA Allianz, but it is available in many countries, e.g., Australia Allianz, UK Allianz, Canada Allianz. You can easily search online to learn if there is coverage available for your country of residence.
BCAA – For British Columbians only (insurance and breakdown coverage available).
BUPA – Travel insurance and global health insurance for many nationalities.
Carole Nash – UK specialist for motorcycle travel insurance.
CGU Insurance – Travel insurance for Australians. Also, you can cover some pre-existing conditions for an additional premium. Various packages depending on the countries you plan to travel in.
Divers Alert Network – Offers travel insurance for the USA and Canadian citizens, a good option if you plan on diving during your travels.
GEOS – MedEvac and/or Search & Rescue cover, commonly purchased when you have an InReach or Spot device, but can be purchased even if you do not have one of these devices. Also, see the link at the bottom of this article for further information.
Global Rescue – Provides medical, evacuation and security services, and is apparently available to all nationalities. They also provide travel insurance for up to 90 days. If taking out Global Rescue coverage, please use the link on the Horizons Unlimited page (click the link and scroll down the page about halfway) as this will benefit the HU organisation.
HCC Atlas – Medical and MedEvac coverage. It does not cover personal possessions like a standard travel insurance policy.
Holidaysafe – Full-on travel insurance package, with specialist motorcyclist policies available. Also, you can cover several pre-existing conditions for an additional premium.
IMG – Travel and medical insurance for many nationalities, both travellers and ex-pats.
MedJet Assist – MedEvac/medical transport coverage. Also, see the link at the bottom of this article for further information.
Navigator – Travel insurance policies. (Currently, any coverage options for motorcycling as the main mode of transport can only be taken out if departing from your country of residence, not if you've already left home).
NowCompare.com – Impartial advice and specialists in ex-pat medical/travel insurance for many nationalities.
Seven Corners – Travel and medical insurance. According to their website, they cover all nationalities, but again, please make sure that you are fully covered before taking out the policy.
STA World Travel Health Insurance – Good for student, teacher or youth travellers with an ISIC/IYTC/ITIC card. Their policies without possession of any of these cards appear to be World Nomad policies (no good for UK citizens with motorcycling as your mode of transport/motorcycle touring).
TID (Travel Insurance Direct) – Travel insurance for Australians. They also have a good page to outline what is covered and what is not. Click here for a link.
Trailfinders – Travel insurance for Europeans. Policy details are available here.
True Traveller – Travel insurance for Europeans, including coverage if you're already travelling.
World Nomads – Full-on travel insurance package (WARNING TO UK MOTORCYCLISTS – They DO NOT currently cover UK or Irish citizens for travel by motorcycle as your main mode of transport or motorcycle touring, REGARDLESS of the size of a motorcycle and coverage CANNOT be added at an additional cost).
Huge gratitude to Suzie from Overlander Health for her valuable and extensive research. Please give her some love and check out her website for everything to stay healthy as an overlander and traveller.
Michnus, GenX'er born and bred South African product. Known on ADVrider for his epic ride report Michnus & Elsebie Piki-Piki Around the World. Not known to follow or believe his own advice; however, he loves to share stories and inspiration with others. Michnus and his better half left South Africa 10 years ago on an initial 6 month planned trip up to Europe through Africa. Sold the family pets and mom, hit the road motorcycling on a semi-permanent basis to this day.