When traveling Colombia, should you check out Bogota?
Most adventure travelers – including myself – tend to avoid big cities, as the traffic is usually tricky, the accommodation expensive, and most people travel to get away from city hustle and bustle, not into it. Yet, not all capital cities are created equal. Some, like the Colombian capital Bogota, is definitely worth exploring.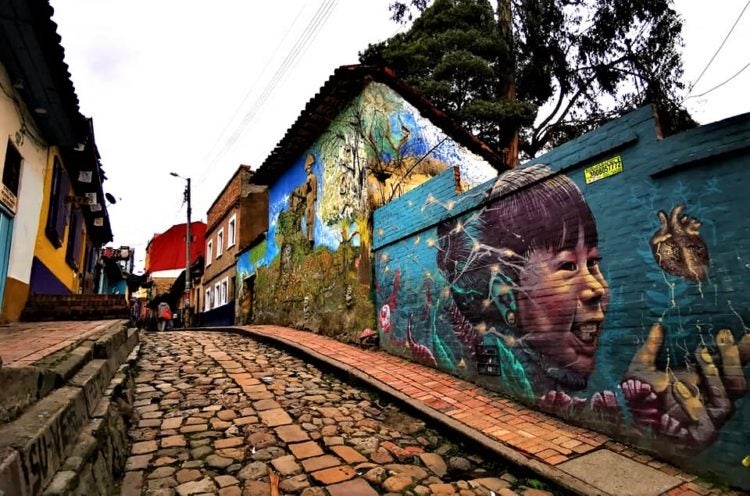 La Candelaria
Bogota's historical and cultural center, La Candelaria, is the city's beating heart. Here, the buildings are covered in beautiful street art, local laundry owners invite you to dance rumba, and the little corner shops and restaurants offer heavenly local food.
Packed with art shops, universities, galleries, food stalls, and the gathering place for artists, students, and travelers, La Candelaria is a must-visit when you're in Colombia. While hotels might be on the pricier side, there are plenty or AirBnBs to choose from. Living in La Candelaria, even if it's just for a few days, makes you feel like a local. Bonus points: chat to the locals and learn some Spanish!
Coffee Tours
Colombia is one of the world's coffee capitals, and for good reason. While in Bogota, forget Starbucks and hit the local coffee shops to taste some of the best coffee in the world. And once the clock hands hit 4pm, it's time to switch to aguardiente to counteract all that caffeine!
Riding Around Bogota
For short rides out of Bogota, consider Zipaquira, a small, quirky town just an hour away. The famous Salt Cathedral in Zipaquira is a sight to behold, and the town offers plenty of food options and activities. A litle further North-East, you'll come across Villa de Leyva, a beatiful colonial town famous for its scenic surroundings and the game of tejo (a national Colombian sport involving crates of beer and throwing rocks at exploding targets).
For more Colombia ADV travel tips, see this article.