Meeting fellow overlanders on the road is always exciting: you get to share experiences, beers, and gossip. On the other hand, it's always uncertain: what if they aren't your people? What if they have a variety of horrendous stickers and expect you to put them all on your bike? Worse still, what if they are anti-beer, or anti-sharing?
Tim Notier and Marisa Glass, better known as Notiers Frontiers, turned out to be some of the most awesome RTW people I've met on the road so far (and their stickers are decent). Having accidentally bumped into each other at a bike shop in Arequipa, Peru, we spent a couple of days exploring the city and talking about all things adventure.
So what's it like to be riding two up, RTW, on a giant KTM Adventure?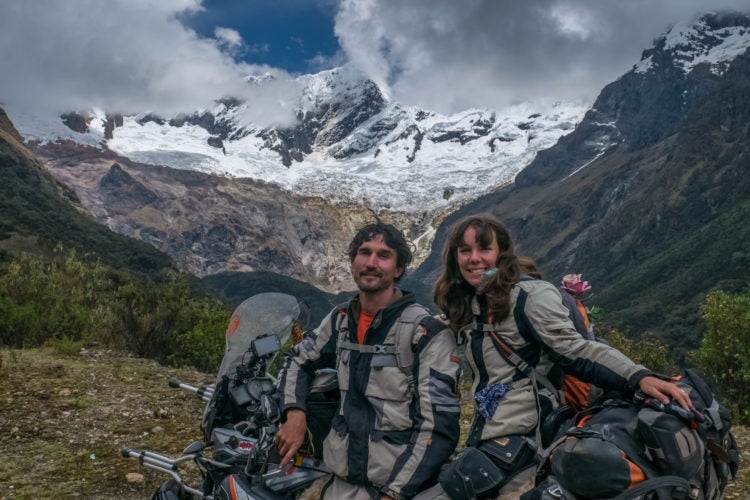 T&M, how did it all begin?
T&M: The big trip has always been on our minds, but at first, we figured perhaps Tim could get a flexible job and we'd do these mini-adventures – a month here, two weeks there. Five years ago, we decided to do a trial run and rode the Rockies two-up for nineteen days. We did it to test our gear and patience, and we wanted to see if we would get along. It was so awesome and life-changing that Tim even wrote a book about it!
We're from Chicago, so once we rode into the mountains and the snow and the Yellowstone geysers we were awestruck, and just being immersed in it all on a motorcycle… It was so inspiring for us, because we realized we loved this and we knew we wanted to do this full time.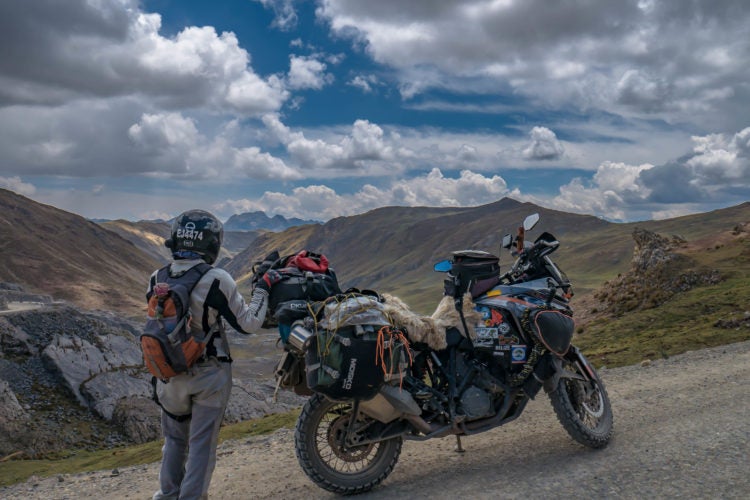 We got engaged on that trip, too. We both loved being on the road, out in the open country so much that we just knew we had to go RTW next.
When we got back, we started planning and saving. Tim got a new job, and we moved to Arkansas to live cheaper. We lived in a small house and we were very frugal and just saved up as much as we could.
Tim followed other travelers and read all the blogs and books. Some of the most inspirational ones were Christian Vogel, Charley and Ewan, Ed March, Nathan Milward and all the others that were out there, living the dream.
What did the planning involve? For a lot of people, this is an extremely important part.
We decided on a deadline and just started putting ideas together. For our leave date, we picked August 21st – the day of the solar eclipse. We set a date because we heard that if you don't set a date you'll never leave.
We also went to Overland Expo in Flagstaff, Arizona. That was a really great experience, to meet the community and the travelers – it was truly awesome. We figured out which gear we wanted and met lots of travelers and brands. It was a wonderful experience.
Tim did an off-road class in Oklahoma just to get some basics down.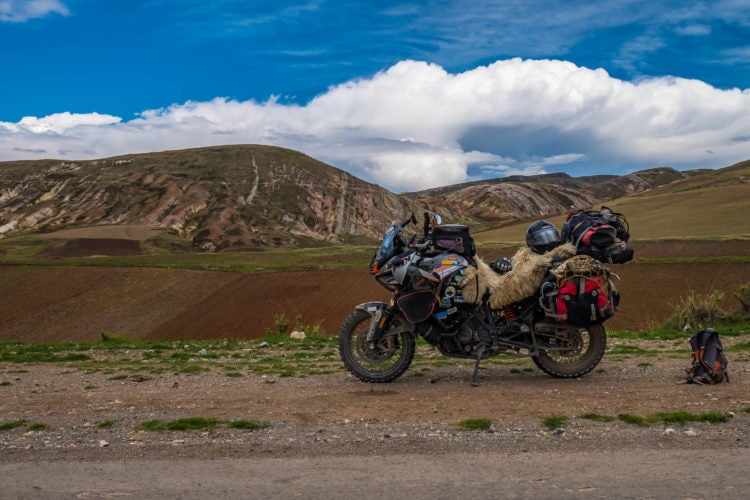 Other than that, we didn't book or schedule anything because we knew we needed to be flexible. It's very tempting to over-plan things, but we tried not to. We knew what we wanted to see, and we knew we had to keep seasons in mind and try to chase the summer.
How did you pick the KTM Adventure 1190?
We were looking into a few different options, a BMW GS 800 among them, but the KTM was in a similar price range and we figured it would just be more comfortable for us two-up. We had a rocky start, but so far, we've been very lucky except for a broken shock. So far, no major problems. Wearable parts wear, but that's OK.
What were the first weeks on the road like?
A week before we left was crazy! Somebody tried to steal the bike and damaged it in the process, it was incredibly stressful – we had to deal with last minute paperwork, the bike needed to be fixed, it was nuts.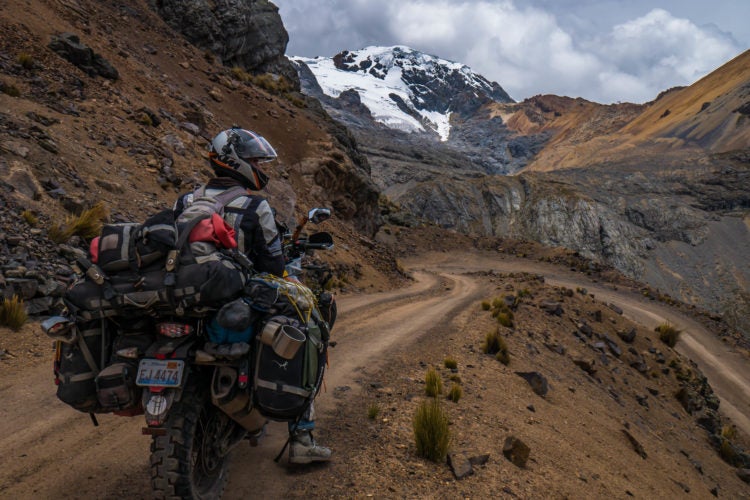 But once we hit the road, life got instantly better. Riding through the States was just awesome.
Crossing into Mexico at Tijuana was a little stressful – Tim had never been abroad before that – but after we got the hang of it, it was great. Suddenly, we had our freedom, and it was an amazing feeling.
At first, we were probably in a vacation mode and it took us a while to get into traveling mode. Traveling can take a toll on you, you're on a budget all the time and you're aware of things more; on vacation you're just enjoying yourself.
We now know it's healthy to mix things up a bit and splurge sometimes because being frugal all the time can be very hard.
How was Central America?
Guatemala was awesome. It was there where we started going off the beaten path more because it felt safer, and we really began exploring the world there. We just talked to locals a lot and went where they said we should go, and we'd find these paradise places and just have them for ourselves. It was incredible.
Nicaragua and Costa Rica were great too.We went through Honduras and El Salvador quite quickly because those countries are a little less stable, but we had no trouble.
And how do you feel now, in South America?
Colombia was amazing, it was all our dreams coming true! The land opened up, we could go exploring again, and we loved the quaint little colonial towns and the Andean roads. Colombia was so clean and friendly, we had lovely weather… there were people on horses everywhere, and Colombians were so nice to us. It was great!
We did a lot of off-road riding, mostly relying on other overlanders' information. We felt 100% safe in Colombia wherever we went.
In Ecuador, we went to a Horizons Unlimited meet, and it was so fun meeting all those cool people.  We did a few loops there, mostly in the Andes and a little in the Amazon.
Peru is incredible nature-wise, it's a whole different level of gorgeous nature.
It's been hard for Marisa because of all the off-road riding. And nothing can prepare you for the insanity of traffic in Peru! But Peru has been more rewarding than challenging. There's camping available everywhere, the nature is just mind-blowing, and it's a very culturally diverse country, too.
What has been the most challenging on this trip so far?
It's good to ride with other people sometimes and see that they face the same problems. There are all these personas and beautiful pictures online, but it's great to meet the real people and see that we are all just that – people.
Traveling as a couple, you're together 24/7 and that can be challenging. But it's manageable. By now, we've fallen into a certain routine. RTW travel on a motorcycle itself is stressful, and you might sometimes take things out on each other. So it's important to realize that you're not angry with each other, you're angry at the situation.
You also need to know that you need to accept so many things because you just can't control it.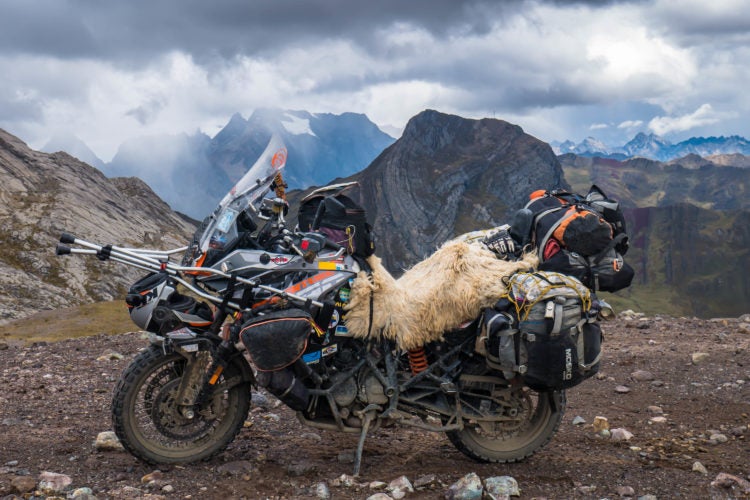 No matter what awful situation you get into, it'll be fine in the end, and you can work everything out. There's no need to stress about things: everything can be resolved, there are good people all over the world, there are good mechanics everywhere, and whatever the issue, it can be fixed.
As for things and gear, it's a very individual thing. We have downsized now, but it's just something you have to figure out as you go along. A good rule of thumb is, if you don't use it for three months, send it home.
Don't bring sentimental objects though, they are much harder to get rid of.
Keep in mind that the world is a friendly place. It's bad to take travel advice from somebody who's never traveled! Safety is a relative thing and you need to know your own comfort level. As for the rest of it, just use common sense, and you'll be fine!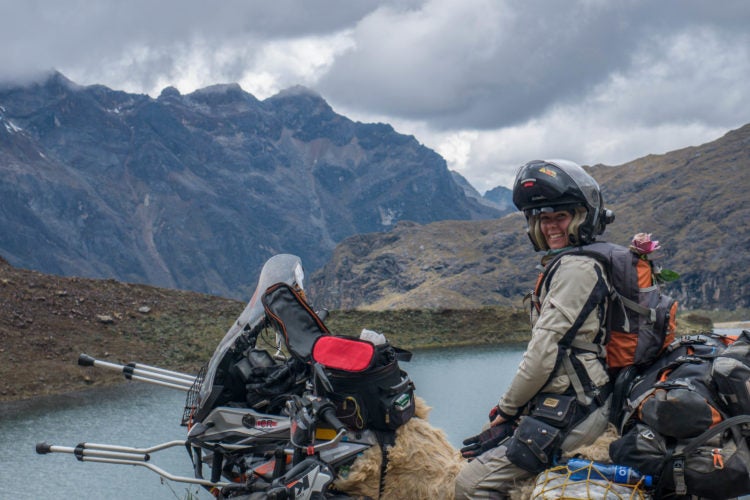 From Arequipa, Peru, Tim and Marissa will continue to Bolivia, Chile and Argentina before shipping their bike to Africa and continuing their RTW travels across the rest of the world. Me, I'll stick around for a while, read their book, and hope I can bump into them again someday.
Follow Tim and Marisa on their blog and Facebook pages.