So long handbags, heels and who knows how many accessories. Life on the road means less stuff and more adventure. But as women, in all our complicated glory, what are those things that we cannot live without, even on the road? What are the items that we carry with us, no matter where and when?
In my case, it boils down to this;
A comb; to avoid natural dreadlocks
A nail clipper that includes a nail file, so I can keep my nails short and neat.
Shaving razor blades to avoid turning into a chimpanzee – I hate hair!
Black leggings – they are the only piece of clothing that I find useful anywhere, anytime.
Wet wipes – I use these for too many things!
I was a pillion so carrying stuff on one bike makes it even harder, but I asked the same question to five badass women who are currently on the road, and these were their answers.
Egle Gerulaityte
Currently traveling South America on her Suzuki DR650.
I'm a digital nomad, so my laptop is my office, my entertainment, and my source of income. I would love to also carry a Kindle but it would probably be too much!
DoTerra essential oils, especially peppermint, fennel, cinnamon and ginger. I love that it's an all-natural product that can help me with so much.

Peppermint is great for cooling down (a few drops on the back of the neck or in my hydrapak).
Lemongrass is awesome for bugs and bug bites and adds flavor to water.
Cinnamon helps with sugar cravings and adds flavor to coffee.
I also use essential oils for colds, cuts, sore throat, as an antiseptic…just about everything.
3. Diva cup: Sort of self-explanatory! It's reusable, green, better for my body, more hygienic and easier to use on the go.
4. DoTerra Verage moisturizer: a non-greasy, light-textured moisturizing gel for my face. I sometimes forget to use it but it's a great skin product after long, hard days of riding off –road.
5. The Adventure Minion. It was given to me by a very dear friend before I left, and it travels with me everywhere I go. The Adventure Minion is a permanent fixture on my pannier.
Xenia Sagesser, XT Adventures
Touring Australia on her Yamaha XT660
My Lush shampoo bar, as it never spills on corrugated roads. They hold for around 3 months, so you can travel quite a bit on just one bar!
My Helinox chair, as I just love hanging in there after a long day of riding. It's so small and light that it fits in almost any luggage and it is very comfortable.
My e-reader, as I can carry 300 books in one tiny little device. I love reading but a book would be too big and heavy to carry around.
My little travel pillow, as I really don't like to sleep without a pillow and it gives you a great feeling to have your own pillow everywhere you go.
My extra-large travel towel, as I love to have a towel with me that is big enough to wrap around me or my long hair.
Ashley Lauren Mhyre, Mosko Moto
This woman is everywhere! From moto-fairs to festivals, from the office to the fields of Burning Man, I was keen on knowing what she carries along the way.  She rides a KTM690 EnduroR
Satellite communicator for SOS situations and emergency communications. I've been rescued using an InReach before, so I'll never leave on a trip without mine. It's as important as water in my book.
The most delicious fat-packed snacks. I simply cannot go without them – almond butter is legit my favorite food on the earth. I dream about it sometimes.
An ultra-organized tank bag with built-in hydration bladder storage. Yep, water off your back and on the tank – an absolute must have for me on ALL moto trips. Not just on moto trips, but every day these things are a necessity! They're tasty electrolyte tabs and I just drop them into my water bottle!
Magic in a bottle – seriously this stuff is insane. Not only a soap but toothpaste, laundry detergent, stain remover… need I say more? Plus, the bottle has tiny print and interesting text, give it a read!
Nora, Adventurism
On her second big trip, heading to Africa on her Suzuki V-Strom 650
Lots of tiny pieces of underwear. I love to take a lot of underwear so I don't have to do laundry very often. And because I take the tiny ones they don't take up so much space either.
Menstrual cup, so I am always prepared for that time of the month. I never run out of tampons and it doesn't take up any space either. It can be a little tricky to empty sometimes but you get creative after a while.
Sleeping bag liner, it adds a fair amount of degrees to any sleeping bag. I bought the overpriced thermal heater one from Sea to Summit but it really helps me to stay warm during cold nights.
Motorcycle manual: I took the Haynes manual of my motorcycle. I had very little experience of fixing my bike before I left but because I had the physical book with me I knew I would always be able to open it and start problem-solving. It gave me a huge confidence boost.
A nice dress: it's like magic, put it on and I feel like a different person. As if I step into another world. All of a sudden, I'm not this bad ass woman anymore but the girl next door. I love this transformative power of a piece of clothing.
Candida Louis, India on a Motorcycle
Riding from India to Australia on a Bajaj Dominar 400
Mosquito repellent – because I get bitten too often!
Eyeliner and lipstick – so I don't look dead
My phone – my maps, photos, contacts – everything is on it
Waist bag – so I can find all my essentials when I need it and it's safer on me.
Toilet seat Sanitizer – so I can stop anywhere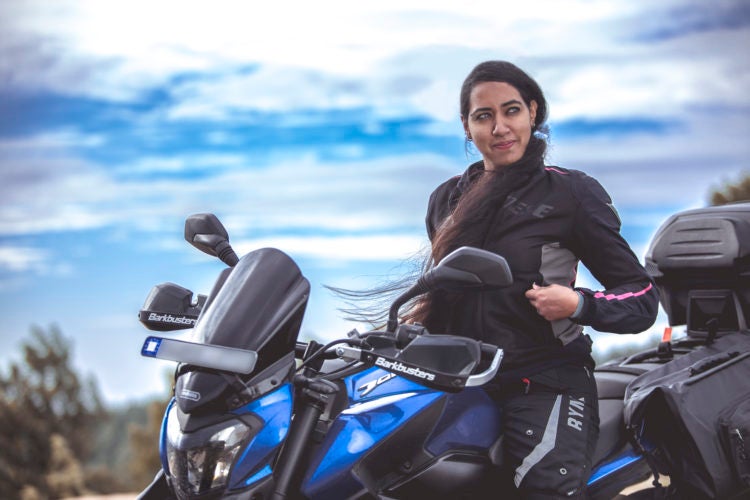 What can't you live without?