COVID-19 pandemic has caused border closures, lockdowns, and event cancellations all over the world. However, once it's over, we'll go back to adventure riding – and perhaps, rally racing? For me, rallies seem like a natural next step from adventure riding: it adds a new kind of challenge, it's ridiculous fun, and the people you meet at the rally bivouac become family. I'm not talking about the big desert races like Rally Dakar or the Africa Eco Race here – these events require a lot more in terms of budget, prep, and skills. The smaller rallies, however, are more than achievable for anyone who loves riding off-road and wants to test their endurance.
So if you're thinking of doing your first roadbook navigation rally, here's what you'll need.
1. Rally Racing Costs
If you're planning to do a European roadbook navigation rally such as Hispania Rally, Hellas Rally Raid, the Iberian Rally, or similar, your costs can be kept reasonably low. The entry fees for these rallies are typically between 600 and 800 euros, especially if you register early. In addition, you may need racing insurance (typically around 120 euros), GPS tracker rental (50-100 euros), and your food and fuel. If you're camping at the bivouac, there are no additional accommodation fees; if you prefer a hotel stay, you'll need to book one yourself and the budget is up to you. A lot of riders come to the rallies in their vans or motorhomes which make for more comfortable accommodation than a tent.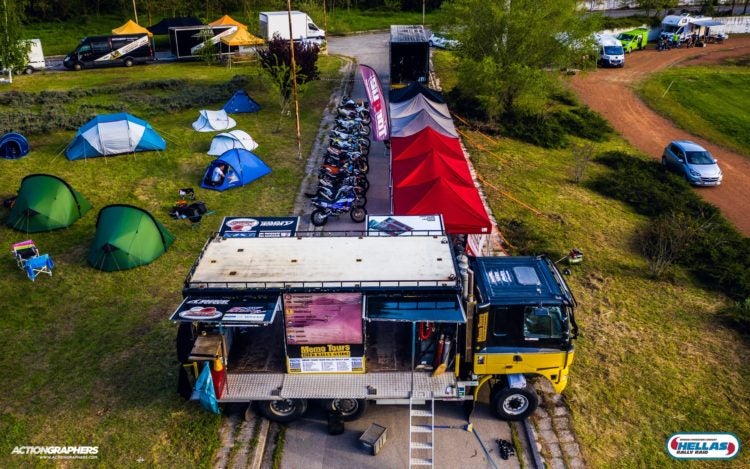 Finally, if you aren't racing on your own bike, a rental (usually a KTM450) will cost anywhere between 1200 – 1500 euros and up. This may sometimes include technical support; if you're hiring support separately, it'll cost around 650 euros and up depending on the support team you choose.
2. Rally Classes
Roadbook navigation rally races like Hispania or Hellas will typically have several amateur classes ranging from 250cc bikes all the way up to the 1200cc's. As an amateur rider, you do not need a FIM racing license – all you need is to fill out the entry form and show up at the race.
At Hellas, you can also choose the Hellas Lite class, where you only do 70% of the rally route and are allowed to have your GPS as a backup to the roadbook. Alternatively, you can also do the Adventure Raid where you're simply following a GPS track along the rally routes and aren't timed.
At the Panafrica Rally, a desert race in Morocco, you can do the KTM Adventure Challenge where you can chase the rally race using GPS navigation and doing some of the rally routes along the way.
3. Rally Bike
Manuel Vitoria, founder of Club Aventura Tuareg rally support team, offered the best answer to the question "what's the best rally motorcycle?".
"Your motorcycle!", Manuel says.
And he's absolutely right – if this is your first roadbook navigation rally, the bike you currently own is the best choice. With a range of classes from 250cc to 1200cc available at most larger European rallies, you don't need to worry about pro rally builds or rally replica bikes just yet. Go on whatever you own, even if it's a DR650, and give it a go.
4. Logistics and Acommodation
The beauty of the large European rally races is that they typically have a bivouac that doesn't move. In other words, you come back to the same camp every day, which means logistics are a lot simpler and you can easily go malle moto – your paddock, tools, and your tent will remain in the same spot throughout the whole event.
When it comes to accommodation, you can either camp at the bivoauc, get a hotel room nearby, or share and Airbnb with other riders. It's up to you and your budget.
6. Gear
Last year, my first event was the Trans Alen Tejo rally training camp in Portugal. Since all I had was my Klim Artemis adventure riding suit at the time, that's what I used for the three-day rally training event, and it worked just fine.
However, if it's a longer, for example, a five or seven-day rally, you'll want gear that allows more movement and is lighter. My favorite rally racing set up now consists of Leatt knee braces, chest protector, elbow protectors, and protective shorts with light motocross-style pants and jersey, a neck brace, and a light, water-resistant, windproof jacket for the longer, colder liaison stages.
When it comes to helmets, Klim Krios Pro is unparalleled in terms of weight and the level of protection. For boots, I use Sidi Crossfire 3SRS, but I'm currently testing out the Leatt GPX 5.5 Flex Lock to see if they may offer a little more comfort during the long hours on the bike.
Again, go in what you currently own, but make sure you're safe.
7. Roadbook Navigation Equipment
Last but not least, unless you're doing the Lite or the Adventure Raid class, you'll need your roadbook navigation equipment. Buying everything brand new can be expensive (1,000 euros and up), but you can always look for better deals online, get it second hand, or even rent. I'd also recommend looking into tablets and tablet brackets – rally organizers are moving towards electronic roadbooks now, so you may not een need the old, Dakar-style set up any longer. And if you've never used a rally radbook before, here's a simple explainer video to help you out.
Are you going to give roadbook navigation rally a go? If so, which one? Let me know in the comments below!
Images: Actiongraphers, Darius Daraska