The Baltic States – three small countries situated at the Baltic sea between Poland and Finland – might be tiny, but we've got a lot to offer. Start with Lithuania. You won't be disappointed!
If you know where to go, riding Lithuania can be an unforgettable experience. Beautiful winding roads along rivers, medieval castles and old towns, pristine nature and wildlife, great food and the best beer in this corner of Europe: Lithuania makes for an awesome ride!
Here are a few things to consider before you go:
Lithuania is a very safe country. We have great roads and infrastructure, so there's something here for everyone – awesome off road tracks and great quality paved roads alike!
We're very much into nature and wildlife, so there are lots of nature reserves where you can still see wild bison, wolves, lynx, and even bears if you're lucky. Wild camping is permitted anywhere as long as it's on public land. The same goes for riding off road.
We're also very much into great food, city life, and fun, so make sure you visit Vilnius, Kaunas, and Klaipėda!
Love European medieval history? Once you're here, check out the Kaunas – Jurbarkas route: the road runs along the river dotted with perfectly preserved medieval castles.
Try and learn a few phrases in Lithuanian: it's is one of the oldest languages in the world, stemming from Sanskrit! "Labas" means "hello," and don't forget to say "ačiū" – "thank you," pronounced as "achoo" – yep, exactly like a sneeze!
Visit the Curionian Spit (take a ferry from Klaipeda to Smiltyne), a magical little peninsula of whit sand dunes and pine forests: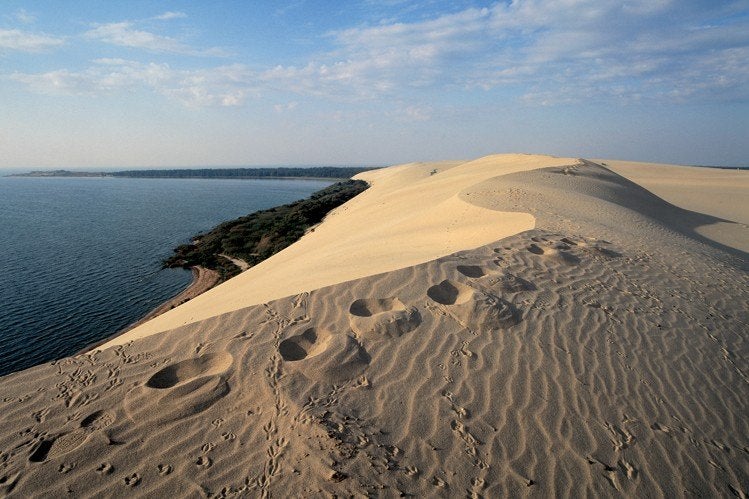 – for best off road tracks in Lithuania, check out the Trans Euro Trail Lithuania section: https://www.transeurotrail.org/lithuania/ The GPX file is free for download!
– our cuisine is hearty and includes a lot of meat and fish dishes, always accompanied by potatoes in various forms – potato pancakes, mashed potatoes, fries, boiled potatoes, you get the picture! In Vilnius and Kaunas, have "cepelinai" and "saltibarsciai" for a filling dinner whereas in Klaipeda, smoked fish is a must-try. We're very proud of our beers, too: check out various craft beers on tap! Want something stronger? Try Lithuanian "midus," a strong honey liquor guaranteed to perk you up after a long day's ride.
Here's a ten minute must-watch if you want to learn more about Lithuania!
Planning a visit? Join this Facebook Group where Lithuanian riders are sharing tips, routes, advice and offering to show you around, and ride Lithuania like a local!