Kelsey Runge, head gear designer at Klim, says it's all about practical creativity.
"I am not just designing pretty things, I am designing pretty and badass things that save people's lives. That is a lot of pressure as a designer, and I love it!", – Kelsey says.
She started designing motorcycle gear for Klim in September of 2016. When we spoke a few months back, she was busy working on the Spring 2019 line.
Would you like to have her job? Here's what it's really like.
Kelsey, how does one become a head gear designer?
I picked the path of designing apparel when I was about 8 years old, so picking a college degree for me was a no brainer. I received a degree in Apparel Design and Textile Technology from Buffalo State College in New York because I wanted to learn the basics of drawing apparel through CAD programs, understanding fabrics at a fibers level, and advancing my skills in trend research and color concept. My degree was perfect for what I am doing now, because every day I draw, build trend boards and color palettes, and pick materials to make the best garments on the market. Picking what category you want to design for is where it gets harder. For me, I blended my passion for designing with my love of the outdoors, adventure, and riding motorcycles and dirt bikes. It made sense that I designed for the outdoor industry, and I just got lucky with landing a job at such an amazing motorcycle company. I feel very blessed to not only have the opportunity to do what I love, but to build gear for something I love to do. Not every designer lands that chance.
What's the most exciting part of designing Klim gear?
By far, the most rewarding part of my job is hearing from consumers that our gear has saved their lives. I hope that nobody crashes their motorcycle ever, but unfortunately it happens, and when it does I like knowing that if they are wearing something I designed, they will most likely walk away from it. I am not just designing pretty things, I am designing pretty and badass things that save people's lives. That is a lot of pressure as a designer and I love it.
What does your typical day at work look like?
Every day is so different! It depends where I am at in the season. Motorcycle and Off Road is released in the Spring, so starting around May/April I get my briefs on what needs to be designed for the next season. Then I go into full design mode for the next couple months. Sketching, picking fabrics, making mock ups of new constructions, just full on creative mode. Then I go into the tech pack building stage, where I build detailed tech packs for every garment with full sketches of material maps, construction detail drawings, trims development, etc. They get exhausting! After I hand everything off to my developers, I work through color.
Color is my favorite part! I build color palettes based on what is trending in the fashion world and then figure out how to turn those trends into colors and combinations that work for our consumer in the motorsports world. It is a fun challenge and I am trying to push boundaries on what that consumer is used to. So far, it has been working well. Hello, Artemis! Then, I go through a few months of getting prototypes where we go over them detail by detail and do fittings to make sure they are fitting well on and off the bike. At that point my developer and I travel over to Asia to the factories and usually finish the fine details at the factory level in person to make sure the gear is exactly as intended and everything is working perfectly. That is the short version, but after production begins, we start it all over again!
Where do you draw inspiration for your designs?
I draw inspiration from a lot of different places. Some just simply comes from riders. I love talking to riders and hearing what they want/need that they aren't getting. I also look through moto magazines, check out competitors gear, go on rides with different people, and go to trade shows. I go to motorcycle trade shows, but also car shows, outdoor shows, motocross races, and just shop different areas of the country. It is important to me that I don't get tunnel vision and only look at motorcycle gear, but that I expand into other industries and pull ideas and inspiration from things you wouldn't necessarily relate to motorcycles. It keeps things interesting! I also look to social media and sites like Pinterest and Designspiration. Just inserting myself in riding situations and creative environments helps me stay on track for coming up with new ideas. It's all about getting inspired by your surroundings so simply just going out for an afternoon adventure ride through the Tetons is enough to get me back on track!
How important is customer feedback and requests for you? Have you ever designed a piece of gear based mostly on riders' request?
It is enormously important! We hear everything. The motorcycle community is so small and people have a lot to say because the gear is so important and expensive and riders are just straight passionate about what they are purchasing, as they should be! Everything that our customer service and sales teams hear from a consumer level gets filtered up to design, so I am hearing you! The one piece for me in my time at Klim that was designed based mostly on riders' requests was the Artemis. When I got told to design a women's adventure specific kit, I knew how important it was to let the women of the motorcycle community finally be heard. I talked to women riders from all over the world and got feedback on what they felt like they were missing and what colors they wanted to wear and how they wanted it to fit. Every part of that Artemis design had women riders outside of myself involved with the direction, the feature set, the colors…everything! I was over the shrink it and pink it mentality I saw in the existing women's motorcycle gear market, and I was determined to break that mold. She needed attention and something specifically designed for her and that's what she got!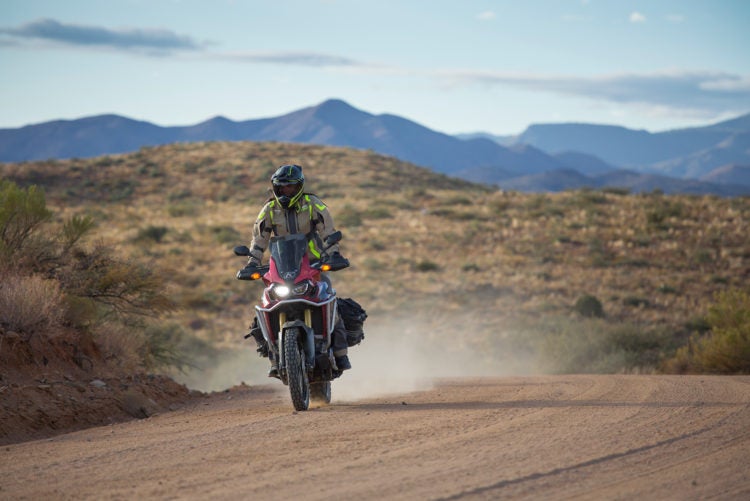 What's new in Klim gear in 2019?
Spring 2019 release is going to be so exciting! I don't know how much I can talk specifics, but I did a few new additions for men's and women's motorcycle, a few more casual style riding garments, as well as a lot of new colorways on existing pieces. I also did a killer off road collection with new graphics, new colors, and a new look! It is super exciting to see the off road collection come to fruition. We have worked very hard on that this year and it is hopefully going to make a huge impact in the off road dirt bike and dualsport communities. It's totally rad!
Which gear is the most difficult to design?
Surprisingly, the simple stuff becomes the most difficult sometimes. I think all the standards that have to be met with the technical gear set guidelines and barriers you have to work within, so you get more play with casuals. This usually means more colors, more trim developments, more logo play, and occasionally more time! Sounds weird I know! The most difficult part of designing motorcycle gear is probably getting it to pass CE standards. There are a lot of requirements and everything has to pass at different levels of the process, so making that happen is very challenging.
What's your favorite challenge when designing gear?
My favorite challenge just comes from the constant critique. You have to have thick skin as a designer because not everyone is going to see things the way you do and as a designer you want to always push the boundaries and create exciting things, but you have to still make sure it resonates with the consumer and that, at the end of the day, it will make the company money. It is a constant battle to not lose the fire and keep being overly creative knowing that at the end of the product timeline, you still have to meet cost and it still has to function. I have had to sacrifice great ideas for this concept so the challenge of continuing to be a great designer when you feel like you have so much against you all the time is one that I try to embrace, because, if I can't, then I should probably pick a different profession!
Want to know more abut how Klim gear is made? Check out this Behind the Scenes article!
What's your dream job in the adventure motorcycle industry? Let me know in the comments below!