Kimberly Prichard, an MSF rider training and off-road riding coach, has gone from track racing to conquering dirt – and she says she still enjoys both. Teaching has always been Kimberly's passion, so no wonder she is combining that with motorcycling and teaching people to ride both on and off the road.
Kimberly, how did you get from road racing to riding dirt – and then becoming a coach?
I still absolutely love road racing, but it is easy to hit a plateau. Seat time is needed to get past those spots, track time however, is expensive, and I was told by some long time racers that some of the things I was struggling with were easier to get past if you were a dirt rider.  It was a safe way to learn how to manage having a bike move under you.  Like so many other things I've gotten myself into, I jumped in with both feet and not much thought.   I went out and bought myself a little learner dirt bike, a TTR250. Just like I did with street bikes, it wasn't the worst choice of a beginner bike, but it wasn't as suited for the type of riding I was doing as some other bikes would have been.  It caused me to learn a few bad habits.
However, I'm stubborn, and falling down or being tossed into the dirt wasn't a new thing for me.  I rode horses for 35 years, I think that is why dirt riding kind of felt like a home coming for me.   I believe that falling over or dropping a bike is one of those things that is hardest for most women to get over.  Although, just about all adults struggle with it, more so if they've not done sports where falling or rolling on the ground was common.
I spent my first two years only riding the TTR a few times.  I was afraid to ride by myself, everyone I knew rode on pavement, not dirt.  It took some time before I was able to find some people in the area, that was okay with a new dirt rider. It was just like being a totally new rider all over again.  Guys didn't want to ride with someone who might slow them down… sad really, as riding fast, doesn't always mean your good at it. It's more of a comfort level indicator.
I did find some local ADV inmates who were great about letting me ride with them.  They even took the time to teach me a great number of things.   From there, I moved on to a larger bike – too large.  I picked up a used KTM 450 that was way too tall for me.  That lead to a Suzuki DRZ 400, so I could ride on the roads between trails.
Then, I got a smaller, dual sport,  nice and light 250 plated Husky.  Not comfortable for long rides, but it made my dirt rides so much more fun.  It also allowed me to start to learn how to really ride in the dirt.
Finally, I got into adventure bike. That was all because I had a friend whose lifelong dream was to ride to Alaska.  She had tried three times, but wasn't able to complete the ride due to health issues. So she wanted another rider along just in case.  She talked me into the trip riding motorcycles up there.  Honestly, it wasn't a hard sell.  I grew up in Alaska, I still have family there, I had never ridden a motorcycle there, but knew that it would be a really amazing experience.  For the trip, I chose the Triumph Tiger.  It was a 40-day, 10,894-mile ride that I will never forget!   We did some 2,300 miles of dirt roads, I had a number of dirt single track miles under my belt, but these roads were another beast: loose gravel and slick mud on a heavy ,tall bike…there was a number of white knuckle miles.
Once I got back from Alaska I knew that I needed to learn more about how to manage an adventure bike. I did a two-day adventure motorcycle riding course with Dusty Wessels of West38Moto and it didn't take me long to pick up the techniques; to my surprise I was able to excel at maneuvering that bike around.  I did so well that they asked me to become a coach!
What happens in an off-road coaching class?
Like many types of courses, it starts with basics. There is a fair amount of talking before we get to riding exercises on the bikes. There is helping riders make adjustments to the ergonomics so they will be more comfortable trying the things we teach.
Off road more than any of the other training I do has a lot of slow speed skills.  There is a great deal of time spent learning how to really use your clutch.  It's a skill that most people don't spend enough time on.  There is a focus on brake use too.  Like the clutch, most people's brake use isn't as nearly as good as they think it is. There is more to brake use than just crushing them to stop.  Hint: if you are grabbing your brake leaver, you're not doing it right.
We help riders find the limits of their brakes, let them experience tire slides and skids, in as safe a manner as you can be doing those things.   We also show ways to avoid hazards, or how to get over them if you can't go around, there is also how to recover from tip-overs.
When you coach riders, what is the most important to you?
That the riders make progress, just how much is up to them.  It's their comfort with taking the next steps that matter.  Sometimes, the steps are huge, other times it's almost hard to see, unless you really know what you are looking for.  I also want them to have fun: when it's fun, people learn more!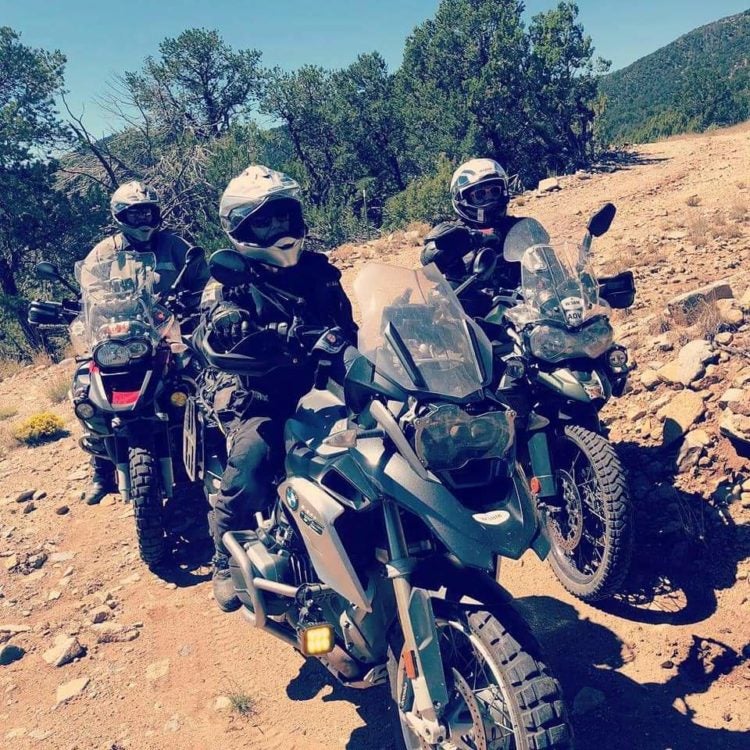 I've had students who actually thought they could learn what they needed just by reading books.  Now, that is an awesome start, but if you don't have an eye on the ground watching you, it can lead to you doing things the wrong way.  It's really hard to know exactly what your body is doing.
In every discipline that I've taught, there is always a huge difference between what the student thought they were doing and what or how much they were doing.   I want riders to start building the correct muscle memories, this is what can help them after they leave the class.   One of my favorite coach's favorite sayings is:  Practice makes permanent, not perfect.  Make sure you are practicing perfect techniques in order to be perfect!
Why do riders need off road training?
Riding dirt is not done the same as street, there are things that will make you feel more comfortable on loose surfaces.  Without those basics, riding on less than ideal traction can be unnerving to most riders.  Even for those with dirt experience, there are modifications to techniques that will make time on a large adventure bike more enjoyable.  A class with your own bike can be the make it or break it difference for a trip.
Training is one of the most important things you do for yourself.  I'm pretty sure the next set of remarks will make me unpopular, but what the hell.  I put training above bike modifications. I'd venture that there is a high percentage of  riders out there who can't ride their motorcycle to its off the showroom floor OEM capacity.  So why spend the money on mods before knowing how to get the bike through some basic skills?
Now, of course, I know there are mods that will make riding easier, like lowering or changing out suspension components for the rider's weight.  But how many riders actually set the SAG on their bikes before they ride them, know what that entails or how it affects the handling of the bike?  Training can help riders figure these things out or let them know what they need to focus on or if it's really for them before they go out try it and get hurt. Riders going out just winging it and getting hurt is the kind of thing that is damaging to our sport.
What do you love about coaching most?
I just love instructing, I've been teaching one thing or another for decades.  I started working for a horse trainer, teaching the younger kids jumping lessons, riding and training horses for her.  I kept that up until about nine years ago.  Once I had some time riding motorcycles under my belt, I became a MSF RiderCoach; I've been doing that for 12 years.  During that time, I also started off on my road racing career (11 years), after a couple of years doing that I started coaching riders at the race tracks (9 years).  It wasn't a hard transition to begin coaching riders on dual sport techniques.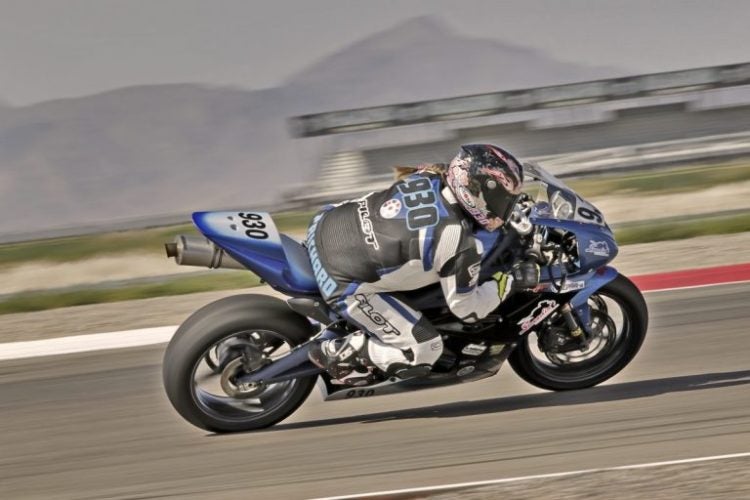 The best parts are seeing the "aha" moments, it's being there when a student gets better and better at one of the skills that they were really nervous about trying.  It almost always ends with that "I can't believe I did it" smile.  It's just awesome to see it.  It also lets me meet some great people who I might not have crossed paths with otherwise.
I absolutely love it when my students surpass my abilities and become better on a bike than I am.  That's my reward for doing this.  The best classes are those where everyone is having a great time, laughing and planning their next outing before the class is even over. That kind of joy is infectious, it stays with you for days, sometimes weeks after the class is over.
I like the challenge that is teaching.  Adults learn differently than kids, men and women often have different approaches to how they learn techniques. Instructors should have tools to help their student get what they need from a class.  So it gives me many things to work on.
What's the worst part of your job?
Seeing a rider give up or seeing one repeat the same mistake over and over again without trying the technique you are currently having them try.  Repeating mistakes leads to crashing.  I never like to see a student fall over or crash.  It pretty much makes my heart skip a beat!  If they are hurt, it's the absolute worst for me.  I often ponder on it for days, wondering if I could have somehow steered them onto a different path before they got hurt. That leads to the other thing that I hate to see: bad coaching.
What would you say to people who want your job?
Coaching isn't for those who are averse to hard work, those who aren't willing to work long hours. It's also not going to work if you don't like standing for long periods of time, don't like walking around in small circles, or if you don't like to be in dust clouds.
You have to be okay with repeating the same phrases about 100 times an hour or be good with coming up with another ten ways to say the same thing.  You also have to do that without ever seeming frustrated or letting a student feel like they are never going to get it.   However, it's also one of the more rewarding things I've done over the years.  I love that I learn new things every time I teach a class and that it improves my own riding skills, too!
In general, I love just about everything about the motorcycling community.  People are helpful and want everyone to love riding as much as they do.  And of course, there are some downsides to this.  There is a huge amount of information out there about how to do things.  Unfortunately, a great deal of that information is not good information, so always try to get your info from reliable sources: ones that have been around for long periods. They usually have that kind of longevity, because they don't get people hurt.
Pick who teaches you with care.  Just because someone has been riding for years, doesn't make them a good rider or instructor.  You really want a head instructor who trains people who are at the top of their sport.  Great riders never stop learning or trying new things. Same for instructors, if they aren't learning new things, then they can't help you really learn new things, either.