Ever wondered why an American motorcycle racer has never won Dakar? Do you want answers? Well, you've come to the right place—that is, if you have a few minutes to spare. For a country that invented desert racing and developed more desert racing superstars over the years than any other country on the planet, it takes a little time to explain why an American has never stood on the top step of the podium at Dakar. It's a little embarrassing as European riders who barely have an ounce of desert anywhere to be found in their backyards dominate the sport, and yet, we have desert practically everywhere we look here in the western U.S. and still can't buy a win. We've developed riders like Danny Hamel, Larry Roeseler, Ty Davis, Johnnie Campbell, Destry Abbott, Kurt Caselli and a dozen other desert heroes all who literally were born with sand and cactus in their blood. With so much raw talent we should have won Dakar by now, you'd think? And especially now in the aftermath of Ricky Brabec's history-making run at the 2019 Dakar the question is more relevant than ever. The answer though isn't as simple as it first appears. Maybe the best place to start is with a quick history lesson so let's start at the beginning.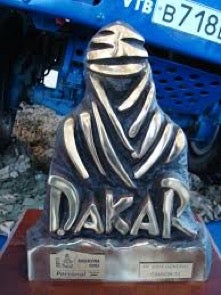 In 1979 the Baja 1000 was the most prestigious off-road desert race in the world. A race dominated by Americans then and now. The allure of  "Baja" drew riders from all over the world and can be credited in many ways to the birth of Dakar. The founder of the Dakar Rally, Thierry Sabine, as well as several of the top European off-road racers, came to Baja in the early 70's, fell in love with its stark beauty and desolation and quickly understood its appeal as a backdrop for racing using it as a blueprint for what later became the first "marathon raid rally" in Africa. From the very beginning in 1979 it captured people's imagination. It was a story of man vs. nature, a clash of cultures built around a racing competition, a test dramatizing the limits of human endurance and willpower. The drama would be the foundation for the Dakar legend; a legend that would grow over time eventually surpassing Baja as the world's most prestigious desert race.
By the late-80s the Dakar Rally had become a cultural phenomenon generating huge international press coverage and massive television ratings in Europe. Backed by tobacco money the factory motorcycle teams had multi-million dollar budgets with top riders making big bank off their Dakar engagement contracts alone. A top rider competing for one of the factory teams could command as much as $175K to $200K just to start. Win bonuses and other sponsor endorsements could easily double and triple those amounts. Dakar champions like Hubert Auriol, Cyril Neveu, Gaston Rahier, Eddie Orioli, and Gilles Lalay became national heroes and media superstars. The success of Dakar gave rise to a series of less demanding but still challenging shorter rallies feeding off African desert racing popularity, rallies like the Rally de Atlas in Morrocco, the Djerba Tunisia Rally, the Incas Rally, the Pharaohs Rally in Egypt and the Dubai Rally.   These events created a feeder series that further justified manufacturer involvement in Dakar and broadened the appeal of rally racing for the average rider increasing the fan base and media attention. Honda, Suzuki, Yamaha, BMW and Cagiva made winning the Dakar a priority viewing it as a critical race to win not just for bragging rights but for selling motorcycles. Whole new model series like the Honda African Twin, Yamaha Tenere and Cagiva Elefant were born in this environment.
Fast-forward to the '90s and Stephane Peterhansel who, with support from fellow Dakar legend and President of Yamaha France Jean Claude Olivier, dominated Dakar. The greatest Dakar rider of all time owned the event for almost the entire decade before moving on to cars and passing the mantle to Richard Sainct and BMW. In the late '90s and early 2000s KTM began its long march toward Dakar dominance with riders like Fabrizio Meoni, Cyril Depres and Marc Coma. After several years of heartbreaking failures, close calls and almosts, KTM sorted out its motorcycle technical issues as well as its development and support program and has dominated Dakar ever since. Only recently have other manufacturers including Husqvarna, Yamaha and Honda returned to the starting line of Dakar to give KTM a run for the money.
Over the decades across an ever-changing landscape of manufacturer and rider involvement, the only constant is European rider domination. That is up until just recently when Toby Price, broke the European stranglehold on Dakar. The only problem: Toby is Australian and hails from a country a fraction of the size population of the U.S. Talk about adding insult to injury. Ouch! Well, at least they have some desert in Australia but what about the U.S.? What do we have to show for ourselves?
There have been some brief glimmers of hope, periods where U.S. riders made serious runs at rally and Dakar racing.  In the end though it's been "close but no cigar". It starts with support.  Historically U.S. OEM motorcycle distributors have limited their desert racing promotion budgets to events held in their own backyards. If any support is made available for desert/off-road racing, it is limited to SCORE, BITD and AMA National H&H events. U.S. based distributors have never fully embraced Dakar as a marketing tool for U.S. consumers and left Dakar, and rally racing in general, in the hands of their parent companies. If Dakar is deemed important from a marketing perspective and fits within their product development plans any factory budgets are usually transferred to their European OEM distributor counterparts. Because of this teams are usually built around European riders. Despite the historic lack of support and focus on Dakar a handful of American desert racers, pioneers and dreamers have at various points in time made their way across the pond to give rally racing and Dakar a go.  Here is a brief summary of who they are and their results.
Most Dakar fans probably never heard the name Chuck Stearns and unless you were deeply connected to the sport in the early 1980's who are probably unaware that he was an upcoming young desert racer trying to break into the big leagues in Baja and the other major U.S. off-road races. While trying to establish himself stateside, he somehow got connected with Yamaha France and went to Dakar in 1985 as a water boy for Jean Claude Olivier and Franco Picco finishing an impressive sixth overall amongst Europe's best. This amazing achievement went mostly unnoticed in the U.S. but represents a milestone for America even if no one knew about it or cared at the time. Unfortunately, Chuck came down with a mystery illness shortly after coming home from Dakar and died a little over a year after this groundbreaking finish. America not only lost its first potential Dakar champion but a great young man, a true gentleman and sportsman. His amazing accomplishment as a rookie at Dakar was relegated to a footnote in desert racing history.
The first major effort by U.S. riders targeted at rally racing and Dakar took place in 1987 when a team of riders including myself, Dan Smith and Danny LaPorte went to Morocco to tackle the Rallye de Atlas and later in the year, the Djerba Rally in Tunisia to prove our selves worthy of a shot at Dakar.  Unfortunately Danny crashed out of the Atlas and came down with meningitis the week before the Djerba and could not compete. Likewise Dan Smith experienced mechanical problems in the Atlas Rally leading to a DNF and couldn't compete in Tunisia due to a conflict with his U.S. racing calendar. Meanwhile, I soldiered on to win two stages in the 1987 Atlas Rally but was held back from a top overall position due to a mechanical DNF in the 4th stage. I came back to win the outright overall at the Djerba Rally in 1987 becoming the first American to win a marathon raid rally overall and followed that up with a 2nd overall at the 1988 Rally de Atlas beating Gaston Rahier, Cyril Neveu, Giles Lalay and the best riders Europe had to offer.  To cap off 1988 I took third overall at the Acerbis Incas Rally in Peru. Three podiums in my first four rallies; not a bad start, and all accomplished riding for relatively small satellite teams. At least I proved an American could compete against the best rally racers in the world, that we had the speed and could adapt to the navigation. So what happened to my shot at Dakar? You would think that was an obvious next step. Well here's where the second obstacle to an American victory at Dakar comes in. Politics!
As previously mentioned, in the late 80's and early 90's everything revolved around tobacco money and the corresponding manufacturer and country the tobacco company hailed from. The top factory efforts were nationally based teams by design. The French had the Rothmans/Honda team, the Italians the Lucky Strike/Cagiva team, the Belgians had BMW/Marlboro and later Suzuki/Marlboro. After my performance in 1987/88 I had meetings with several of the top teams about the 1989 Dakar Rally and I was eager for a shot but later found out that I was used as a bargaining chip to keep contract demands from escalating for their current riders.  Make no mistake politics plays a huge part in everything that happens at Dakar. After two years of giving it my best shot, proving I could compete, I returned home to the U.S., got a real job working for KTM and figured I was finished with Dakar. Little did I know then Dakar wasn't finished with me.
U.S. National and World Motocross champion Danny LaPorte wrote the next chapter for U.S. participation in Dakar, a chapter that runs from 1991 to 1996.  After his ill-fated effort in '87 as part of Team Foltene Danny wanted very badly to give rally racing and Dakar a second try. Knowing he would need desert experience Danny joined Team Kawasaki in the states and promptly won the Baja 500 and 1000 greatly increasing his credibility and sponsor potential before entering the 1991 Dakar. Unfortunately, in his first Dakar attempt Danny suffered a terrific high-speed crash outside Agadez, Morocco and had to be life flighted from the event. Danny would spend the next several days in a medically induced coma recovering from a collapsed lung and other injuries.  Not to be denied Danny came back in '92 riding for the factory Cagiva/Lucky Strike team in the Dakar Paris to Capetown Rally. With Edi Orioli, as his teammate and full factory support Danny won a stage, the first ever by an American, and finished a spectacular 2nd overall behind Gilles Lalay. So how did Danny land a spot on a coveted European team? First, he was well known as America's first 250cc World Motocross Champion and compared to other American riders was almost considered a native by the European racing community and, more importantly, European sponsors.  He also lived in Europe throughout much of the 80's and early 90's. Lastly, Danny has an innate ability to adapt to changing circumstances, roll with the punches and fit into any culture he is dropped into.  His finish in 1992 remains the best by an American rider in Dakar history and for those that know Danny it comes as no surprise that it was he that pulled it off. Danny is quite simply one of the toughest and most versatile riders our country has ever produced. He is very smart and has more will power than anyone I've met. These qualities made him a very tough rider to beat in any race he entered and served him particularly well throughout his Dakar career especially in 1992 in what was the longest Dakar Rally on record, 12,785 KM and 21 days long! Unfortunately for Danny, and everyone else, big changes were on the horizon for Dakar, changes that would radically alter the sport for years to come. In 1993 the tobacco money dried up due to new advertising laws prohibiting advertising of tobacco products in Europe causing Dakar team-funding structures to practically collapse. While everyone scrambled to find new sponsors it impacted the resources available to put together a competitive team. For the next 4 years Danny soldiered on as our sole Dakar competitor but unfortunately could never quite take that next step up on the ladder. In '93 after cobbing together another effort with Cagiva he suffered another big crash and had to withdraw from the event. He skipped '94 and came back in '95 with Yamaha France and, of all things, a private Russian sponsor. He crashed six days into the race hurting his shoulder and forcing him to withdraw once again. He made one last effort in '97 but injuries once again forced him to withdraw ending a chapter on one of the longest U.S. Dakar careers ever. For a thoroughbred like Danny there was only one way forward and that was full gas. Backing it down a notch and taking it easy was not in his vocabulary and in a race like Dakar it can take its toll. In any case no U.S. riders started more Dakars or finished higher than Danny LaPorte.
The American road to Dakar took an interesting turn in the early 90's when the only rally ever held on U.S. soil, the Acerbis Nevada Rally, took place. In 1993 and 1994 it was dominated by French rider Alain Olivier but by the third year in 1995 Americans started to figure things out. Our very own Johnny Campbell ended the U.S. rally drought taking the overall at the '95 Nevada Rally, the second time in history a US rider took home the overall at rally. Unfortunately, the Honda factory program at Dakar was in transition in 1995 still adjusting to the loss of tobacco money and Johnny had nowhere to take his rally racing experience. So at the end of the Nevada Rally in '95, it looked like his hard-earned rally experience was for naught. Besides Johnny was focused on SCORE and Baja racing which was a high priority for American Honda and turned out to be a pretty good move for him in the end. As far as U.S. rally racing and Dakar goes it was a tremendous opportunity missed because at that stage of his career I firmly believe Johnny could have won Dakar given the chance and the right support, but then again I thought the same thing for myself in 1989.
It wasn't until the late 90s and the entrance of Jimmy Lewis onto the Dakar Rally stage that U.S. fans had a serious follow-up act to Danny LaPorte to root for. After some initial forays in rally competition at the Nevada Rally and an exploratory Dakar effort in '96 as a journalist for Cycle World magazine Jimmy was badly bitten by the rally bug. He returned to Dakar in '97 with KTM factory support and took 4th overall winning the single cylinder class even though as he said afterward, "I can't believe how conservatively I rode, well within my comfort zone".  Along the way he also won the toughest stage of the rally showing he was no slouch with the roadbook. Jimmy is perhaps the best U.S. rally racer ever when it comes to navigation with a keen sense for the finer points of using the roadbook and the GPS. An indication of just how good Jimmy was at navigating is that he was not afraid to play games with his more seasoned competition when it came to navigation often purposely leading riders off course and down blind alleys only to disappear and set himself back on the correct heading. It also turned out that Jimmy is perhaps one of the best twin cylinder riders we've ever produced. In 2000 at the Paris to Cairo Rally Jimmy used all those skills to finish 3rd overall, first in the twin cylinder class, winning a couple of stages along the way on a factory BMW.  With his 2000 finish Jimmy's rally career arc was on a fast rise and looking forward to 2001 he put everything he had into training and preparing to win the event. U.S. rally fans could legitimately look forward to a possible overall win because not only was Jimmy a rally veteran at this point but Johnny Campbell was also going to ride Dakar and if ever there was hope for the U.S. it came with Johnny and Jimmy riding the same event. Unfortunately in 2001 several things conspired against Jimmy starting with the organizers who, under pressure from KTM, decided to re-configure the event to favor lighter single cylinder motorcycles. A.S.O made a decision to slow the speeds down and make the course more technical, which was in direct contrast to the strategy Jimmy and BMW were working towards. Partially as a result of trying to override the big twin in these conditions Jimmy took a header at speed early on in the rally severely damaging both wrists. From there competing for a win was out of the question. It was simply a matter of hanging on to the finish where he eventually finished 7th overall by race end. As for Johnny, he was hampered from the start riding as a privateer/marathon rider without any outside support. Without factory support it's simply impossible to compete for a podium finish even if your Johnny Campbell. Johnnie rode conservatively, "a fast trail pace", as he later said and finished 8th overall completely unsupported just behind Jimmy. After 2001 Jimmy shut down his rally career and moved on to sharing his rally experience and training with other U.S. rally hopefuls.
By 2003 both A.S.O., the Dakar promoters, Red Bull and KTM wanted to desperately see more U.S. interest in Dakar so we formed the Red Bull KTM USA Dakar program with the goal of developing more not only more American interest in Dakar but ultimately an American champion. We selected three veteran American riders in the first year of the program to make sure we finished and got some results. As Team Mgr. I handpicked guys I knew and trusted, proven U.S. stars like Paul Krause, Larry Roeseler and Casey McCoy and we set off for the 2004 Dakar Rally. Paul was the only rider with previous Dakar experience having finished 14th overall in 1998 and would ride the 950 twin, which put him at a severe disadvantage for the overall win.  In the final weeks leading up to the rally while testing in Tunisia Casey suffered a spectacular crash breaking his leg in several places. This left an open spot on the team and despite my fears and concerns and complete lack of preparation my Dakar dream had come full circle and was staring me in the face. The only problem was that I was 16 years past my prime approaching 50 years old. In any case, I stepped into Casey's open seat and rode carefully at first getting stronger each day, climbing as high as eighth overall before having to withdraw at the midway point with a broken ankle. LR and Paul soldiered on to 12th and 18th overall respectively setting the stage for the team's return to Dakar in 2005 with a younger team that would be focused on winning in three years. Chris Blais and Kellon Walch joined me as team manager/third rider in the 2005 Dakar. When it was overall the three of us saw the legendary Lac Rose( the "Pink Lake") at the finish with Chris taking ninth overall/rookie of the year honors and Kellon finishing 22nd (after experiencing technical issues) taking home a stage win as well. As for myself I backed it down just a bit and finished a very respectful 17th overall out of the 250-rider field at the age of 49. Chris went on to finish 4th overall in 2006 and 3rd overall in 2007 becoming only the third American to stand on the podium, and the first since Jimmy Lewis in 2000 and more importantly accomplishing the first goal we had set for the team. We were well on our way to possibly seeing an American rider on top of the podium when tragedy struck the team in the summer of 2007 when Chris crashed pre-running the Vegas to Reno off-road race suffering a career-ending back injury. Of all the American efforts this effort was, in my opinion, the best-funded, long-term program with real factory/sponsor commitment to see it through. Chris Blais had paid his dues and had proven he had the speed, the talent and mental toughness to win in my opinion. He just needed a bit more experience racing with Coma and Depres and confidence with the roadbook to open the road. This was a huge setback for American hopes for a Dakar victory, none more so than Chris who is one of the sports most humble and approachable champions.
2008 was a watershed year for Dakar as rising terrorist threats in Mauritania and Mali forced the organizers to cancel the race at the very last second, literally on the starting line in Lisbon, Portugal. Besides pissing off a lot of people and flushing millions in competitor and sponsor money down the drain, Dakar's traditional African home, the home where a million stories and legends resided would be no more and many wondered about the future of the event. Enter Dakar "South America" style.
Although the Red Bull/KTM US Dakar effort disbanded after Chris's injury it was successful in creating a lot of interest in Dakar inspiring the next wave of U.S. riders to take on the challenge. Privateer riders like Jonah Street gave Dakar a shot with some real success. Jonah was very passionate about Dakar and dedicated his life towards bringing home American glory.  Jonah entered his first Dakar in 2006 and finished 17th overall. In 2007 Jonah ran as high as 4th overall before a blown motor forced him to retire. With the event moving to South America Jonah came back in 2009 with a stage win and ran as high as the top 3 overall before a nagging wrist injury dropped him from the event. In 2010 Jonah earned his highest overall finish in 7th position. In 2011 Jonah won a stage and finished 14th overall but suffered technical issues trying to develop a new bike. By 2012 Jonah was still struggling with technical issues on his GYTR Yamaha and along with injuries and lack of funding decided to finally pull the plug announcing his retirement on the third day of the rally. Jonah represented the best of everything the U.S. has to offer. A pioneer spirit, the perseverance to chase down long odds, sponsors and backing to pursue a very personal dream, a willingness to risk it all, the skill and ability to compete for a podium. Unfortunately, Jonah could never quite land enough support to accomplish his goals. It wasn't for lack of trying that Jonah failed to win Dakar. He was simply up against too many other outside forces.
In 2011 Baja 1000 champion Quinn Cody quietly entered Dakar finishing a very respectful ninth overall in his first try. He returned in 2012 only to suffer a spectacular crash viewed by thousands on TV highlighting the extreme danger of Dakar racing, the speeds involved and the dyer consequences of making even a small mistake.  Unfortunately, this would be Quinn's last Dakar.
Following Quinn, one of our greatest desert racers ever Kurt Caselli, gave Dakar a shot showing amazing potential and navigation capabilities winning two stages in 2013. Based on his success, and with full backing from KTM, Kurt made winning Dakar a priority and based on his past performance at the ISDE had proven he was well suited to compete against Europe's best. He followed up his 2013 Dakar experience by entering the Desafaio Rally in Argentina shocking everyone with a win, becoming the third American rider ever to win a raid rally overall. With a win under his belt everyone was primed for a run at the overall in 2014 but as we all know it was not to be. With Kurt's passing at the 2013 Baja 1000 so also passed our greatest recent hope of a Dakar victory.
This brings us to America's latest great hope AMA National H&H Champ Ricky Brabec. In what was clearly America's finest moment in Dakar, the recent running of the 2019 event, Ricky demonstrated that maybe our time has finally come. After winning several stages and leading the event overall with just two stages to go Ricky elevated the hopes of an entire nation that just maybe our time had come. But then again maybe not. Maybe the odds are simply stacked too high against us. Riding for Factory Honda Ricky one would think Ricky has all the support one would need to win such an event. He has been quietly paying his dues, learning the art of reading the roadbook and what it takes to compete on such a high level. Competing in his first Dakar in 2016 Ricky finished a very promising 9th overall, similar to Chris Blais's first outing. Ricky went on to win a stage in 2017 before dropping out due to illness. 2018 was fraught with mechanical issues. With three Dakars under his belt the best prediction going into 2019 for Ricky was a possible podium finish if everything went his way but instead Ricky shocked the rally world by grabbing the overall lead early on and holding it for most of the event. The weak link in his effort turned out to be his motorcycle once again. So close and yet so far.  We can only hope that the stars align and he gets a similar chance in 2020.
So there you have it, a brief history of U.S. involvement in rally racing and Dakar. While many other U.S. riders have also taken on Dakar the riders just mentioned representing the cream of the crop of American riders who've stepped up to the plate.  Our track record at Dakar can best be described as hit and miss, a few flashes of brilliance, some brave individual efforts, an occasional podium but no overall victory. Even after Brabec's valiant effort in 2019 all we can say is "Wait til next year".
So what's it going to take to win? What obstacles have to be overcome for a U.S. rider to beat the Europeans at their own game?  I asked two of America's most experienced Dakar racers Jimmy Lewis and Danny LaPorte to share their thoughts. Following is a compilation of their thoughts along with some of my observations:
Willingness to leave it all behind- To win Dakar a U.S. rider will have to leave almost everything he knows behind and immerse himself deeply within the rally scene. He will have to race at least three rallies per year and be completely dedicated to winning Dakar for a three-five year period. This means leaving his friends and family back home, dropping any full-time racing career aspirations in the states or at least putting them on hold, and demonstrating a willingness to live and work for big chunks of time well removed from his comfort zone.
Ability to adapt to politics/cultures. Racing Dakar means adapting to French culture and politics. You have to get along with the organizers to have a shot. You will also have to adapt to the culture of the team you are riding for. Lastly, you have to feel comfortable in the bivouac and with the various third world cultures around the world. No matter how much one tries to focus on just the racing aspect cultural norms will come into play. To be a success the rider will have to navigate his way carefully through this landscape and act like a true citizen of the world. In addition, the rider will have to manage team politics within his own race team. Make no mistake U.S. riders will always get second-hand treatment from their European counterparts, with the exception of KTM riders). Never have I seen an organization that is so even-handed in their treatment of riders regardless of nationality. The Factory Honda team could certainly take a lesson from KTM as rumors of team politics and favoritism seem to be in play.
Factory/Sponsor Support – One of the factory teams and a big major sponsor will have to see a big enough marketing return to make an investment in a multi-year rally campaign to give a U.S. rider time to develop along with the financial resources to make a living while he pursues victory. Fortunately, there seems to be an appetite now to give American riders a try but based on our collective experience he better show signs of promise early on or support will vanish in a hurry.  Any slip-ups or failures to show progress will result in the plug being pulled very quickly. American riders have always shown promise at Dakar but lack of funding and support has been our Achilles heal. With it we might have a chance. And certainly, after the results turned in by both Brabec and Short in 2019 one would think the support will continue.
Experience with the Roadbook/Navigation- To win the rider must be able to not only ride a bike fast across the desert but also handle the mental pressure required to "Open the Road" and consistently lead stages while navigating from the front. At some point in time, you have to be willing to lead to win and this requires total confidence in the roadbook. Some riders have a sixth sense for it while others struggle and are more comfortable following. Fortunately for America, it looks like Brabec has finally found his form with the Roadbook and now has the confidence to open the road on any given day and the smarts to know when to let others do the heavy lifting.
The Right Stuff- To win Dakar requires a very rare breed of athlete and person. Someone possessing a very high level of mental toughness and focus, unparalleled physical conditioning, and a willingness to sacrifice and suffer well above and beyond normal human limits. Think Navy Seal mentality! You have to be completely comfortable riding a 450 lb motorcycle at over 100 mph over terrain you've never seen before, while reading a book and playing a video game. Oh yeah, and you have to do it for 8-10 hours a day for up to two weeks in a row. This is not an easy job description.  More than anything else the rider will have to keep in check his deepest, darkest fears about their personal safety and own mortality. Almost every year someone dies pursuing his Dakar dream and it can, and has happened, to the best riders in the world, champions like Richard Sainct, Fabrizio Meoni, and John Deacon. Each day you are confronted with varying degrees of joy, satisfaction, wonder, fatigue, uncertainty and tragedy. Somehow through all of these emotions and pressures, you must remain focused and committed to the task at hand.
These are just some of the things it's going to take for an American rider to win Dakar. At the end of the day do we have any takers? Is Ricky Brabec going to be able to seal the deal? Will Andrew Short continue his rise in the rankings? Who's next on the list? Only time will tell. Rally racing is one of the most demanding forms of racing in the world. Some of us veteran U.S. Dakar riders are very optimistic. As Jimmy Lewis put it, "We have the speed, we just need experience with the roadbook and time in the saddle to win. It can be done". Others are more direct. Danny LaPorte offers, "To be a true "desert" legend today you have to win Dakar despite what some people might say. The race is out there, go win it!" As for myself, I am a realist. It isn't going to be easy. Fortunately, there does not appear to be one dominant rider today like there was in the past when Neveu, Peterhansel, Depres or Coma dominated. As far as I am concerned the time has never been better for an American to get the job done.
Once Dakar starts, time stops, the outside world collapses and you are suspended in your own little cocoon consisting of your motorcycle, your roadbook, your tent, your team, your fears, and aspirations. The atmosphere and camaraderie in the rally bivouac are intense; the daily battle life and death, one of the most peak life experiences ever. I sincerely hope there is some young American rider out there up for the challenge. To win Dakar would be a glory above all glories and the stuff of instant legend.
In the meantime we can still lay claim to Baja. No one has beaten us in our desert backyard.  At least we have demonstrated we can defend home court. How about we go out and win one on the road?
***
Contributed by Scot Harden // @roaringhorse
Scot Harden is an AMA Hall of Famer and one of America's most versatile and winning off-road motorcycle racers of all time. He's a multi-time Baja 1000, Baja 500, ISDE Medalist, SCORE/Best In The Desert Champion and is the first American to win a major African Rally event overall. In 2004/05 he led the KTM/Red Bull US Dakar effort as team manager/rider. In addition, he's held executive management positions with KTM, Husqvarna, Zero Motorcycles, BITD and BMW. Currently, he is the President of Harden Offroad, a powersports consulting firm specializing in marketing, product development, event promotion, rider training, and strategic business planning.