Most of the time, when people think of long-distance ADV travel, they assume one of the two things: that it's crazy expensive and/or that it's highly complicated, especially when it comes to things like border crossings or international bike shipping.
The good news is, it's neither.
Because I'd been a long-term traveler before I learned to ride motorcycles, incorporating bikes into my travels wasn't a difficult task. I already knew the world was getting smaller and smaller (in terms of accessibility and cheap flights); all I had to do was remove all the hitchhiking and buses and insert a motorcycle. Since I was a beginner rider, that, of course, was highly entertaining for the first couple of years and involved lots of dumb luggage decisions, weird routes, crashes, bad gear, and tiny wheels. For other people, it's the other way round – they're expert riders who simply haven't traveled much before, so for them, the novelty isn't the riding, it's the borders and the different cultures. Either way, the fact remains that long-distance ADV riding is now much, much easier and simpler than it was just a decade ago, let alone 20-30 or more years. The era of Jupiter's Travels has ended; the time of Instagram messages, accurate GPS navigation, and online visas has begun.
And this is why traveling around the world on a motorcycle is now easier than ever.
The Money Factor
This is an endless topic people love to read about and pick apart over and over again. And, sure, you can spend as much as you can or like – there's no limit to how comfortably you can travel. However, most veteran RTW riders report they're spending around $40 to $60 a day (depending on whether they're traveling solo or as a couple), and that's including everything from food, fuel, and accommodation to bike shipping and insurance.
But let's say you don't have the time or the freedom to just take off on your own motorcycle and, due to work or family commitments, you'd rather fly and ride. There's good news here, too. On average, motorcycle rental in places like Ecuador, Colombia, Romania, Georgia, or Kenya will vary from $65 to $100 a day (depending on bike make and model); accommodation in countries like that can be as low as $15-20 a day, and food will cost half that. And if you really want to go on a bare-bones adventure, check out my latest find in Mongolia – Cheke Tours, a motorcycle company based in Ulan Bataar that will rent you a bike for 13 euros a day. Sure, it's a small Chinese bike. But it's a 13 euro/day bike in Mongolia!! I already made a reservation.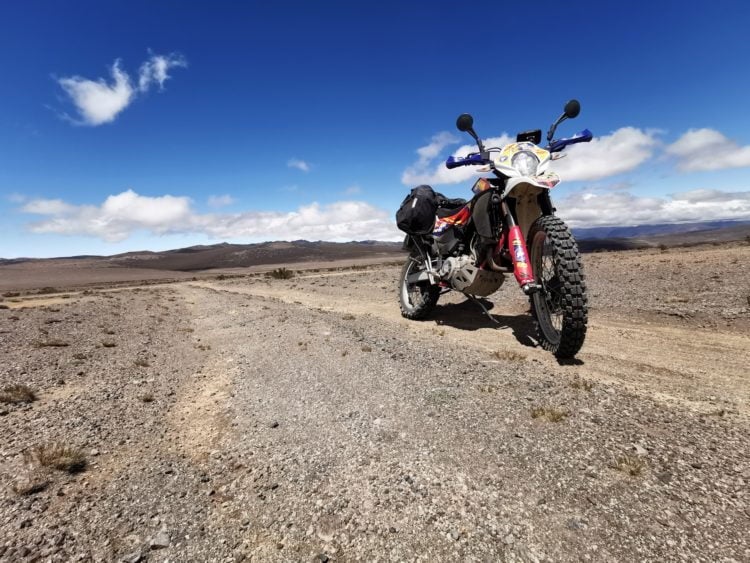 Another cheap destination is South East Asia, where bike rental costs are much lower; in Vietnam and Thailand, there's also a "buy-back" option where you purchase a small Honda motorcycle, travel around, then sell it back to the shop.
Cheap Flights
Let's say you already have a dream destination, and you've just found out bike rental is fairly reasonable there. Now for the flights. Again, it all depends on your comfort needs: if you always travel first or business class, need VIP lounge access, and can't deal with layovers longer than an hour, yes, you'll be spending a lot on flights. Me, I honestly can't remember the last time I paid more than $300 for a flight, and I've been between Europe, Cuba, Colombia, Ecuador, and back to Europe again in the past few months.
So if you don't mind economy and longer layovers, here are a few tips on how to find cheap flights: first off, get yourself a VPN (a program that hides your IP address from search engines – yes, it's legal), because the airlines will often display a different price if you're browsing from the US than the one they will show if your IP address indicates you are browsing from Bulgaria, for example. Price discrimination is a thing. Second, look on sites like Skyscanner to compare prices. Finally, if the price is still high, pick a different day (Tuesday flights are cheapest for some reason), a different city or airport, or make up your own connections: as an example, a flight from Quito to Warsaw via Madrid was more expensive than two separate flights from Quito to Madrid and then Madrid to Warsaw. Sure, longer layover, plus you'll have to check your bags out and check them back in… But it'll save hundreds of $$$. And if you don't want to spend extra for more luggage weight, fly in your gear. Not the most pleasant experience in the world, but doable. Ask me how I know.
Visas, Borders, Shipping
But let's go back a bit and let's say you've decided to do it all on your own bike, instead of flying and renting. For some reason, the thought of crossing borders induces complete dread in some people, as does the idea of international motorcycle shipping or obtaining visas.
Granted, I haven't done the tougher border crossings like China myself (yet), which is why I talked to people who have – you can find a detailed account of those here. China, Central Asia, Iran, Sudan, it's all there. What I have done is Balkans, North American, Central American, Caribbean, and South American crossings including border runs (a quick border crossing out and back again to obtain a new visa/TVIP for the country you want to ride longer), and I've shipped my bike across the Atlantic Ocean.
All I can say is this: some border crossings take longer, some are quick; sometimes you get nice and friendly officials, sometimes they're a bit unimpressed; sometimes somebody messes up and forgets to put your exit into the system, then years later, you come back to a country only to be told you owe them a huge fine because in their system, you haven't left since 2018; sometimes it rains, and sometimes the queues are insane because you're a nitwit who chose to cross a border during Christmas when everybody's going to see their families on the other side. As for motorcycle shipping, at least for me, it was silly easy – all I had to do was fill out some paperwork, drop my bike off in Arica, Chile, then pick it up a month later in Warsaw, all the customs cleared and dealt with by the shipping agent.
If you've never done that before, I guess you could compare border crossings to doing your taxes or going to the dentist. You're not particularly thrilled about the idea and you're not entirely sure how the process is going to look like but you just go ahead and do it and in the end, you come out the other side just fine.
What's the number one fear holding you back from traveling the world? Let me know in the comments below!