If you're planning to tour the Balkans, make sure riding Albania is on your list. This tiny but incredibly beautiful country is worth exploring both on and off the road. If you're sticking to the pavement, Albanian roads are in great condition and often, pretty empty, especially in the mountains. For off-road maniacs, Albania is nothing short of a paradise – there's plenty of mountain tracks and trails to enjoy. To download some off-road routes, just head over to the Trans Euro Trail Albania page and plan your trip. And if you're into enduro rallies, Rally Albania might be the thing for you whether you're just watching or participating.
I have already covered Balkan border crossings, but this time, because I'm staying in Albania for a month, I wanted to make sure I got the Albanian insurance for the bike. Although the border officials did not ask for it at the border crossing and only checked my passport and bike registration document, I found a small insurance office right in front of the customs building. For 15 euros, I got this:
This is only valid for two weeks, so I'll have it extended when I can, but for now, it should suffice.
When you get to Albania, make sure to ride the length of the country following those scenic mountain roads and tracks. If you feel like relaxing on the beach for a while, head for Saranda. This little town has plenty of perfect white sand and turquoise blue water beaches, an AirBnB apartment with sea view costs $15 per night, and if you get bored of the Albanian side, a ferry to the Greek island of Corfu is just $30 (extra $12 for the bike).
Albania is largely Muslim with a very distinct language that sounds like a mix of Italian and Turkish to me, but is neither. So far, I've only learned to say "thank you" ("faliminderit") because it sounds very unfamiliar, but I'll try to progress as I go along. Albanians are very friendly and welcoming and most people speak English; you can pay by card almost everywhere including small gas stations in the middle of nowhere.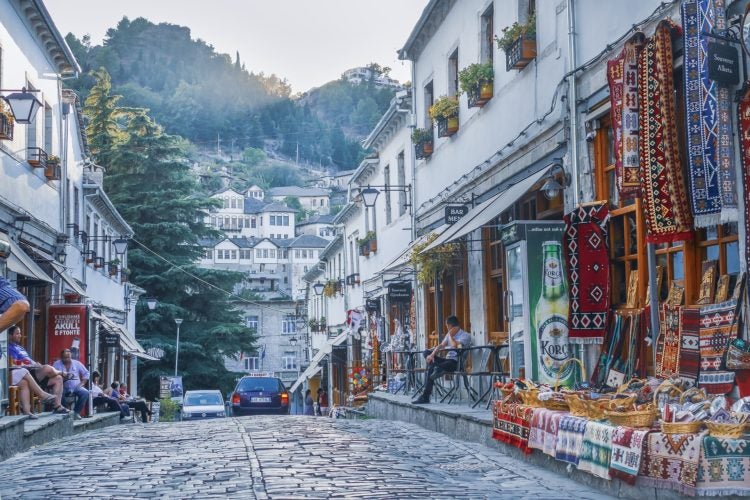 Albania feels like a very unique country, both in terms of breath-taking nature, culture, and history. It's just as beautiful as the Croatian Adriatic Coast (the Balkan version of Amalfi) and the Greek mountain regions, but it's much cheaper to travel, the people are incredibly friendly, and it still isn't overrun by tourists.