With interest in electric motorcycles booming, you may have wondered why Tesla, arguably the first large scale maker of electric automobiles has not entered the fray.  Yes, Tesla produces 4 wheeled electric transportation, but couldn't they offer something to the motorcycle market or at least partner with an existing electric motorcycle manufacturer?
Tesla has been and continues to be the technology leader in electric vehicles for quite some time.  Isn't it time for Elon Musk to look at motorcycles?  Well, perhaps Elon and Tesla are looking at motorcycles.
An electric Tesla dirt bike?
So what makes us say that Tesla may be looking at electric motorcycles?  What's driving this question?  It comes in part from Tesla's rollout of its first pickup truck, the "Cybertruck".  During the rollout, Tesla unveiled not only an electric pickup truck, but also an electric ATV that fits into the Cybertruck's bed and can also be charged from there.   The ATV is not a gimmick and Musk says that it will be available as an option for the Cybertruck when it reaches production in 2021 (sometime in 2021 according to their website).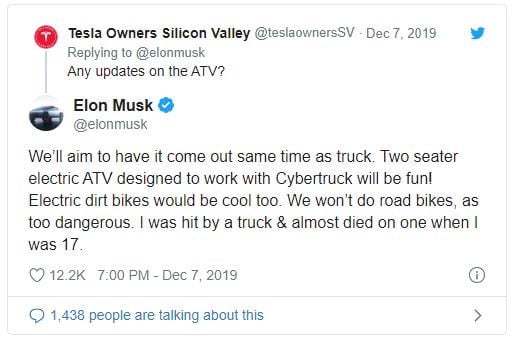 But you may still be asking why would we think that Tesla may have an interest in building an electric motorcycle?  Isn't the ATV still a 4 wheel vehicle?
Yes, it is.  But our question stems from a tweet that Musk later issued about the Cybertruck and ATV.  In it, he also offered, "Electric dirt bikes would be cool too."  Is this a hint that Musk could be evaluating entering the electric motorcycle market?
Clearly, it was an off the cuff comment from musk.  But if Tesla were to embrace the development of an electric dirt bike, wouldn't having an all-wheel-drive pickup with a 6.5-foot bed and no wheel wells with a ramp built into the tailgate be interesting?  Would it and a corresponding electric dirt bike be excellent for those off-road forays?  Especially if you could charge the bike from the bed of the truck?
I for one would be interested.  What do you think?  Let us know in the comments below.