A couple of months ago, I was back in Lithuania for a short visit before gearing up to ride South America again. I wasn't planning to do much except see my family and friends, enjoy being able to speak my own language for a little while, and do a beer tour in Vilnius' Old Town.
Then, I got a message from my buddy Jurga. "Hey, if you're back, why don't we do an off-road training weekend for women riders?", she said. "Nothing complicated, just the bare basics – a little bit of theory, standing up on the pegs, clutch control, dealing with uphill and downhill on dirt, that sort of thing?". I'm not a certified off-road instructor, but helping out with dirt riding basics sounded like something I could do, so I said yes.
Jurga and I expected some five or six women to show up.
Instead, we got over a hundred registrations.
Astonished – but also excited – about the crazy numbers, we booked an off-road training track, rented a bunch of dirt bikes, and invited women to ride. Because we had so many participants, we had to do several weekends instead of just one, and Jurga now continues to take women riders out on the Lithuanian TET (the Trans Euro Trail).
Meanwhile, I have just completed my first-ever all-female motorcycle tour in Ecuador, where we rode more dirt than expected and ran into some trouble during Ecuador's protests   yet still managed to have an awesome time. The sheer joy of tackling some of Ecuador's most scenic roads with an all-female crew was simply unparalleled, so next up, I'll be leading another all-female motorcycle expedition in Colombia before going to scout some off-road routes in Northern Peru and get ready for the 2020 rally racing season.
Gearing up for a women's motorcycle trip in Colombia. Image: Motobirds
Together with Aussie rider Gabriella Linford, I was also asked to help bring more women into roadbook navigation rallies, and I'm constantly getting messages from female riders inquiring about more women-only dirt tours, training, and enduro trips.
So clearly, women want to ride dirt. Then why don't they just go for it on their own?
Confidence
To be sure, plenty of women do ride dirt alone or with their riding buddies, are self-taught, or simply go for it without much hesitation. More and more women are entering rally races, and riders like Megs Braap or Crystal continue to inspire female riders worldwide.
But often, women struggle with confidence. So much so that Alisa Clickenger, moto journalist, author, and women's motorcycle tours guide, has literally written a book about it (give it a read!).
What I've seen happening a lot (as told to me by countless women riders online and in person) is this: women start to ride with their husbands or boyfriends, said husbands or boyfriends are a little too fast for them, they can't keep up which causes stress and uncertainty, and before you know it, women start to feel reluctant to ride dirt. This was my experience too back in 2014 when I was loaned an old Africa Twin 750 and tried chasing after a pack of experienced (male) riders whose only advice to me was "just get on the gas!". It's not bad advice in itself  -you do need momentum to keep the bike upright on dirt – and I'm eternally grateful for those guys lending me a bike and taking me out to ride with them. However, after clutching the handlebars for dear life and trying to keep up with a group of much more experienced and faster riders, I left the trails that day thinking I was completely useless and simply had no talent for dirt riding.
I got over it; but some women don't, especially if this happens over and over again. And it isn't the fault of women riders' partners – it's probably more to do with the fact that training your loved ones to ride isn't always the best idea as personal stuff gets in the way, which is why professional dirt training is always so much better.
Still, the most common question I got about the all-female tours wasn't "is it going to be epic", "do I bring rain gear", or "how much dirt are we going to ride?".
It was: "will I be able to keep up?"
Mind Tricks
Although women who showed up for the training weekends back in Lithuania could actually ride dirt – a few of them, well – they all wanted to start at the very basics. They didn't want to hop over logs or learn to wheelie, they wanted to understand how the bike moves off-road, how to stay in control, and how to ride with confidence. Equally, some of the women who took part in the Ecuador tour feared they would struggle riding off-road, but in fact, when it came down to it, did exceptionally well.
The confidence gap between men and women is real, and it reflects in the motorcycling world, too. According to Forbes, "A Hewlett Packard internal report found that men apply for a job or promotion when they meet only 60% of the qualifications, but women apply only if they meet 100% of them. What doomed them was not their actual ability, but rather the decision not to try". It seems to me, this applies to dirt riding, too. Most guys will just go for it, whether they're actually capable or not; during my own training sessions in the US, I've noticed that men were more likely to go for "intermediate" or "advanced" training even if they'd only gotten their bike licenses a few months ago, whereas women aimed for "beginner" or "intermediate" even if they'd been riding for years.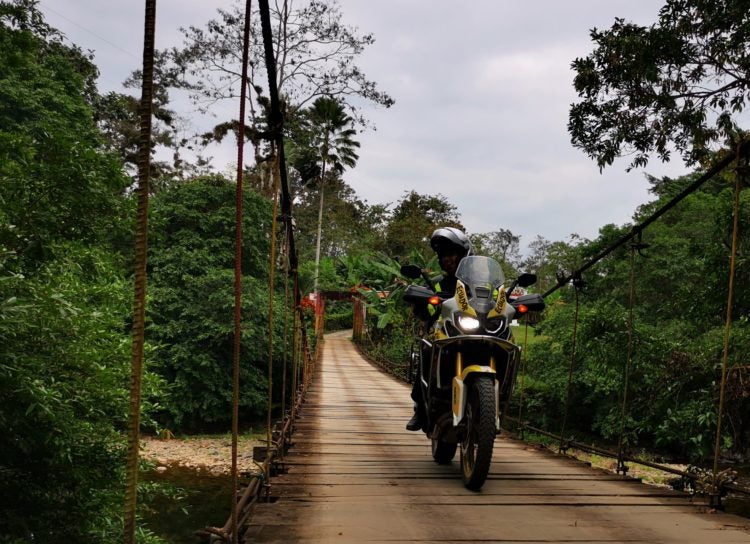 The Joy of Riding
Despite the confidence gap, lesser availability of gear and bikes suitable for shorter people, and less training opportunities, women still ride dirt. Some female riders need no encouragement – they simply get on with it, regardless of circumstances. I'm thrilled and honored to know plenty of women who ride exceptionally skillfully, race rallies like maniacs, and tackle huge logs as if they were tiny twigs.
But for many, a little boost of confidence, a little training, and a little experience of riding together without the pressure to go fast or compete can be a game changer. That's why women-only events, tours, and dirt riding camps or simply ride-outs can be so valuable: it's not about exclusion, attention-seeking, or separation. It's about giving women riders a little bit of space to ride, learn, and grow as riders together, so that they can then just hit the trails on their own – or go ride with those fast guys.
Speaking of fast guys: most of them are awesome. I've ridden with rally racers, off-road coaches and riding instructors, hard enduro nutcases, and simply riders who are much more experienced, skilled, and faster than me. 99% of all of these guys were amazingly supportive, patient, and hilarious, and I know that the motorcycling community itself is largely like that.
Still: women riding dirt, riding together, and teaching and supporting each other is something I'd love to see more of.